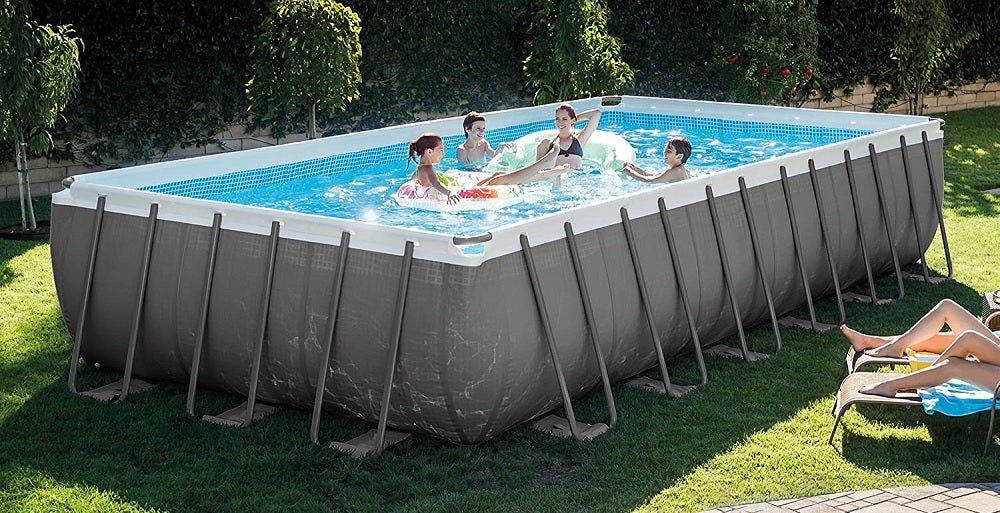 Our Editors independently research, test, and rate what we feel are the best products. We use affiliate links and may receive a small commission on purchases.
When temperatures start heating up, there's nothing better than taking a dip in a refreshing pool! However, not all of us have the space or budget for an in ground pool.
Luckily, there's an excellent alternative to them: above ground pools! They're more affordable, easier to set up, and you can get to splashing around with just a few minutes of setup time.
If you are looking for the best models on the market then you're in the right place because we've looked over countless pools to bring you the cream of the crop!
Best Above Ground Pools
For more of my home and garden recommendations, have a look through these popular Outside Pursuits guide links: Inflatable Pools, Inflatable Water Sliders, Floating Pool Loungers.

Quick Answer: The 7 Best Rated Above Ground Pools For 2021
Our reviews of the top rated above ground pools with our comparison table and buyers guide will help you choose the right pools for you.
---
Best Above Ground Pools Reviews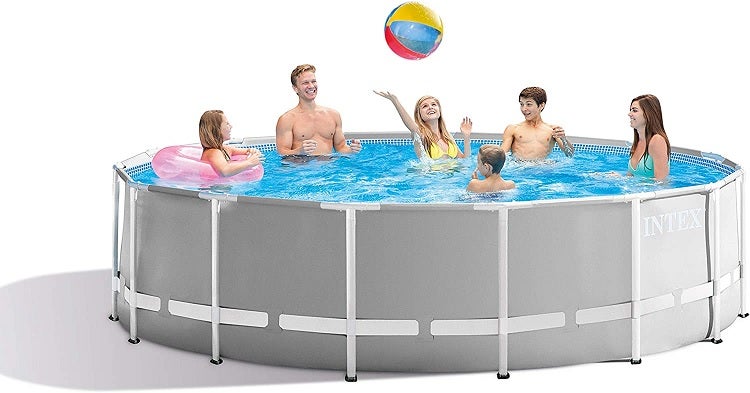 Intex Round Prism Frame Pool Set at a Glance
:
---
Size: 15 feet
Depth: 48 inches
Tools Required: None
Other: Pump, ladder & cover, variety of sizes
What should you expect in the best over ground pool? To put it simply, look at the Intex Round Prism Frame Pool Set. This pool is a great value for the price, easy to put together, sturdy, and loads of fun!
The 15-foot pool is perfect for you to splash around or just wade in the cool waters with a significant other, friends, and/or family. It's 48" deep which seems to be the perfect balance – it's not so deep that people have to tread water the whole time nor is it so shallow that it's awkward.
It's recommended for ages 6 and up, which is probably the age at which most kids start learning to swim anyway.
While leveling or sanding may be required if you're placing it on an uneven surface, generally installation is a breeze. It's absolutely one of the easiest we've set up and that's mainly thanks to their innovative T-Joint design which requires literally no tools.
Not only that, but the structural integrity is wonderful with a frame made of powder-coated steel, and a 3-ply material liner. The entire pool is UV-resistant so you don't have to worry about the light grey fading under the sunlight, maintaining that original new look.
It does include a ground cloth, debris cover, removable ladder, and a Krystal Clear cartridge filter pump.

---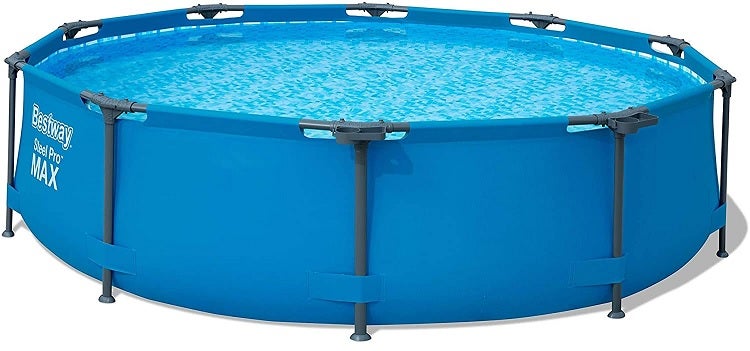 Bestway 56687E Pro MAX Above Ground at a Glance
:
---
Size: 15 feet
Depth: 42 inches
Tools Required: Screwdriver
Other: Pump and ladder included, variety of sizes
Following that gem up, we have another excellent pool: this time the Bestway 56687E Pro MAX Above Ground. Coming in all types of sizes and colors, we're going to cover the crowd favorite which is 15' x 42". This is almost the same size as the previous model, albeit just a bit less deep.
As one of the best above ground swimming pools, you can expect durability and reliability as well as sleek looks. Speaking of looks, you can choose from white walls, blue walls, or an ultra-unique stone print! No matter which you choose, you can count on it keeping its original looks quite well.
The frame design is made with a corrosion-resistant coating to keep UV rays and moisture damage at bay. Moreover, you get 3-ply PVC support bands that covers the perimeter of the pool, adding stability.
Assembly also requires no tools, relying on the brand's signature steel Framelink System, which uses custom-molded T-connectors similar to the Intex Round Prism.
This is obviously a huge bonus if you're not someone particularly DIY-savvy or lacks a tool box at home. Just get a buddy or 2 to help you, fill with water, and you're ready to get dipping!
The rigid, oval-shaped pool is the best shape for most spaces, and comes with a flow-controlled drain valve, filter pump, ladder, pool cover, ground cloth, and filter cartridge.

---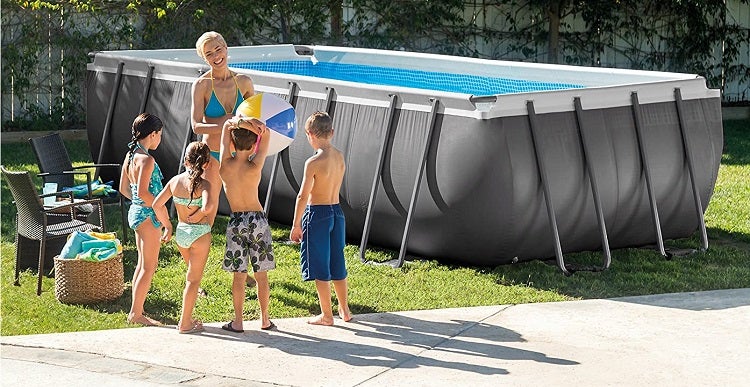 Intex Ultra Frame Rectangular Above Ground Pool at a Glance
:
---
Size: 18 feet x 9 feet
Depth: 52 inches
Tools Required: None
Other: Sand filter pump & ladder, variety of sizes

Moving on to #3, we have by far, the best rectangle above ground pool. We know those are big flippers to fill but the Intex Ultra Frame Rectangular Pool Set manages to accomplish that and more.
While we haven't done it ourselves, there are tons of others out there who have managed to build decks around it and you almost wouldn't be able to tell the difference between it and an in-ground pool!
If you want something a bit bigger than the previous models, then you'll also like this one. Measuring 18 feet by 9 feet, it's definitely big enough for the entire family or for entertaining. With a depth of 52 inches, it's notably deeper than others, too. This is one of the best if you enjoy actually swimming other than just wading around.
Made to be extra-strong, the pool features a modern look and a durable, powder-coated steel frame. This frame is designed to hold up against moisture, never rusting and keeping its brand-new looks. New dual-suction outlet fittings ensure water stays circulating. This not only makes for healthier water, but better clarity, as well. No more having to deal with murky swamp water!
To help with hygiene and water clarity, they've also thrown in a Krystal Clear sand filter pump. In addition, you'll get a ground cloth, debris cover, and set-up and maintenance DVD. Installation is pretty simple, though it does take a bit more time just due to the overall size and heft of the frame.

---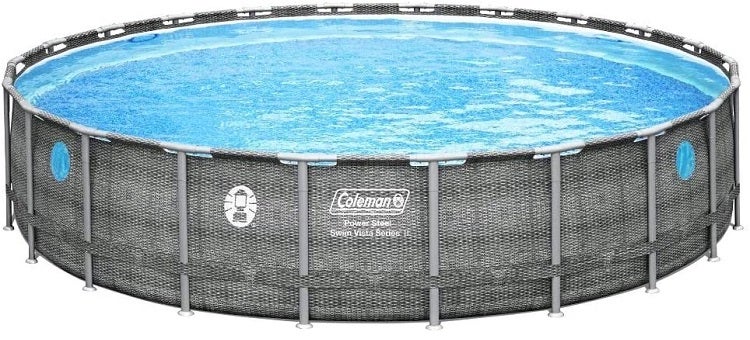 Coleman Vista II Swimming Pool Set at a Glance
:
---
Size: 22 feet

Depth: 52 inches
Tools Required: None
Other:

Incredibly fast setup, filter pump,
Coleman is a name almost all of us know or have used before. It's a brand that is known for creating no-frills, durable, functional products. Their Power Steel Swim Vista II Swimming Pool Set is exemplary of that, and is one that you and your loved ones will be able to use for many summers to come!
The large pool is quite possibly the best cheap above ground pool. While the upfront cost is pretty in-line with others of this size, it's so durable that it'll simply last you longer which saves you money.
No need to go out and buy another next year! The Seal & Lock System further enhances strength, and makes for a tool-free setup process. Just make sure you're placing it on a sturdy surface. No mud, for example.
Made with a gray-colored wicker print on the outside liner, it blends in well with any other existing décor you may have going on. The inside liner features a unique tile print that only adds to the appearance.
Above ground pools don't mean that you have to be more delicate or restrain your fun! With an enhanced 3-ply liner which is puncture-resistant so you can play as hard as you want without worry!
---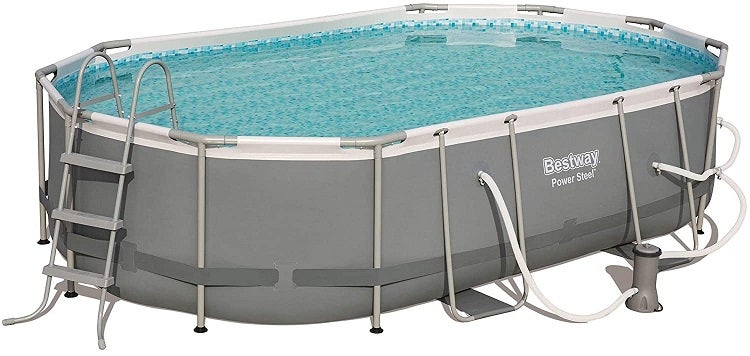 Bestway Oval Frame Above Ground Swimming Pool Set at a Glance
:
---
Size: 16 feet x 10 feet
Depth: 42 inches
Tools Required: Screwdrivers
Other: Cartridge filter pump, ladder & cover
Are you on the hunt for the best oval above ground pool? The truth is that there are many out there, but the one that really stood out to us was the Bestway 56655E Power Steel Outdoor Oval Frame Above Ground Swimming Pool Set. It's big enough for everyone to join in, while remaining reliable and coming with everything you need.
The 16-foot x 10-foot pool is the perfect size for many people – particularly if you like swimming. The oval shape allows for small laps, practicing, pool games, and more. We loved this one for both kids and adults, as the 42" depth seems to work well for all ages.
The durable steel tube frames are corrosion-resistant which keep UV damage and rust. This makes a massive difference, as it will keep your pool in good shape year-round. The Seal & Lock system is one we know well by now, and comes with joint connections which are solid and stay steady under water pressure.
The grey-and-white colorway is sleek and complements the blueish interior perfectly, making the water even more inviting! No need for chemical floaters now either, due to the included ChemConnect chemical dispenser which means maximum swim space and less maintenance!
A flow-controlled drain valve makes emptying excess water a breeze, so if you've never had an above ground pool before you'll be able to handle this one easily.

---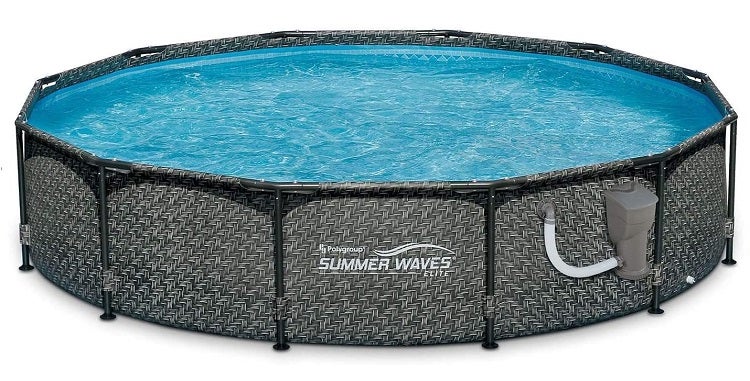 Summer Waves P20012331 Outdoor Swimming Pool Set at a Glance
:
---
Size: 12 feet

Depth: 33 inches
Tools Required: None
Other: Attractive herringbone pattern, filter pump
There are so many great models out there, but ultimately the Summer Waves P20012331 Outdoor Round Frame Above Ground Swimming Pool Set won as the best small above ground pool.
It's the ideal solution if you're looking for a smaller model that's easy on the wallet! Despite it being so affordable however, it's still made with the utmost quality behind it.
The unique dark Herringbone Wicker pattern is definitely interesting and adds a touch of sophistication to a fun time.
The 12-foot diameter is great for kids learning how to swim or just getting comfortable with the water. However, it's also nice if you'd like to grab a cool drink and enjoy in the water during the hotter seasons. The 2.75-foot depth makes it also fun to take some pool toys in without kids getting scared that they can't touch the bottom.
Made with a tough triple-layer polyester mesh, heavy-gauge PVC, and galvanized metal, it's one that you can use all-day, every-day without it wearing down. Even if you live in an area with all types of different weather, it can hold up to the elements. Installation, just like all of the others we've covered, requires no tools and is a very intuitive process.

---

Intex 28210EH Above Ground Swimming Pool at a Glance
:
---
Size: 12 feet
Depth: 30 inches
Tools Required: None
Other: Very affordable
Last but not least, we have the Intex 27210EH Above Ground Swimming Pool. It's simple but still one of the best looking above ground pools, with a blue exterior and interior that will make the water irresistible! Capable of fitting up to 6 people, it works just as well for entertaining, family fun, or solo swimming!
Made for sheer strength, it's perfect for pool parties with multiple people! These aren't like the cheap models that fall over at the slightest breeze. Speaking of cheap though, this one is very affordable! Quality and affordability aren't mutually exclusive thankfully with the 27210EH, though.
As we've come to expect, this one also features a sturdy metal frame finished with a powder coating for added resistance to corrosion and UV rays. The laminated sidewalls are reinforced with a band around the perimeter to keep the legs in place – no moving around at all.
The pool drain plug is compatible with your average garden hose, which moves excess water from the pool zone. Everything is designed to make it as user-friendly as possible so all you have to focus on is reapplying sunscreen and making sure the drinks and snack trays are full!

---
Best Above Ground Pool Comparison Table
How to Choose the Best Above Ground Pool – Buying Guide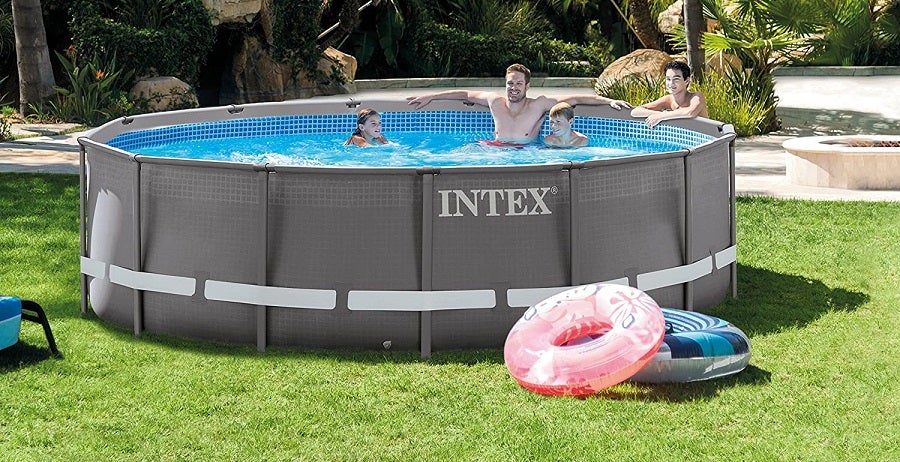 Now that you've had a read about some good above ground pools, do you know which one you'll be splashing around in this summer? If you're still undecided, then we're here to help! We know how hard it can be to choose one when there are so many excellent options to choose from!
We've written up the following buying guide to help you narrow down all options to the one that's ideal for you and your outdoor space. Let's get started!
Size
First of all, you're going to need to figure out the size of the pool you're looking for! Trust us when we say it's much better to measure this instead of "eyeballing it". So get out the old tape measure and write down the specs of the area.
Think about how many people will be using it at one time, as well as the size of the users, themselves. If the pool is mainly going to be used by kids then you obviously aren't going to want one that can fit 6 adults, right?
Also, be realistic about how many times 6 adults are all going to be in the pool at once. Unless you're having pool parties every weekend or even once a month, then chances are it's not going to be that much. If that's the case, then you may not need an enormous pool.
The tricky thing about above ground pools is that while the sizes may be just a few feet apart, but consider the fact that a 27′ pool holds a whopping 33% more water than a 24′ model!
Let's take a quick look at the most common pool sizes and how many swimmers they fit comfortably:
15 feet = 1-2 people
18 feet = 2-3 people
21 feet = 3-4 people
24 feet = 4-5 people
27 feet = 5-6 people
30 feet = 6-8 people
Depth
The purpose of the pool is also going to play a role in which model you get. Is it for kids to paddle around or you and other adults to simply wade and relax? Then you'll probably want one that's more shallow or smaller.
Maybe you would actually like to use it for exercise or swim some laps (albeit small ones). If that's the case then you want something deeper so you can actually kick your legs without hitting the bottom!
42-43 inches is going to be the "norm" for most above ground swimming pools, though you can definitely go deeper than that if you would like.
Shape
The shape of the pool is also another important consideration to look into! Remember what we said about measuring your space. Does yours allow for only a rectangular shape?
Maybe a circular shape would be more ideal? This kind of goes hand-in-hand with what we were just talking about regarding the purpose of the pool. Rectangular pools are our personal favorite, and if your outdoor area can allow for it we highly encourage getting one!
Why?
Because you can actually swim with a rectangular pool in most cases, and they're perfect for pool games like pool volleyball, Marco Polo, and more.
Durability
The good news is that every single model on our guide is made with premium materials that will last you for many years to come. PVC piping is very common when it comes to the connections, as they stay in place well, are lightweight, yet super strong.
Steel frames are also very common, and if they come with a powder coat, that's even better. Powder coating will keep the metal from rusting and will help prevent UV damage which can ruin the structural integrity of the frame. As it's going to be in such close vicinity to water and sun, this isn't just a benefit but a necessity.
Extras
What kind of drainage system does your pool have? You need something that can effectively move excess pool water away from the swimming area. Each model varies a little bit, though we can assure you that all of them are very intuitive – even if you've never had or maintained a pool before.
Not only that, but try to get a pool that comes with a pump, ground cover, a filter, and a pool cover if you can. This will save you a lot of time, money, and hassle!
As it is an above ground pool, it's going to be awkward if not impossible to climb over the pool walls to get inside without steps or a ladder. Some kits will come with one or the other, while others don't so double-check to make sure you don't have to buy one separately.
The pump is the central part of its water circulation system. It takes water in from the pool through the skimmer and filter and without it, it will not be properly cleaned as the water stays stagnant. This can attract bacteria, which is not only potentially unhealthy and dangerous, but can also produce foul odors.
No one wants that! While it's ideal that your pool already comes with a pump, if you're going to splurge a bit on anything pool-related, let it be this.
Filter systems are also important, so make sure yours is rated properly for your pool size and that they are also running the right way. If you don't have time for that kind of maintenance, there are plenty of great non-chlorine purifiers that can keep your pool clean.
Privacy and Safety
Also think about the various places you can put it in. You have to remember that above ground pools place you at a higher vantage point which either you or your neighbors may not be fans of. Of course, the best thing you could do is have a chat with neighbors about this and also make sure that there are no regulations against having one in your neighborhood.
If your neighbors are okay with it (if this would affect their privacy in any way, that is), then you may want to consider getting some shade or a bit of barrier around the pool. If you have kids or pets hanging around, it's always a smart move to get a pool fence as well. A common misconception is that kids can't get inside an above ground pool on their own, but it's always better to be safe than sorry.
Price
How much are you willing to spend on one of the best above ground swimming pools? It's important that you figure a number out and don't go over that budget. However, there really is a great selection for every budget on our guide. It all comes down to the size, style, and construction but trust us when we say that if you end up paying a bit more it'll most likely end up saving you money in the long run.
FAQs About Above Ground Pools
Q: What is the best size above ground pool?
A: That depends on how many people you'll be using it for! Refer back to our section in the buying guide called "Size", which will tell you a rough estimate of the size you need per person.
Q: Can you sit on the edge of an above ground pool?
A: No, and please don't even consider sitting, standing, walking, etc. on them. They're not designed to hold up the weight of a human – even a child. Not only can it seriously damage the structural integrity of the pool, it's a very dangerous slipping hazard. There are many people who build decks around/partially around their above ground pool so they can sit and put their legs in the water and hang out without putting any weight on the pool edge.
Q: Are above ground pools worth the money?
A: Absolutely! Think about it: if there were no above ground pools, the only other way you'd be able to have a pool is if your neighborhood had one or if you had the space and budget for an in-ground pool. Above ground pools are a steal for what you get. You get a reliable, fun, refreshing place to entertain, to pass the time, to exercise, and so much more at a fraction of the cost.
Q: How do I prepare my yard for an above ground pool?
1. First, you're going to need to clear the area. Get rid of any sod currently within this area where your pool will sit, along with any debris or materials that could harm the pool or anyone using it. Different states and cities will have different requirements and building codes, so just do a quick check to make sure you aren't violating any.
2. Once the sod has been removed, the area must be leveled. Many times, it's already pretty level. Just check to ensure the higher spots are equal with the lowest. The area must be solid and never fill dirt as this is not compact enough to support the weight of a full pool.
3. Drainage, as we talked about earlier, should be planned out ahead of time. It wouldn't hurt to call up a pro and have them check to see if your pool will harm your yard by drying it out or transforming it into a pond. Obviously, most yards will be just fine but it's an easy and cheap call to make and definitely worth your peace of mind.
4. When you install the base under the liner, it is essentially a buffer between the vinyl membrane of the pool and the rough terrain of outside. A quality pool base won't be affected negatively by rocks, twigs, etcetera. The higher the quality of the base, the more protection your pool will have overall.
5. Installing the liner comes next. It's normal for there to be some wrinkles in it, but really try to make them as minimal as possible. If you have liners overlapping you need to smooth it out.
6. Next up, start assembling the frame! As every model on our guide requires absolutely zero tools, you're in the clear! This is a super simple, intuitive process but always make sure to follow the included instructions. Never force any pieces, and make sure that nothing is loose.
Q: Can I install an above ground pool myself?
A: Technically, yes. Many people have done it themselves, but it's always easier with someone helping you!
Tips For Choosing Above Ground Pools
#1: Set your filter up so it's running daily.
Keep it running for a minimum of 12 hours per day to keep bacteria away and keep it swimmable.
#2: Always test pH and chlorine levels.
Levels of pH should never go outside of 7.2 to 7.6 and should be checked weekly. Chlorine (if you're using this type of purifier) should always be between 2.0 and 4.0 ppm. Remember that chlorine is not necessarily a safe material and should be handled as such.
#3: Check for hidden algae and fungi monthly.
Your pool may look great from the surface, or even while you're inside. However, algae and fungi are sneaky things and can hide in corners.
How to Prepare the Ground For an Above Ground Pool
Summary
Now that you know just about everything you could ever want to about above ground pools, do you know which model is just right for your home? While each of the models on our guide are some of the best on the market, what's most important is that you select just the perfect one for you. We hope that our guide has helped you to do just that. Thanks for tuning in and we'll see you again shortly!
How We Researched
To come up with the top above ground pools, we researched a variety of sources for reviews such as Home Depot, Lowes, Target and Wayfair along with our own personal experience.
We also consulted online magazines for product research and reviews to get as much unbiased information as we could. To help weed out fake reviews we used Fakespot.com to make sure we only looked at genuine reviews.
With so much quality gear available, we had to narrow it down based on what we felt were the best options were for the price. The staff authors have a wide and varied background in yard design and home repairs.
The authors have decades of experience and are eager to share their knowledge with readers.
To help narrow down the selection we used personal experiences along with recommendations from landscapers, bloggers and contractors.
After extensive research, we came up with our list to help you choose the right one for you.
Sources
Notice:
OutsidePursuits.com is a participant in the Amazon Services LLC Associates Program, an affiliate advertising program. OutsidePursuits.com earns fees from products sold through qualifying purchases by linking to Amazon.com. Amazon offers a commission on products sold through their affiliate links.