When considering travel to foreign countries it's especially useful to plan your routes and proximities to activities, attractions and excursions in advance. With the many variables of ground transportation, and the added challenges of rugged travel conditions, it pays to do some research on the types and locations of excursions in and around the regions(s) you plan to visit.
Costa Rica is a perfect example of a country which has a plethora of tours and attractions. But to travel between the regions of the country can be an all-day event. So for a typical 7-10 day stay it makes sense to choose 1 or 2 of the six regions of Costa Rica and zero in on the types of adventures and tours you would most like to experience in those regions.
Below you will find the Outside Pursuits' guide with our favorite tours and excursions within each of the six regions of Costa Rica.
99 Things To Do In Costa Rica

  CLICK ON 1 OF THE 6 REGIONS OF COSTA RICA TO SEE THINGS TO DO: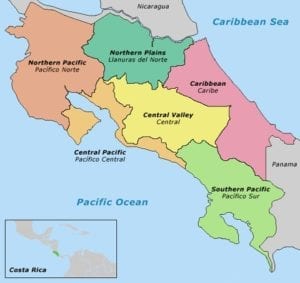 Things To Do In The
CENTRAL PACIFIC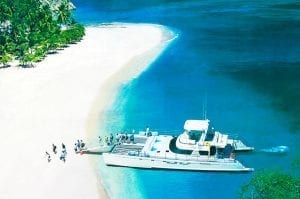 This tour is a great value. The transportation alone to get to Tortuga Island can cost much more. You'll board Manta Raya, a luxury catamaran yacht, and enjoy a full-day on the beautiful white sands and clear waters around Tortuga Island.  You'll cruise the Gulf of Nicoya and discover Cedros Island, Jesusita Island, the bird sanctuary of Guayabo Island, Sugarloaf Island, Gypsy Island and San Lucas Island. All-inclusive: snorkeling gear, meals, beverages, banana boat rides and transport.  A full day adventure.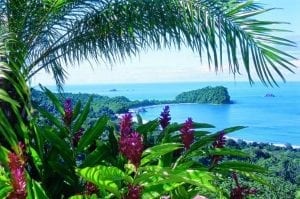 Manuel Antonio is a unique and world-known micro-climate region of Costa Rica. The rainfall and temperatures make for some of the most plentiful native plants and animals in Costa Rica or anywhere. On this guided tour you'll experience spectacular scenery. You'll see firsthand the untouched rain forest, plunging Pacific cliffs, coral reefs, tropical vegetation and jungle wildlife. Iguanas, two-toes sloths and a few species of monkeys are plentiful on the way in and out of the region.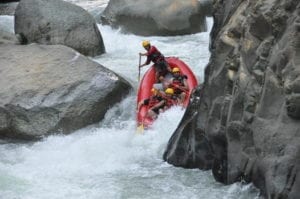 The El Chorro section of Naranjo River is some of the more serious whitewater in all of Costa Rica with Class IV and V rapids.  It is a tour for the adventure seeker. However there is no experience necessary because professional, experienced guides will show you all that you need to know. Incredible river boulders and tight, narrow passages and drops make this a great day on the river sure to excite anybody.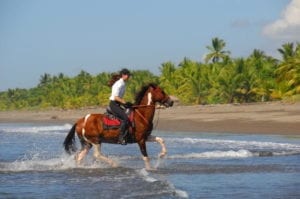 Ride through forested trails as along Playa Esterillos on Costa Rican-bred Mustangs. A local, bi-lingual cowboy will give you all the help you might need with your riding. A nice feature on this tour is the ability to customize a trip to your own group's desires. Or a romantic sunset ride for couples can be arranged.  Photo and videography services are provided so that you can focus on riding and enjoying the sites of the beautiful Pacific Coast.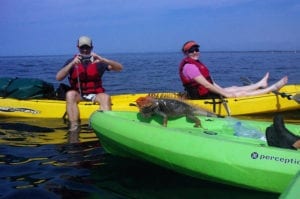 Great scenery and great exercise!! Paddle along the coast of the famous outcropping known as the Manuel Antonio National Park. There are plenty of islands to head for or stay in a calm, quiet bay watching for fish and other sea life. You'll eventually end up at Biesanz Beach. At this spot you can snorkel, or just relax and have a cold beverage. Included are ground transportation and a Costa Rican meal after the excursion.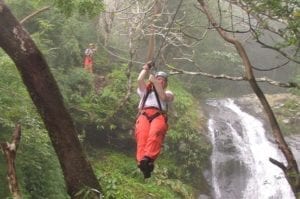 This is an especially large zipline park – the longest in linear feet in Costa Rica, with 25 cables that traverse over 11 different waterfalls. The spectacular views of ocean, rainforest and mountains are second to none. Very professional guides and equipment make this a safe and worry-free excursion. You can also swim in a mountain pool and have a cool beverage in the El Tucan restaturant.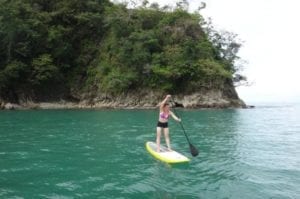 This is a great time for avid paddleboarders or an entire whole family of beginners. If you're accustomed to the ocean and using a paddleboard you will be impressed right away at the natural surroundings and the beautiful clear waters of the Pacific Ocean.
Lessons are also available for beginners if needed.  Snorkel gear is available as well as included snacks and beverages.


Riding ATV's in the cloud forest region of Costa Rica is part adrenaline rush and part spectacular nature.  On this guided tour you will traverse some wonderfully lush landscape and enjoy incredible views of the green valleys.  The cloud forest region of Monteverde is a unique micro-climate region in which the clouds are actually at, or below, the altitude of the mountains' peaks.  Don't miss this off the beaten path look at the Monteverde region.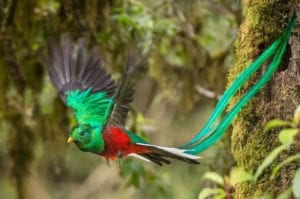 Enjoy the unique bio-diversity and altitude of Monteverde on this 3-hour hike through the cloud forest. You will be led by a bi-lingual, local naturalist who can answer all of your questions about this region which is like no other in the world. You will hike up to 1700 meters above sea level and look down on the valley, and the clouds, below you. The view from La Ventana (the window) is amazing and you'll never forget it.  And this hike may be your best chance to witness the Quetzal bird.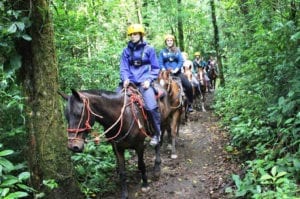 Relaxing and educational. Take a 2 hour horseback ride with a local guide who will lead you through private trails that traverse the Monteverde Cloud Forest region. You will have all the time you need to take fantastic photos of native plants, wildlife and panoramic mountain views. The cloud forest's micro climate is cool and refreshing. You'll be glad that you experienced this unique and bio diverse section of Costa Rica.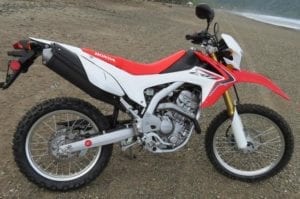 There is an amazing amount of trails in the hills and mountains rising up from the ocean at Playa Jaco.  At one turn you'll be navigating a trail through riverbed and before you know it a huge, grassy rice field opens up before you. You can even wind up at the mouth of an estuary before it trickles into the Pacific Ocean. You will have the option to rent on your own or take a guide along.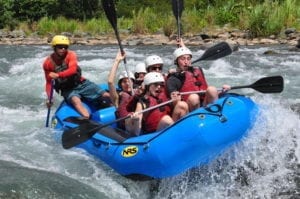 The Savegre River has a minimum of Class III rapids all year-round. This river is convenient from Jaco, Quepos and Manuel Antonio.  Professional guides, a safety kayaker and professional photographer are part of the team that will make this 2-hour whitewater trip safe and memorable.
Lunch and hotel pick-up/drop-off are included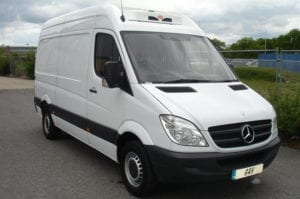 Take a break from worrying about ground transportation from Juan Santamaria Airport (SJO) to your hotel in Jaco Beach on the Pacific Coast. Professional bi-lingual driver will meet you at the airport exit and from there you can just relax. In approximately 1.5 hours you'll be on the Pacific Coast with your toes in the sand. Various packages and group rates are available. Click for more.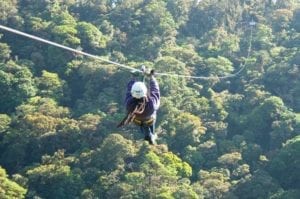 Zipline is an excellent way to see the rain forest from vantage points that are otherwise unavailable. Even more panoramic and scenic is the view from a hammock bridge stretching across a long expanse of the jungle. This set of ziplines and the 15 meter vertical rappel line that follows are considered medium difficulty, so anybody can participate without being uncomfortable. The guides and equipment are top notch, as Monteverde has long been an adventure traveler destination.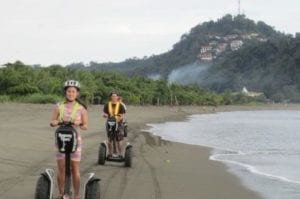 Segways are an excellent way to see a lot of territory in a short amount of time. Your journey will begins at the Marina Pez Vela in Quepos. You will ride along immediately unless you need a primer or refresher course. These units are off-road capable and you'll see a lot of natural terrain on the tour. The tour also loads the Segways onto a water ferry and goes to Damas Island. Lotsa fun.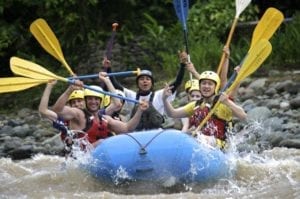 This is a terrific whitewater trip for nature lovers of all ages. This section of the Savegre River has Class II and III rapids. It is a total of 13 miles downriver. Waterfalls and pleasant swimming holes are plentiful along the route.  Tropical birds including egrets, osprey, toucans, parrots and cormorants are common along this stretch of river. A Tico lunch is provided along the way and then back to the river for more downstream action. Relaxing and educational.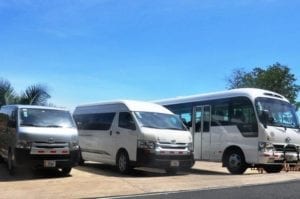 Excellent transportation. Private car or coach transfer with air conditioned vans or mini-buses. The company will meet you at Juan Santamaria International Airport (SJO) or from your hotel in San José to your destination in the Quepos – Manuel Antonio area.  Enjoy safe and pleasant transportation with professional drivers. You can ask to stop at the crocodile bridge to see the largest crocs in North America.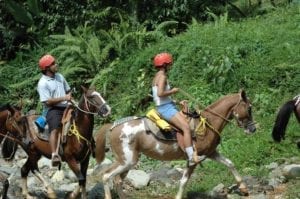 A great look at the Gulf of Nicoya from vantage points in the mountains accessible only on horseback. You'll stop along the way at a monkey sanctuary and also experience the giant crocodiles under the Tarcoles bridge. If you love horses and you love the tropical landscape of Costa Rica then you will enjoy this tour. Beginner or experienced riders are welcome. Your guide will assist in any way needed so that you have a great ride.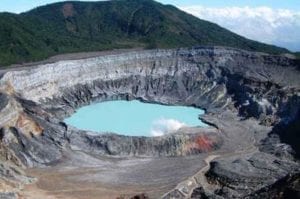 Two incredible tours in one!  Leaving from the Puntarenas Pier you will visit the spectacular Poas Volcano.  Looking into Poas from the rim is breathtaking. It has a unique lagoon that is highly acidic and nearly turquoise in color. After see the biodiverse region around Poas Volcano you'll stop at La Paz Waterfall Gardens. Here, you'll see several diverse waterfalls and numerous animal and bird exhibits. Includes a rescue preserve for the majestic wild cats of Central America including jaguars, ocelots and margays.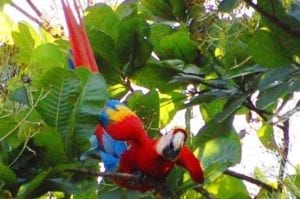 Carara National Park is home to numerous exotic birds, mammals and tropical vegetation. It is one of the best places to spot the Scarlet Macaw in Costa Rica. You'll hike in a rain forest region along the Tarcoles River near the habitat of the American Crocodile. The tour is completely safe for all ages and very family-friendly. And the guides are highly trained and knowledgeable of the flora and fauna of the region.

Things To Do In 
GUANACASTE & NORTHWEST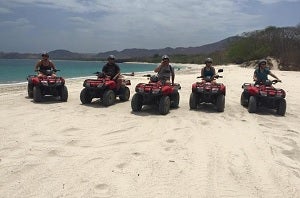 Get ready for an adventure when you get on your ATV and head into the rain forest on this tour. Here keep an eye out for howler monkeys, exotic birds and iguanas.
Then continue on the Gold Coast beaches of the Guanacaste region. This is not a tour where you can expect to stay clean, you will be riding through mud and a chance of getting stuck. It will be a tour you never forget.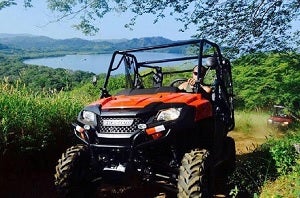 You don't need any prior experience to ride these 4×4 buggies. After a brief safety talk, you will head out into the back trails of the Papagayo Gulf area. On this full day tour, you will enjoy unspoiled nature, rugged backcountry and see local wildlife.
You will get to enjoy swimming holes that you will have to yourself with lots of photo opportunities along the way and enjoy views of the ocean as you ride along the Gold Coast.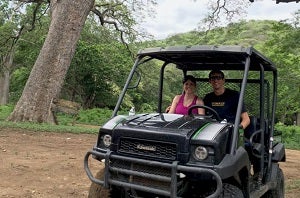 Not quite ready for an adrenaline ATV adventure? Well this tour is for you, it's guided by a local who will give you an informative tour of the area and go through the town of Bello Horizonte.
As you go through the forest you will see howler monkeys, tropical birds and iguanas. Pass through the local farms and see how some of the locals live. If you're looking to stay dry and get some history of the area, this is a great option.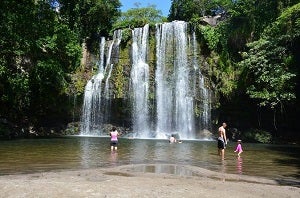 This trip will take you to the lesser known Miravalles Volcano. The volcano is active and you will see the boiling mud pots and take a therapeutic mud bath if you want.
After an informative tour around the volcano, go on a short hike and see one of Costa Rica's most beautiful waterfalls and take a swim in the pool under the falls.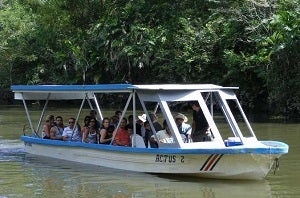 On this river boat tour on the Tempisque and Bebedero rivers you will see the best of Costa Rica's wildlife. Along the way you will see river crocodiles, white face monkeys, iguanas and a large variety of tropical birds.
You will get to see two very different areas, the tropical marshlands and the drier trpical forests, each with its own spectacular views and wildlife.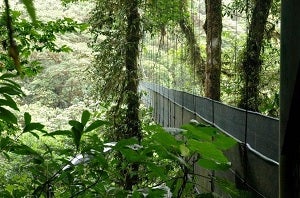 On this tour in a private reserve you explore the Monteverde Cloud Forest. This informative tour of the rainforest by an informative guide will have you exploring all 6 zones of the rainforest.
Here you will see rare animals like the tapir and ocelot along with a wide variety of plant life and insects. After the canopy tour you will head over to the Monteverde Butterfly Garden and see over 20 species of butterflies then finish up the tour at Don Juan's coffee plantation.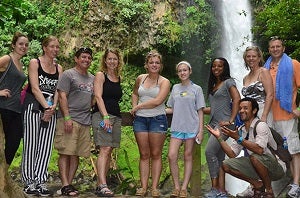 This is a true full day tour where you will enjoy the best of Costa Rica. Start out your tour at the Arenal Hanging Bridges where you will enjoy some beautiful views and picture taking opportunities.
From there you will hike to the La Fortuna Waterfall and enjoy the lush vegetation and enjoy a swim in the crystal clear pool under the falls. After lunch you will then go to the Arenal Volcano National Park and see the active volcano lava fields and finish up the tour at the Tabacon hot springs.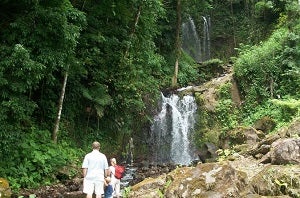 On this tour you will explore the lush rainforest around the Rincon de la Vieja volcano. Enjoy the view of the spectacular 260 foot tall waterfall and take a swim in a nearby mineral spring. Your guide will give you an informative tour as you walk along the trails and pass by streams and waterfalls.
The second half of the day experience the Blue River Resort & Hot Springs or the Botanical Gardens where there are over 700 varieties of plants and animal life, your choice of which to experience.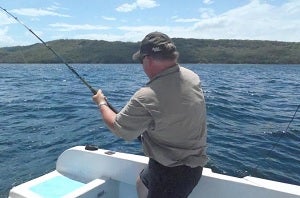 Ready to catch some big game fish? Well it doesn't get any better than sailfish, marlin, yellow fin tuna, and wahoo. These fish are common in the Papagayo Gulf in Guanacaste.
With this half day fishing expedition you captain will take you to some of his favorite spots for the chance to land the trophy fish you have been dreaming about. All gear and hotel pickup is included.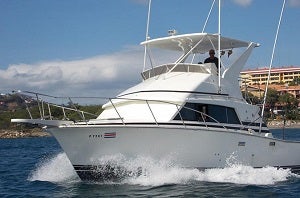 Head out in the waters around Guancaste in the 33 ft Bertram. This fully decked out fishing boat is top of the line. Your experienced captain will take you to some of the best fishing spots where you are almost guaranteed to catch a Red Snapper, Tuna, Wahoo or Marlin.
While on board you and your family can relax and enjoy unlimited snack and beverages. All fishing gear and hotel pickup is included.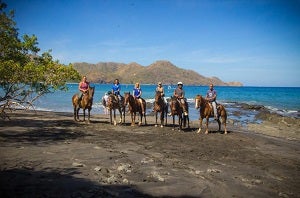 There is no better way to experience the Diamante Eco Park than on horseback. Go experience the best of Coast Rica where you will be guided through the dry tropical forest area.
Or you can choose the ocean view ride where you will get to take your horse on the beach. Either way no previous horseback riding experience is needed and riders 4 and up are welcome.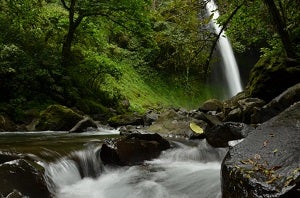 Take a horseback ride to the famous La Fortuna Waterfall. On the way you will ride through cattle farms and see the authentic Costa Rica few people see.
On the way to the falls, your guide will point out oropendolas and toucans. When you get to the falls, take a break and go for a swim in the pool under the falls.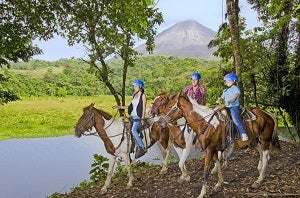 On this horseback riding tour that starts on a private farm, you will then head to the Arenal Volcano. Your guide will take you through the rainforest where you will cross streams, see howler monkeys and a wide variety of tropical birds.
You will be riding well trained horses so no prior experience is needed and children over 4 are welcome.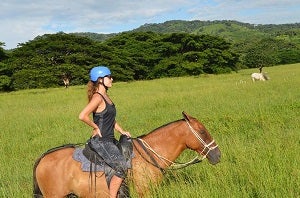 On this 2 hour horseback riding tour you will be riding through the tropical dry forest area of Guanacaste. Your knowledgeable guide will take you on a ride that will give you spectacular views of the Pacific Ocean.
On the way you will see deer, howler monkeys, spider monkeys and a wide variety of birds. No prior horseback riding experience is necessary.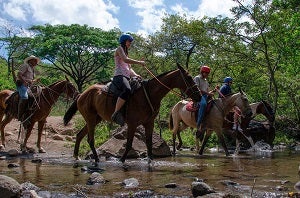 On this full day horseback riding tour you will get to ride into a tropical rainforest to see two beautiful waterfalls. On the way enjoy the rainforest vegetation and jungle animals like howler monkeys, spider monkeys and a wide variety of tropical birds.
Then you exciting day will continue with a zip line canopy tour and see the forest from a birds eye view. Then finish the tour enjoying a steam bath or a mud bath in the hot springs.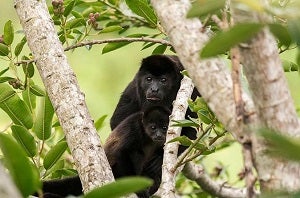 Interested in Costa Rican wildlife? If so, this tour is for you. Take a riverboat ride down the Tempisque River in this educational tour.
The first thing you will notice is the abundance of tropical birds, crocodiles and monkeys. The Palo Verde National Park encompasses 15 topographical zones that range from evergreen forests to mangrove swamps.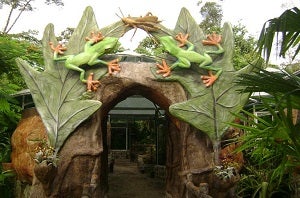 If you want an up-close view of the wildlife that occupies the tropical rainforest, this tour is for you. You will be guided by a professional naturalist through the trails that run through the rainforest at the Arenal Natura.
This is the perfect tour for families and small children. Here you will see the famous Red Eyed Tree Frog, crocodiles, snakes and turtles.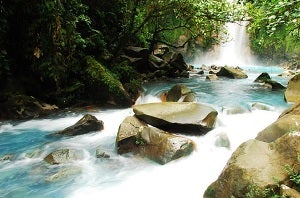 On this 4 hour hike in the Tenorio Volcano National Park, you will get to see the "blue river". This rare phenomena is the result of two rivers combining with different volcanic minerals that combine to produce the Blue River.
After that your tour continues to see a stunning waterfall a lookout point with great views with some great photo ops.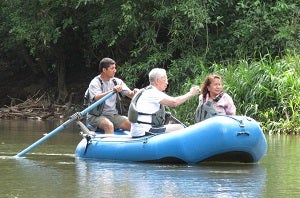 Ready to experience the peacefulness of the jungle? Well this is the tour for you. On this tour you will float down the Frío River, they don't use a motor so it doesn't scare away the wild life.
As you float down the river you will get see howler monkeys in the trees, sloths, iguanas, turtles, caimans and numerous bird species from the boat. After the tour, experience the real Costa Rica with a family as you eat some authentic snacks on their farm.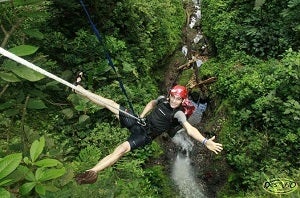 If you're looking for something a little different and exciting, this is the tour for you. Here you will rappel down a cliff right next to a waterfall then take a dip in the pool at the bottom.
You will first "warm up" with a small waterfall before moving on to the big one. This is a 150 foot drop sure to get your adrenaline going. Now that you have some experience, you will move on the largest waterfall. This is a 200 foot tall drop, if this doesn't get you exciting, nothing will!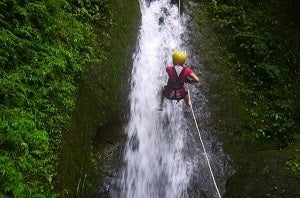 This tour is sure to get your adrenaline going. After your safety instructions you will rappel down three separate waterfalls and hanging bridge. Finish off the adventure part of the tour with a Tarzan swing into the water.
From there you have your choice of heading back on horseback or a wagon ride through the cloud forest. This will probably be the highlight of your trip!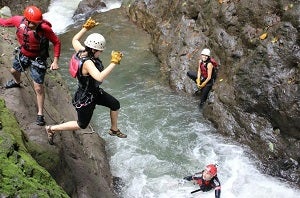 Ready to try rappelling with a twist? This tour out of Fortuna will take you deep into the jungle for this adventure tour. After your safety instructions, you will rappel down an 80-foot waterfall.
After you get the hang of it after a few tries, step it up a notch but rappelling down until your comfortable jumping into the water. Then you will move on the try four more waterfalls. If this doesn't get your blood pumping, nothing will!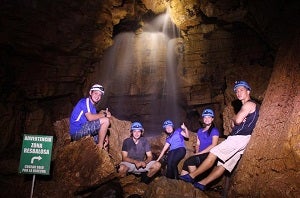 In what may be the most unique adventure in Costa Rica is exploring the Venado Caves. Grab your lights and head into the underground labyrinth where it took the underground river millions of years to carve out the cave system.
See incredible sites that few people get to see: "the birthing canal", "the papaya", "the coral", "the altar" are just some of the formations you will get to see.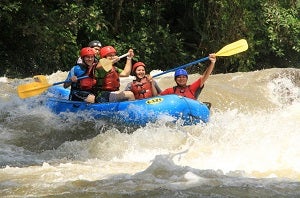 Here you will combine two things two things Costa Rica is famous for: zip lining and white water rafting. Start out with a zip line adventure where you will soar through the air for almost 2 miles at almost 40 MPH!
Then move on to white water rafting on the Balsa River. Experience some challenging rapids combined with a scenic tour of the jungle. This tour combines adventure along with seeing jungle wildlife like monkeys, sloths and many tropical birds including toucans.
Things To Do In The
NICOYA PENINSULA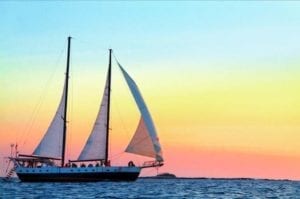 This is livin' baby! Set sail in the afternoon from Tamarindo on an 80 foot schooner called Antares – then just relax. You will be served a 6 course organic gourmet meal and mingle on the ship's deck with open bar priviledges. If you have special culinary requirements, that's no problem – the chef is accustomed to vegetarian and even touts a selection of superfood choices. You'll anchor at Playa Huevo where snorkeling, swimming, and beach walking are all yours. Live music onboard and don't forget the priceless Pacific sunset. Great for couples.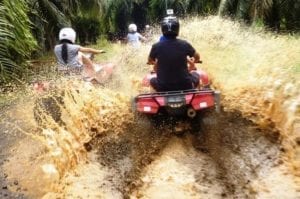 The best of both worlds!!! Ride ATVs through gorgeous thick forest trails on your way to a 500 meter zipline. Definitely an adrenaline rush from the minute you head out into the hilly terrain. The higher you climb in the rolling hills above Playa Flamingo the more spectacular the views of the Pacific Ocean. Riders should be prepared for the possibility of muddy terrain in the rainy season.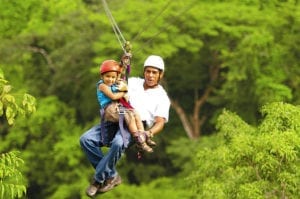 Get ready to experience a variety of fun and exciting activities in one combo excursion. You will visit the Vandara hot springs which are in the foothills of the Rincon de la Vieja National Park and Volcano. There is a water slide, mud bath, hot springs, zipline and even a short horseback ride as you explore several aspects of the jungle in and around "Rincon".  All entrance fees and lunch are included.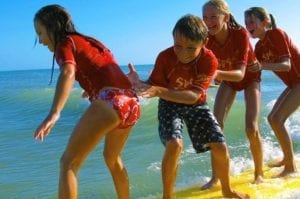 This surf school has been in business for 25 years. Located directly in front of the beach break in Tamarindo you'll be taught the basics from paddling out past the break, all the way to catching the best waves in a set. They have taught tens of thousands of students in a bi-lingual setting with complete safety-trained instructors. All new equipment and full-insured. This is the best surf school in Tamarindo. Discounted board rentals with lessons. Pura Vida!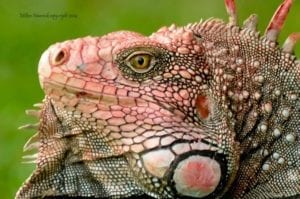 If you love the ocean and the sun this tour makes for a wonderful day.  Santa Teresa is known for striking white sand beaches and untouched natural forests. You'll take a 2 hour hike in the Curu Wildlife Refuge where native wildlife is abundant. Then you'll snorkel in the Tortuga Islands and finally visit the fabulous refreshing Florida waterfalls. A day of water, sand and sun.  Costa Rican lunch with a local family is included.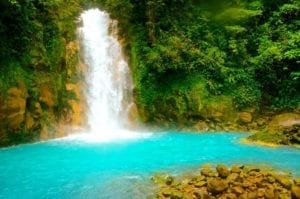 For naturalists, a famous phenomena exists in the Rio Celeste (Celeste River) where two tributaries combine and the water changes to a brilliant turquoise blue color. This is due to the combination of active volcanic minerals. You will take a challenging hike to see this natural wonder. The hike also takes you to the Llanos de Cortes Waterfall, a beautiful place to rest and enjoy the cool mountain water. Lunch is included on the tour.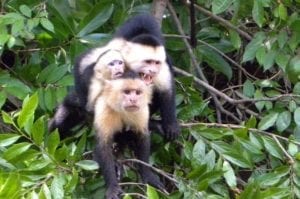 Take a jungle riverboat cruise on the Tempisque River located in the Palo Verde National Park. Wildlife has been protected here for many years and you are likely to see American crocodiles, iguanas, howler monkeys, white-faced monkeys and many species of tropical birds. This trip is relaxing, educational and at times, exciting. Enjoy a delicious, natural Costa Rican lunch included.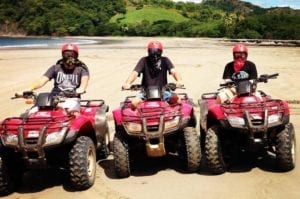 This ATV tour is a great way to see a lot of territory around the Tamarindo area. It's quite a diverse area.  One moment you're taking a trail through the dry forest and the next you're in the mountains with a panoramic view over Playa Conchal. You'll also ride along the beachfront near Conchal. The tour lasts about 2 hours and you can expect to get a little muddy if you're riding in the rainy season. Good times on ATVs Costa Rica-style.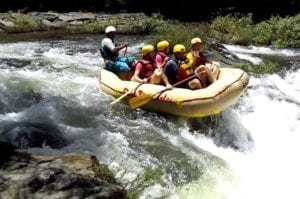 This whitewater rafting trip goes to the Tenorio River created from volcanic activity from the Tenorio Volcano. This is the best whitewater in the province of Guanacaste. It's about 20 kilometers (12.5 miles) of rapids and fantastic scenery. The rapids reach level III and IV. All of your transportation and lunch are included.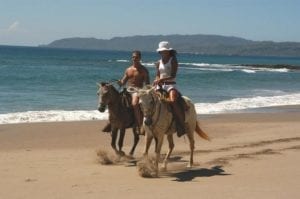 It's great to have good horseback country so close to Flamingo Beach. You'll take an air conditioned bus to the corral location. These horses are healthy and big enough to take passengers of all sizes and skill levels. You'll ride through hills, pastures, beaches and villages. Along the way you'll likely see big iguanas, howler monkeys, green parrots and many types of tropical birds. The ride is family friendly and easy to schedule with multiple trips each day.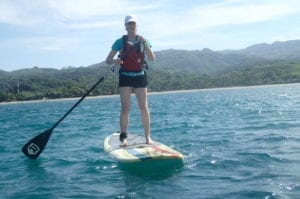 Have a relaxing, yet exhilarating paddle board trip to Chora Island just off of the Samara Beach. The waters are clear and you can see many tropical fish below. If you need some help the guide is bi-lingual and informative about the area's wildlife. Snorkel gear is included. You can make this trip as physical as you wish or just take it easy. Refreshments and transportation to the launch point are included. Enjoy Samara!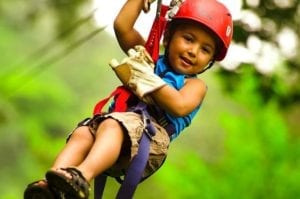 Costa Rica offers more outdoor activities than any destination we know,  On this tour you'll pack a lot of options for spending a day into one exciting excursion. Try the 1200 ft. water slide and take a dip in a mineral-rich natural spa. There's also a horseback ride and a canopy tour. So much to do that you'll get your day's exercise and then some. Transportation and lunch are included in the tour.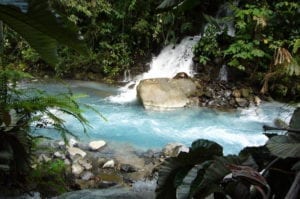 Here's your chance to experience natural hot springs, river swimming pools and fantastic waterfalls. The water in this region takes on a fantastic blue hue. It's a natural phenomenon resulting from mineral-rich volcanic-sourced water combining with the river's earth minerals. You'll be surrounded by rain forest foliage and tropical wildlife. This river is great for your skin and you'll leave refreshed and relaxed. Transportation and lunch are included.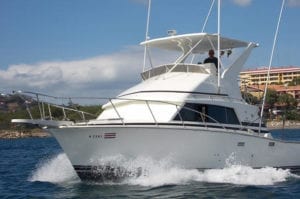 Costa Rica's Pacific coast is well-known as a world-class fishing destination for sailfish, blue marlin, dorado, yellowfin and tuna. This trip leaves from the marina at Playa Flamingo which is a private, non-commercialized area.  You'll be onboard a 33 foot Bertram Custom Sportfisher with twin outboards motors. The crew and boat are well-equipped with electronics and modern gear for locating and trolling for big gamefish. There's room for 5 anglers onboard. Good luck.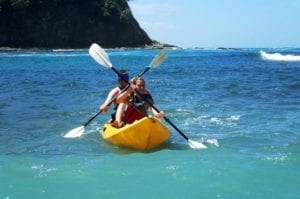 Ocean kayaking has become a very popular water sport wherever you go. Launching from the Samara Beach and heading to Chora Island is a fantastic day on the water. And to top it off snorkel gear is included. The water is crystal clear and a lot of tropical fish are visible from the kayak or below the surface. Highly recommended spot for kayaking on the Pacific Coast. Enjoy the day.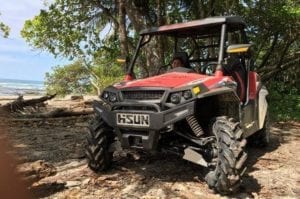 These 2-passenger 4×4 ATVs are the ultimate form of transportation on the Nicoya Peninsula. You can head out into the mountains for an adventure ride and then go out to dinner in style the same day. You'll feel the fresh Pacific air as you travel around the region seeing much more than by car or on foot. These buggies are well-maintained with 4×4 you can get just about anywhere you want.  It is possible to cross rivers and go places normally off-limits. Enjoy the freedom.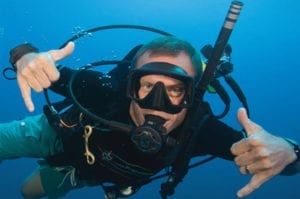 Leaving from Playa Flamingo you'll head for Catalina Island which is one of the best dive spot on the coast.  The Catalina chain of islands are home to manta rays, reef sharks, turtles, dolphins, eels and a huge array of tropical and gamefish. Two trips go out each day from the marina. The dive trip includes a 2-tank dive, all equipment and snacks/beverages.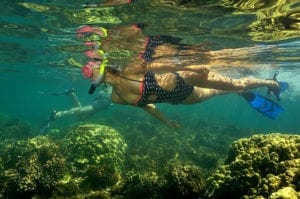 A great chance to get out out on the water off Flamingo Beach. You'll head out from the beach to a private island where you can go ashore, swim or snorkel. You'll enjoy clear waters and white sandy  beaches. This is a relaxed and scenic kayak tour. Both single seat and double kayaks are available.  Snorkel gear is provided.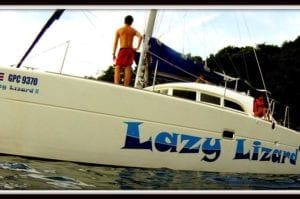 This is a diverse and relaxing boat trip from Playa Flamingo. You can make it adventurous or romantic. You'll sail in the afternoon to a beautiful white sand beach. Enjoy the beach, snorkel in the clear waters or kayak off the beach as the sun drops. During the sailboat cruise back to the marina you'll enjoy a perfect Pacific sunset.
Things To Do In The
CENTRAL VALLEY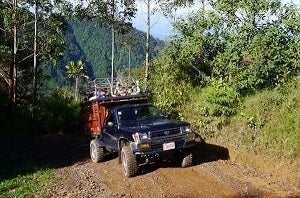 Dota, not one of the better known regions of Costa Rica is just south of the Capital, San Jose. Most of the land here is protected forest preserve that is totally unspoiled.
You will drive 4×4's to the trail head, then hike for about 3 hours through the jungle while your guide points out the native plants and wildlife. After the hike you will visit the "'Red Wine Waterfalls" where you can enjoy a swim and relax with a glass of wine and a picnic lunch.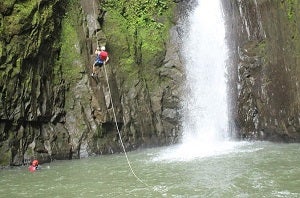 If you feel like getting adventurous, how does rappelling down a 140 foot canyon wall to a crystal clear pool of water sound? Deep in the jungle near the Arenal volcano is where you will go for this exciting adventure. Getting here is an adventure in itself through the backcountry roads and mountain passes.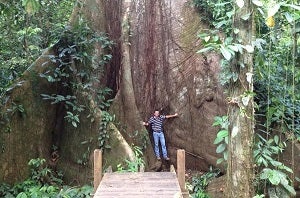 This tour from San Jose will have you seeing all the wild life Costa Rica is famous for. In the rainforest tour you will see green macaws, howler monkeys and the famous red-eyed frog.
The elevated walkway winds through the rainforest allowing easy viewing of the wild life. After which you can do a kayak trip down the Rio Cuarto river or take an oxen wagon tour around the reserve.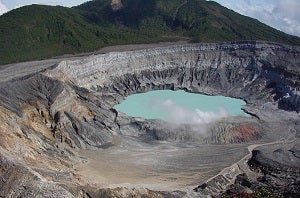 This easy climb up the Poas volcano is one of the largest craters anywhere in the world. As you ascend the volcano you will go through what is called a "cloud forest". Then you will continue on the Botos Lagoon while passing through flower and strawberry farms.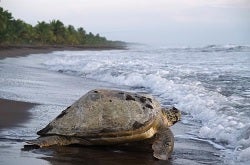 On this boat tour you will see one of the more scenic areas of Costa Rica, the Toruguero National Park. The leisurely full-day boat cruise will pass by waterfalls and beautiful mountain views.
Many of Costa Rica's most colorful tropical birds will be nesting along the river along with river otters, howler and capuchin monkeys.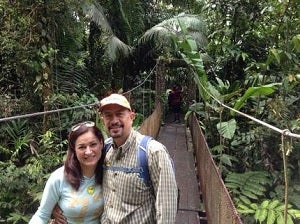 The 70-minute aerial tram ride will give you a birds eye view of the Braulio Carrillo National Park rain forest.
From this view you will see exotic wildlife like toucans, howler monkeys along with giant ferns and other plant life that you cannot see from the ground.
After which you will take a walk on the trails and get a ground view of the rain forest.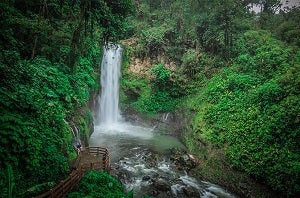 This hiking tour will take you through one of Coata Rica's most lush rainforests. On your hike you will see waterfalls, tropical birds, monkeys  butterflies and frogs.
At the end of the trail is the spectacular La Paz waterfalls in a wildlife preserve where you will enjoy lunch and hear a history of the preserve.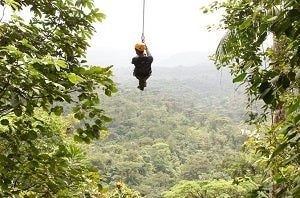 Here you will get an adrenaline rush as you ride a zipline at up to 34 miles an hour through the canopy of a rainforest. Inside the forest preserve you will fly through the canopy in 450 foot segments where you will get to enjoy views of lush rainforest and exotic animals. Your guide will give you an informative tour along the way.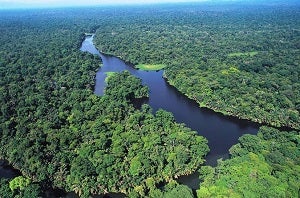 Here you will start your tour enjoying breakfast in a coffee plantation. From there your bus tour will go through the Braulio Carrillo  National Park with narration from your guide.
Then you will get to go on a jungle boat ride through the Tortuguero National Park which is an important green turtle nesting area. Along the boat ride you will see sloths, monkeys, toucans and if your lucky manatees.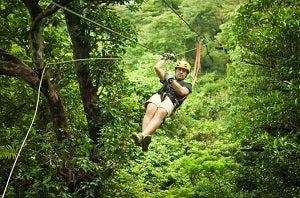 This must do trip is a combination riverboat tour and a choice of hiking or horseback ride through the jungle canopy. The 2 hour boat ride will have you seeing some of Costa Rica's most exotic wildlife.
Once the boat tour is over you will roam through the rainforest canopy in this unique, 2 hour tour. After which you will enjoy lunch then a scenic ride back to San Jose.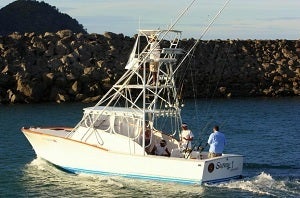 Try your hand at deep sea fishing aboard a 32' fishing boat from the Los Sueños marina. Have your choice of half or full day. There is nothing like catching and landing a saifish, tuna, mahi-mahi or a wahoo. Y
ou have your choice of going offshore between 25-45 miles or stay closer to shore and go after snapper and snook. All gear is provided.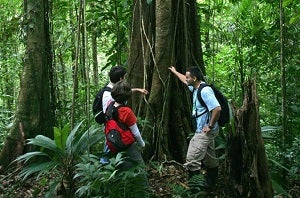 Get the experience of being in a real rainforest jungle with this 5 hour hike near the Braulio Carrillo National Park. Inside the private nature reserve a gondola will take you deep in to the jungle where you will then begin your hike  guided by an expert.
You will learn all about life in the rainforest and see exotic wildlife. You will be provided with lunch and breakfast along with hotel transport.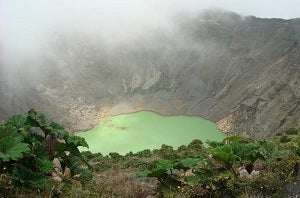 Irazu is Costa Rica's highest volcano. From the top you will on a clear day be able to see both the Atlantic and the Pacific oceans!
This easy hike from the parking area to the top of the volcano will give you a view of both craters and see its exotic moon like surface.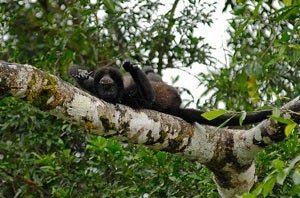 See what its like in a real tropical rainforest. Here you will experience all the vegetation of a lush rainforest along with rivers, waterfalls, exotic birds, monkeys, frogs, and crocodiles as you cruise down the Puerto Viejo de Sarapiqu.
You will see all this and more at the Braulio Carrillo National Park. There are over 2 miles of hiking trails around the waterfalls for you to explore along with 3  animal exhibits to view.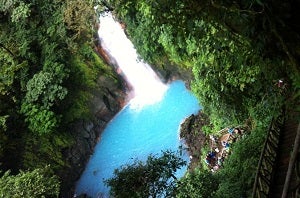 This 4 hour hiking tour is a little more on the strenuous side as it will take you through several steep areas of the Tenorio Volcano National Park. The 3.5 mile hiking trail runs alongside two crystal clear streams, surrounded by lush vegetation and exotic wildlife.
As you continue on, go through the Tenorio Volcano thermal springs and at the end of the trail is the Rio Celeste Waterfall. This stunning beautiful colored waterfall will make the journey worthwhile.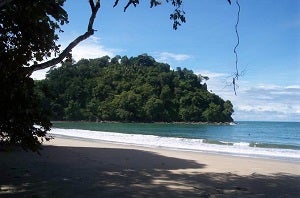 This 3.5 hour tour from San Jose is an easy hike through Costa Rica's first national park. Your guide will explain the history of the park, plus tell you about its plant and wildlife.
At the halfway point of the hike is a stop at the famous "Third Beach"  where you can go for a swim or just relax on the beach.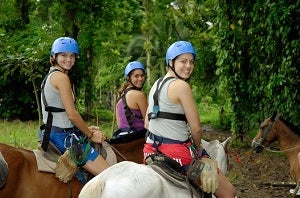 This full day exciting combination hiking and horseback tour is a short distance from San Jose. First you will take a river boat ride through Puerto Viejo de Sarapiquí where you will see sloths, herons and the occasional river crocodile.
At the end of the boat ride, enjoy  the included lunch then you will take a one hour horseback ride into the jungle. As you ride through the lush vegetation keep an eye out for howler monkeys along with herons and iguanas.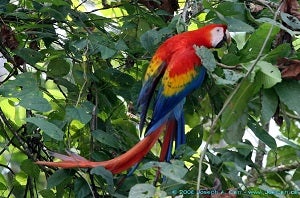 The Carara National sanctuary inside the Manuel Antonio National Park is home to almost half of Costa Rica's bird population. Your guided hike by a professional naturalist will take you down two trails where you will see the famous Red Maccaw.
After seeing the sights and taking lots of photos you will make a stop at the Tarcoles bridge where you can see the giant river crocodiles in the river below.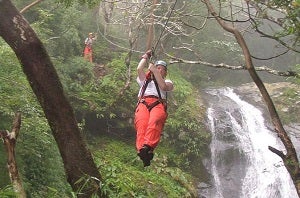 In one of Costa Rica's most exciting tours, here you will soar through the rainforest canopy right over top of 11 different waterfalls. Enjoy the best views in Costa Rica of the ocean, mountains and jungle.
There are a total of 25 zip lines, the longest zip line tour in the country. After the zip line tour, enjoy lunch and a swim in a mountain swimming hole.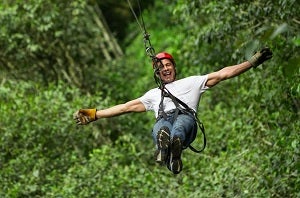 On this half day tour from San Jose, see the best of Costa Rica on the jungle canopy zipline adventure. You will take a short hike into the rainforest to the first platform where you will suit up.
Then you will soar through the jungle canopy from platform to platform enjoying views of waterfalls, exotic birds and lush vegetation. After your zip line adventure, enjoy lunch before heading back to your hotel.
Things To Do In The
CARIBBEAN COAST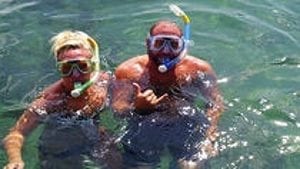 A great way to experience the Caribbean sea by boat and the Southern Costa Rica rain forest in a single tour.  You will be taken by boat to a living coral reef in the Cahuita National park where you'll snorkel in the crystal clear blue waters. Hundreds of varieties of fish, stingrays and octopus enhabit the warm water reefs of Costa Rica's Caribbean coast. After the snorkel trip enjoy a natural snack on the beach and start a rain forest hike where jungle wildlife including monkeys, birds, sloths and frogs can be seen.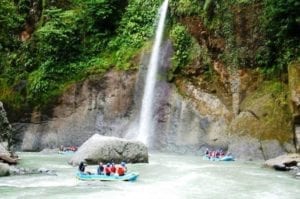 The Pacuare River is the most recognized river for whitewater rafting in Costa Rica – and with good reason. Sheer cliff walls covered in green moss and vegetation line both sides of the river along several stretches of the Pacuare. Beautiful, massive granite and sandstone boulders are also found along the route. Its extreme remote location makes for a daylong adventure into a jungle region of Costa Rica that is largely uninhabited. The local rafting guides are knowledgeable and professional.  Highly-recommended!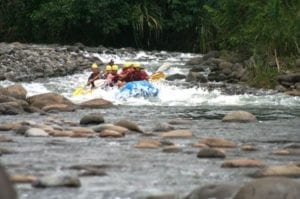 This 10 mile stretch of the Reventazon River has something for ever traveler.  The first half of the trip features long rapid runs up to Class III with nice size waves.  Then the rafts are beached at a beautiful lunch picnic spot.  After lunch you enter a thick jungle section of the river that is calmer and home to Costa Rican rain forest wildlife. The tour is guided by knowledgeable pros.  After the day's rafting you will be able to shower, change clothes and enjoy a cool drink before heading back to civilization.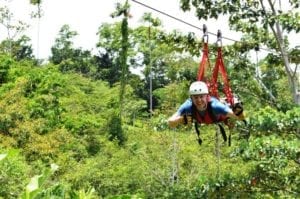 Exciting and educational. You'll soar above the rain forest canopy on zip lines that launch from both aerial and ground platforms.  Altogether, the zip lines cover 9000+ feet of jungle – that's nearly 2 miles!!!  The Superman cable is rigged for headfirst "flying" through the jungle if you're ready for the thrill. The guides are safety-certified zipline operators with expert knowledge of the rain forest. You'll learn about the plethora of rain forest vegetation and spot native wildlife. Near Puerto Limon.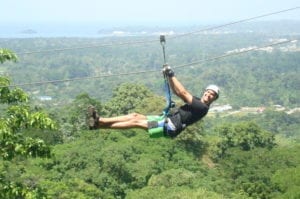 Get the best of both worlds on this adventure tour for cruise ship passengers at port-of-call Puerto Limon, Costa Rica.  You will get to experience incredible aerial views and wildlife from the (11) ziplines and (12) platforms. Then take a boat tour on what has been called Costa Rica's Amazon – the Tortuguero Canal.  The roof-covered tour boat will motor or drift down the canal as a local guide points out natural features of the rain forest.  Among the wildlife living near the canal are sloths, iguanas, crocodiles, howler monkeys, toucans, bats and aquatic birds, as well as exotic jungle vegetation.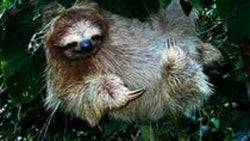 Lots to see and learn about on this 6-hour tour of the Limon area.  From the pier you will head to a fruit stand for a refreshment and then head into the Caribbean rain forest along with a knowledgeable, local  guide. You will learn about the flora and fauna of the tropical rain forest ecosystem. Colorful frogs, butterflies and birds There, you will be able to spot poisonous colorful frogs, amazing blue butterflies and a variety of tropical birds. Next, you'll visit a working banana farm and learn about growing, harvesting and exporting bananas.  The next stop is the Tortuguero Canals where birds and monkeys are plentiful. Then plunge into the Caribbean Sea at Playa Bonita and tour the city of Limon on the way back to the ship pier.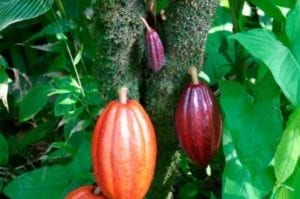 Naturally-grown cocoa is the principle ingredient in chocolate bars and candies. On this unique and  informative excursion you'll visit a chocolate making plant and then on to Cahuita National Park. The white sand beaches of Cahuita are lined with coconut palms. Then just off the shoreline you'll enter  green tropical vegetation of the rain forest. Trails lead you into the middle of one of the most unique ecosystems of the world. An expert naturalist will describe the biodiversity that you'll experience as you explore the rain forest.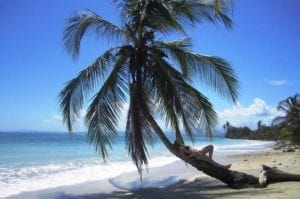 A professional naturalist will lead your small group through Cahuita National Park which is considered one of the most ecologically diverse regions in the world. This beautiful rain-forested region of Costa Rica has been a national protected area since 1970.  The incredible white sand beaches are lined with coconut palm trees. The clear blue waters and living coral reef make Cahuita a mesmerizing visual treat.  Along the coast road you will spot animals including white faced monkeys, raccoons, sloths, tropical birds and other wildlife.  After the hike in the Cahuita National Park you'll be taken to a fantastic hidden waterfall for swimming.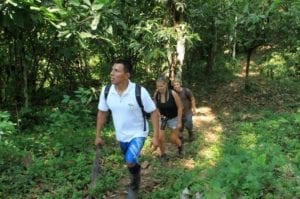 Visit a working cocoa plantation and climb up through the rain forest around Kekoldi. This region is home to the Bri Bri, an Pre-Colombian indigenous tribe of Costa Rica. The forests are rich with wildlife such as birds, butterflies, frogs and tropical vegetation including the Heliconia flower .  The culture, history and traditions of the BriBri makes for an amazing and enlightening day. See tropical frogs, birds and butterflies as you ascend to a jungle observation deck. Here you can see the Talamanca mountains, the Panama Sixola River valley, and the Atlantic coast.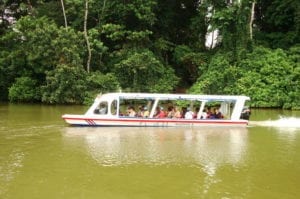 Hop onboard a covered jungle boat for an hour-long cruise through the Tortuguero jungle canals. A knowledgeable, local guide educates guests on the eco-system of the rain forest. These waters have a plethora of wildlife including crocodiles, howler honkeys, sloths, toucans, tropical birls and exotic flowers.  A large air-conditioned tour bus takes you to the boat launch and on the return to the ship pier you'll stop at a working Del Monte banana plantation.

Things To Do In The
OSA PENINSULA & GULFO DULCE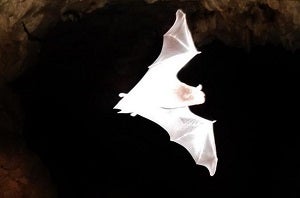 See the jungle from a completely different perspective; Nighttime!  A nocturnal tour a of the jungle is nothing like seeing it during the day. The animals you see and hear at night are completely different from those that come out during the day.
Your tour guide will light up the interesting things like big venomous tarantulas, snakes, colorful frogs and iguanas. A completely unique tour!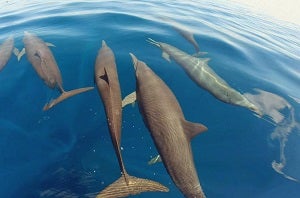 The Osa Peninsula of Costa Rica is famous for being a rich in marine life. This tour is famous for its sightings of Humpback Whales. The Osa Peninsula is a popular breeding ground for the whales.
It is also a very popular breeding ground for dolphins. Several species of dolphins call the Osa Peninsula home. Pods of dolphins here number in the hundreds.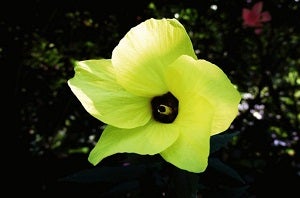 Take a hike in the Costa Rican rainforest with an experienced guide to get an informative, and close up tour of rainforest plant and wildlife.
After an hour of walking through the forest and seeing all the interesting sights like the rare scarlet macaw you will finish up at a waterfall. If you want, take a swim and look for the blue river shrimp. One of the only fresh water shrimps in the world.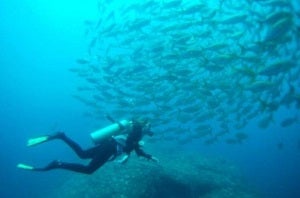 If you are a certified scuba diver, this 2 tank dive trip may be for you. Here you will travel to Cano Island and in the crystal clear water see barracudas, white tip sharks, stingrays, sea turtles and colorful coral.
You will dive two protected marine areas around the island and are suitable for all certification levels. All diving equipment is provided.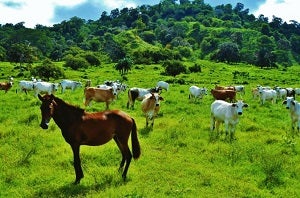 After a short ride in a meadow to learn how to control your horse, you will continue on to the rainforest. Your guide will point out all the interesting sights along the way.
As you ride by the streams, you will have a chance to stop ad taste some of the native fruits. You will continue on to you see a view of the Golfo Dulce Bay. Your tour will finish up with a swim in a pool under a waterfall.

Introduction to Costa Rica:
Notice: Outside Pursuits is a participant in the Amazon Services LLC Associates Program, an affiliate advertising program to provide a means for sites to earn advertising fees sold through by advertising and linking to Amazon.com. Amazon offers a small commission on products sold through their affiliate links. Each of your purchases via our Amazon affiliate links supports our efforts to bring you the best possible product reviews at no additional cost to you. We appreciate your support here at OutsidePursuits.com