Ladies can have a particularly difficult time finding good outdoor footwear. It sometimes even seems as if the outdoor industry just isn't paying attention to the specific needs and wants of the female hiking community.
While it's tough to find the right pair of hiking boots for women, I'm going to do my best to help provide some insight on the process.
Ladies, you don't have to settle for poor quality hiking footwear. If you're looking for the best Women's hiking boots, just stick to your guns and keep looking.
There are several great outdoor footwear makers out there producing quality Women's waterproof hiking boots.
For more of my top gear recommendations, have a look through these popular Outside Pursuits guide links: Hiking Pants, Hiking Rain Jackets, Trekking Poles
Quick Answer: The 5 Best Hiking Boots For Women
Let's take a look at the hiking boots for Ladies, then we'll take a minute to figure out how to sort out the good from the bad and how to choose the right pair for you!
Best Hiking Boots For Women
| | Ahnu Women's Sugarpine Boot Hiking Boot | Merrell Women's Moab Mid Waterproof Hiking Boot | Columbia Women's Newton Ridge Plus Hiking Boot |
| --- | --- | --- | --- |
| | | | |
| | | | |
| Weight: | 12 ounces | 15 ounces | 16 ounces |
| Upper: | Leather/textile | Leather/Mesh Fabric | Leather/Synthetic |
| Sole: | Rubber sole | Vibram sole | Rubber sole |
| Features: | 100% Waterproof hiking boot with rubber toe protector | Waterproof hiking boot with breathable mesh construction | !00% waterproof full grain leather featuring Omnishield water resistance |
| | | | |
Women's Hiking Boot Reviews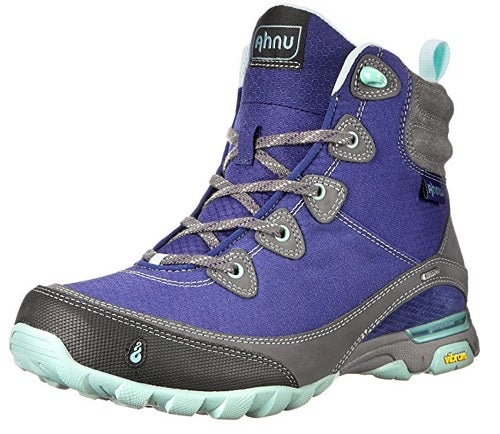 This is a solid, high cuff hiking boot with waterproof liner, toe cap, and many other great hiking features.
Frontal toe box is a rubber bumper for protecting the foot from sticks, roots, rocks and other objects which might otherwise cause harm to a hiker.
Vibram soles are some of the best on the market and Ahnu is rocking a great multi-layer Vibram sole for this boot.
One thing I really dig about this boot is that it's offered in several colors and variations which are awesome for getting the right look. If you're going to pay top dollar, you might as well have a custom style, right?
Leather and fabric construction as well as over the ankle, padded and reinforced cuff for extra protection make this a great pair of boots for all day hiking.
They are an excellent choice for beginner or experienced hikers looking for a pair of the best Women's waterproof hiking boots.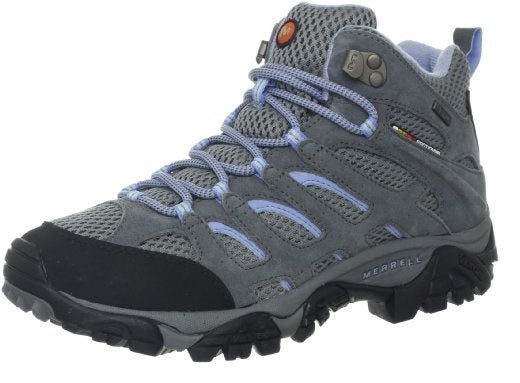 A mid hiking boot falls somewhere between a full-size hiking boot and a trail runner. These aren't as lightweight or comfy as a trail runner, but they're also not nearly as beefy and cumbersome as a full-size hiking boot.
There are a couple trade-offs with this. First, you lose the over the ankle protection of a larger boot with things like, ankle support and abrasion resistance on rocks or roots.
Second, with a lower cut this boot is going to let in water from puddles or streams more easily than a taller boot.
The waterproof breathable membrane from Merrell make this pair of Women's waterproof hiking boots suitable for wet and muddy conditions but not crossing streams.
These are good things to keep in mind when considering a mid-cut boot.
A toe cap brings in all the major features we're looking for with a Vibram sole and another solid contender on our list of Women's lightweight hiking boots.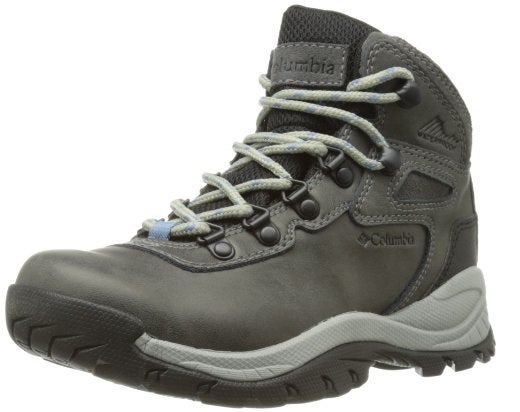 Columbia has always earned my respect for producing high quality outdoor products at a reasonable price compared to many other competitors. True to nature, they're at it again, delivering these women's trekking boots.
Leather and synthetic material combination provides durability, flexibility, and reliability. Using an in-house Columbia rubber sole and rugged D-ring lacing, these boots are designed to deliver comfort.
They're a low-rise boot, coming just over the ankle, with full length lacing which can help to provide some of that extra ankle support if that's what you need in a boot.
The Newton Ridge boots depend on Columbia's Omnishield coating on the leather for waterproofing instead of a membrane.
I've found that having a boot lacking a membrane often means that they're better at drying out once wet.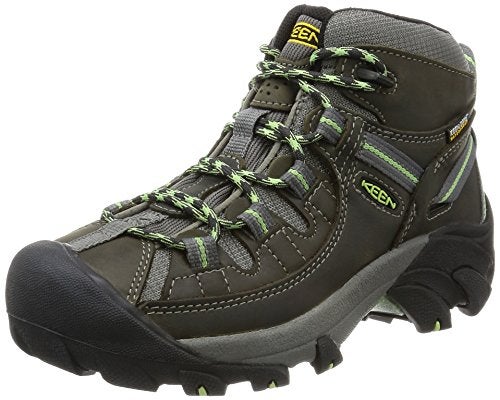 These boots are meant to tackle mud, dirt, and rocks head on with outsole lugs that are thick and beefy.
Having aggressive lugs on the outer edge of a boot usually means improved mud and wet traction versus more moderate tread designs.
Keen utilizes a leather and fabric design to bring together the fit and comfort of this boot with lacing wrapping all the way around behind the ankle to snug down the boot.
Mid-height rise is reinforced with full length lacing and the rubber toe cap will help fend off any injuries to those sensitive toes from rocks or logs.
If you want a boot to get through the mud, water, and trail while supporting and protecting your foot, this is a great option to consider!
Keen even wraps the boot together with a waterproof, breathable membrane to appease those looking for waterproof hiking boots for Women.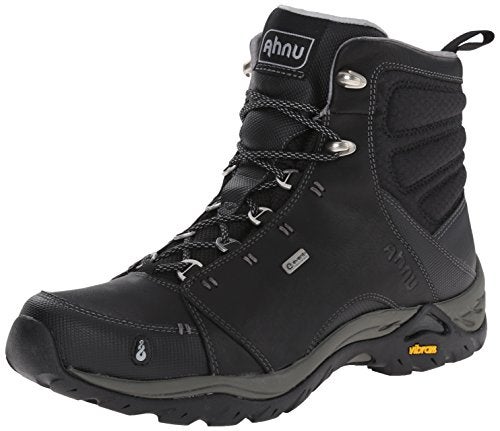 Standing apart from the crowd on our list of women's hiking boots is this high-top leather beast from Ahnu. The Montara is made for those looking to the ultimate in ankle protection, support, and waterproof qualities.
Your feet will stay warm, dry, and happy in these boots surrounded by eVent waterproof breathable fabric – the most breathable fabric on the market last I checked.
With a well-over-the-ankle design, this boot can be laced high and tight with two major quick laces above the ankle for speedy lacing.
One of the best things about a high collar boot is that you can walk through some pretty deep water before the water gets inside the boot. You would have to fully submerge this boot to get water in it from the bottom.
Ahnu is a great brand that's seeming to become more popular every year and they've paired the Montara with a Vibram rubber sole for best-in-class performance.
This is a great choice if you want a boot that's taller than just about any puddle with full foot protection. In my opinion Ahnu makes some of the best waterproof hiking boots for Women, you won't go wrong with the Monara's.
How to Choose the Best Hiking Boots For Women
Ankle Support and Boot Height
For ladies, ankle support may be stressed as a "must have". Don't fall into this trap when the local outfitter recommends high top boots for ankle support only.
Don't get me wrong – boots can help provide some ankle support. However, if you don't have weak ankles or a history of rolling your ankles, consider exactly how beneficial this will be for you.
I recommend supportive footwear for anyone with a history of ankle problems or the potential to develop them. For many of us, however, this is not normally and issue and can be dismissed as unnecessary.

Snake Bites
It seems that irrational fear of animals is one of the biggest myths about hiking, backpacking, and wilderness travel. I can't tell you how many "survival" shows or outdoor shows I've seen with and unhealthy focus on animal attacks. Of course, snake bites do happen.
However, you'll want to consider where you'll be traveling and how likely a snake encounter is. If this is a real threat, I'd suggest looking at buying snake boots – they're a specific type of boot.
While snake boots might be helpful in some areas with extremely high danger of snake encounters, very few of them are well made for long travel durations.
Because of their high-top and rugged design, they're also uncomfortable and blister-prone. Only seek these boots if snake bites are a real and legitimately likely life threatening aspect of hiking in your chosen location.

Are Waterproof Boots Necessary?
Many new hikers are obsessed with waterproof gear. Waterproof backpacks, bags, sleeping bags, tents, shoes, boots, and everything else under the sun.
Waterproof footwear has several huge and glaring drawbacks and we'll talk about a few of them here:
Water can still come in from the top of the boot where your foot goes in. If you step in water deeper than the boots cuff (river crossing or deep puddles) or if rain leaks down your legs or rain pants (almost guaranteed) then your waterproof boot is now a swimming pool for your foot.
Even breathable waterproof footwear will retain moisture and standing water for hours or even days. Waterproof membranes simply suck once water manages to get inside the boot – they just hold in the water and make your foot marinade in nasty foot water as your skin becomes dangerously macerated.
Waterproof membranes are fragile and breakdown quickly under abrasion and movement. In a shoe or boot critical wear points are subjected to constant flexion and abrasion from your foot, rocks, dirt, pebbles, and other grit both inside and outside the shoe.
Almost without exception the waterproof membrane will break down before the boot does and now you're left with a functionless waterproof piece of footwear.
The only time I use or value waterproof hiking boots is in shoulder season conditions where trails may be muddy, snowy, or icy. In these conditions getting your feet wet can be dangerous or harmful and staying dry and warm as long as possible is always prudent.
In these conditions, it is necessary to consider some method by which to keep your feet safely warm and dry – either waterproof socks, vapor barriers, trash bag liners, or waterproof footwear.

Types of Hiking Footwear
There are several major classes of hiking footwear and, since we're talking about hiking boots, it's necessary to identify and define the other categories.
In the hiking world, there are:
Trail runners
Hiking boots
Mountaineering boots
Trail runners are athletic shoes like tennis shoes with a low-cut ankle, lightweight design, and athletic fit. Hiking boots are usually above the ankle cut boots with thick and heavy soles and beefy construction.
Mountaineering boots stand above the rest. These boots are made specifically for extreme expeditions and offer extreme insulation, protection, and integration into external systems such as crampons.

The True Cost of Heavy Footwear
The saying goes that "one pound on your feet equals five pounds on your back" and it couldn't be more true. According to many studies, empirical evidence, and a large body of writing, "Weight on the feet is disproportionately more exhausting than weight carried on the torso."
Why is this so? Because once under motion your torso, backpack, and body remain under motion during normal hiking conditions. Your feet, however, do not.
When walking, your feet must constant accelerate and stop with every step and, if you remember from physics class, it takes a lot more energy to get something started moving than to keep it moving.
Every time you pick up and put your feet down, any extra weight on them is going to make it harder and harder to do so – expending more energy.
Don't believe me? Log a 25-mile hiking day with beefy over-the-ankle hiking boots on your feet and then compare it to a 25-mile day with a well-fitting pair of lightweight Women's hiking boots.
You'll feel the difference. No matter what type of footwear you decide is appropriate for you, lighter is always better!

Conclusion
Ladies, your choices in great hiking and backpacking footwear are improving every year. Luckily footwear makers have responded quickly to the evolving demands of all hikers in recent years and we now have so much more selection.
Remember that tall, heavy hiking boots can take a long time to break in. They're blister-prone, and they'll tire your legs out after a day of walking in them. Of course, this is the tradeoff we make for some waterproofness and ankle support.
Whether you need a pair of lightweight Women's hiking boots or a pair of waterproof boots that engulfs the ankle and lower leg in a protective cocoon, you'll be able to find it on our list.
Make sure to compare your needs against the features of the boot to avoid making a mistake when purchasing. Remember, every hiker has different preferences so go ahead and choose freely!

Best Women's Hiking Boot Brands

Merrell is one of my all time favorite brands for boots. All they make are footwear and they have been doing it for over 20 years. Columbia in my opinion is the best value proposition there is. Their gear is always of good quality at a reasonable price.
Keen manufactures a quality line of footwear for Men and Women, they are also heavy into protecting the environment and supporting non-profit causes. Ahnu may be the least known makers of footwear, but they are well known in the hiking community for making quality, reasonably priced hiking shoes and boots. They were recently acquired by Teva and hopefully will continue their tradition of making quality footwear.
I hope this guide was helpful for finding the best hiking boots for Women to fit your needs. If you want to comment or recommend a pair of boots I didn't include, please use my contact form to get in touch.
Have fun and be safe out there!
Notice: Outside Pursuits is a participant in the Amazon Services LLC Associates Program, an affiliate advertising program to provide a means for sites to earn advertising fees sold through by advertising and linking to Amazon.com. Amazon offers a small commission on products sold through their affiliate links. Each of your purchases via our Amazon affiliate links supports our efforts to bring you the best possible product reviews at no additional cost to you. We appreciate your support here at OutsidePursuits.com