Whether you're riding the family snowmobile or shredding the backcountry in the Tetons, you're going to have to sort through a lot of options to find a snowmobile helmet that provides a good fit, comfort, and safety.
These days, snowmobile helmets are often feature rich and sometimes confusing. It seems like they are all made for the high flying Wyoming backcountry powder junkie.
In this guide we're going to help you understand what to look for and what to avoid.
These are our favorite snowmobile helmets that have won our trust because of their superior performance.
Here is an overview of the snowmobile helmets with full reviews and our buying guide below.
Mobile Users Scroll Over =>
Typhon Snocross Snowmobile Helmet & Goggle Combo
509 Tactical Snowmobile Helmet
VIPER Modular Dual Visor Snowmobile Helmet
Style:
Snowcross
Snowcross
Modular
Shell:
Durable polycarbonate
Durable polycarbonate
Fiber Reinforced, ABS Thermal Plastic Composite Shell
Features:
Removable liner, adjustable breath box

Multiple vents running along the back of the helmet
Custom interior EPS head foam with premium removable liner for a comfortable fit

Cold weather breath box
Single push button flip-up modular flip-up feature

Quick access, easy open air vents

Googles Included:
Yes
No
No, Modular Design
Snowmobile Helmet Reviews
Typhoon Helmets Snocross Helmet + Goggle Combo Review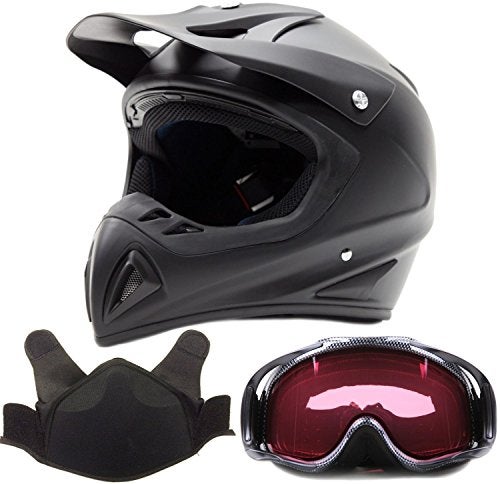 This DOT certified, budget minded helmet is ideal for the casual snowmobile rider. If you're trying to keep dollars in your pocket and still keep yourself safe on the sled, this is a good choice.
Featuring a removable breath guard, and an included set of goggles, this helmet is an all-in-one solution.
Goggles feature 2-pane construction to minimize fogging and that's a solid feature to find on a budget minded snowmobile helmet.
Solid bonus: A goggle case included with the package plus it has a extremely warm liner and is probably the warmest snowmobile helmet on the market.
Goggles come with an additional clear lens which is great if you happen to be out riding longer than expected and need a clear lens for twilight conditions or particularly dark days.
The Typhoon is a great option for a helmet, it offers a great combination of quality, included goggles and features.
509 Tactical Snowmobile Helmet Review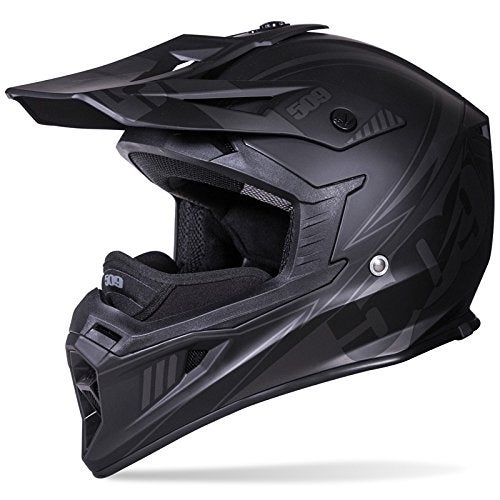 The 509 Tactical is a snocross style snowmobile helmet that sports safety ratings from DOT and ECE so this helmet will meet your safety needs.
Being a snocross style it lacks a visor or lens and allows the rider to choose a goggle to pair with the helmet.
The visor and blacked-out styling is aggressive and modern, sure to match that new high-horsepower sled!
Make sure to look for goggles that are going to fit and feature a nose deflector to push breath away from the lens.
509 makes a pair of goggles specifically made for this helmet, the 509 X5 goggles.
Good vents integrated into the body of the helmet will keep you cool as you ride and a breath guard is removable for comfort no matter the riding conditions.
Offered in six different sizes, this helmet is almost sure to fit your head comfortably.
The 509 Tactical is my overall top pick for the best snocross helmet. It offers the features you need along with a quality design.
Viper Modular Dual Visor Snowmobile Helmet Review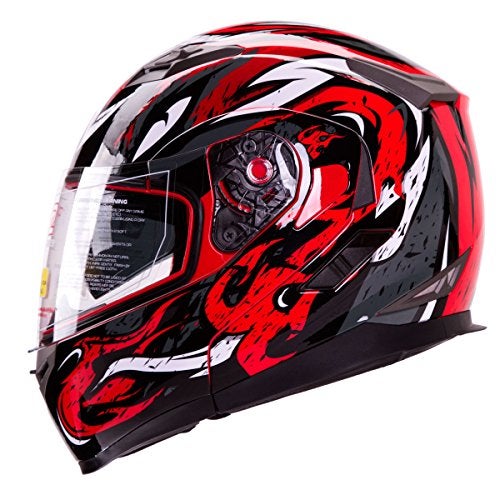 The Viper is a DOT approved helmet in a modular setup is an awesome solution for those looking to find a low priced modular helmet setup.
Dual visors are great and a wonderful solution for riders looking for a sunglasses or tinted visor solution.
An internal flip-down dark lens can be added or removed with a single lever operation to protect from sunlight or improve lighting by removing the dark lens altogether when it gets overcast or starts getting dark.
The Viper features a one-button, glove friendly flip up system converting the helmet from full-face to open-face plus a easy to use quick release buckle system.
Lack of dual pane lens means you may get some fogging but with a ventilation system that has 10 vent ports that shouldn't be an issue.
However, even if do you need to get a replacement lens its still a great buy when you consider the already low price of this feature rich helmet.
The Viper also lacks a breath guard so if your a hardcore rider working up a sweat this may be an issue but this motorcycle / snowmobile crossover helmet is probably more suited to the rider looking for a one-helmet-quiver type solution with a recreational mindset for bikes and sleds.
With unique color scheme and modular design the Viper is one of the best modular snowmobile helmets.
Conclusion
If you're a hardcore extreme mountain snowmobile enthusiast, you may be on the search for something more high octane. For the rest of us, however, who may spend a few days a season on the snowmobile, it's really not necessary to sink a fortune into a good helmet.
Consider what type of helmet works best for your needs and make your decisions based on personal riding styles, riding conditions, etc.
My money is on the Typhoon Helmet out of the three we've reviewed because its an all in one solution with everything you need.
How to Choose A Snowmobile Helmet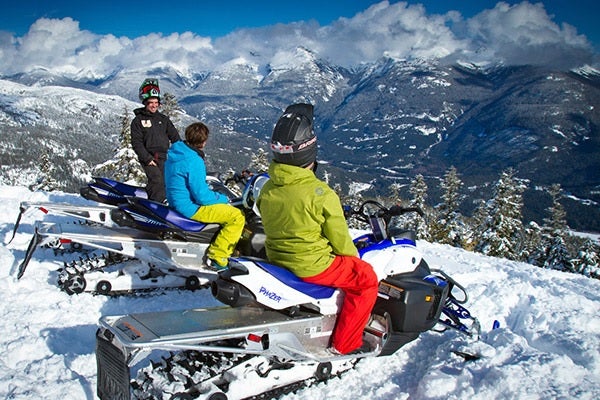 Types of Helmets
Full Face – Full face helmets feature a completely protected dome with one seamless shell. These are probably the most common type of helmet for any sport across the world. The opposite of full face would be a bowl helmet, like the classic black-spiked, leather jacket, biker dude helmet that sits high on the head and does almost nothing to protect that cranium.
Modular or ¾ – Modular helmets are probably the best possible helmet to get ahold of. These helmets feature a jaw which can be locked down for a full face style, or raised for an open-face setup. Why are these great? Not only are the customizable, but if you ever get hurt while wearing the helmet, EMS crews will love you. As a trained EMT, I can tell you that the best helmet to be wearing if you get hurt is one where emergency crews can access your face (airway) without removing the helmet.
Snocross – Snocross helmets are a mix between a dirt bike helmet and a full face snowmobile helmet. These are pretty popular for high-flying adrenaline riders. Use separate goggles with this helmet, allowing more ventilation and customization. Open face design will ensure your heat, sweat, and breath are carried away before being able to fog up your high-speed view.
Lenses
One of the most critical features of snowmobile helmets is anti-fog technology. Waste no money here and go for top of the line. In cold weather that face shield lenses is going to want to fog up and you're going to be unhappy if it does.
Impact rating, lens material, and anti-fog technology all take together really give us a good understanding of the quality of helmets we may be considering. One critical piece of technology is dual-pane lens. This is necessary for anti-fog capability, and we suggest you avoid any single pane lenses.
Breath Guard
These helmet inserts are adjustable and seal your nose and mouth to ensure that your moist, hot breath does not get circulated up and on to the lens. Cold lenses in winter conditions plus hot breath equals condensation and fogging.
A breath guard is an excellent choice and, when paired with a high quality dual pane lens, almost guarantee no fogging!
Ventilation
Ventilation is actually very important even in winter conditions. Despite cold temps, these helmets can get hot quickly, especially for the more active and aggressive big mountain riders.
Air flow through the helmet its self is critical to heat management and adjustable vents are a great tool for staying in control of your temperature.
Ventilation into the lens area helps prevent fog, and mouth ventilation is great for staying fresh.
Safety Rating
Depending on where you're living and what you intend to participate in as a snow sports rider, you may want to seek certain safety ratings.
DOT – or Department of Transportation is a no-brainer certification anyone should be looking for. Don't even consider a helmet without this rating.
Snell – is an independent rating group with high standards, this rating is a smart buy!
ECE – For European buyers, look for this indicator. The Economic Commission for Europe samples these helmets for quality and standards.
Return to snowmobile helmet reviews.
Notice: Outside Pursuits is a participant in the Amazon Services LLC Associates Program, an affiliate advertising program to provide a means for sites to earn advertising fees sold through by advertising and linking to Amazon.com. Amazon offers a small commission on products sold through their affiliate links. Each of your purchases via our Amazon affiliate links supports our efforts to bring you the best possible product reviews at no additional cost to you. We appreciate your support here at OutsidePursuits.com
Review Overview
Summary : My favorite helmet is the 509 Tactical Snowmobile Helmet, it has all the features you need and a quality design to protect your head.