Now five years into my career as a snow sports instructor in the mountains of Utah, I know what gear belongs on the mountain. My first winter wasn't that way.
I think I must have bought four different pairs of pants trying to find the right ones for using on the mountain. Of course, now I'm going to help you avoid the same mistakes and find the best snowboarding pants for you!
Choosing the best snowboard pants is critical for enjoying the slopes. If you've ever been boarding in the spring you know that wearing thick pants can make for a hellish day.
Similarly, choosing the wrong pair of pants for a deep, bitter cold powder day can leave you freezing and unable to shred. Let's look at some factors in choosing your next pair of board pants.
For more of my top gear recommendations, have a look through these popular Outside Pursuits guide links: Snowboard Jackets, Snowboard Gloves, Snowboard Helmets
Ladies: We review the Men's pants for simplicity, a link to the Women's model is provided.
Quick Answer: The 7 Best Snowboard Pants For 2017
Which snowboard pants can you pick up that have the feature you need at a price you can tolerate? Let's break it down for you.
Let's look at quick feature overview of my 3 favorite snowboard pants with full reviews and a buyers guide below. Here are some of the most rad snowboard pants out there right now.
Best Snowboard Pants
| | Volcom Freakin Snow Chino Pant | Burton Cargo Mid Fit Pants | Oakley Arrowhead BZI Pants |
| --- | --- | --- | --- |
| | | | |
| | | | |
| Construction: | 2 layers of 100% Polyester | DRYRIDE 2-Layer Solid Polyester/Nylon | 2 layers of 100% Polyester |
| Insulation: | 80gm | 80gm | 60gm/40gm (Biozone insulated) |
| Features: | Critically taped seams, can be zipped to jacket and mesh lined zippered vents | Fully taped seams with mesh-lined I-Cool venting and bellowed cargo pockets | Inner thigh venting with mesh, boot gaiter with boot hook |
| | | | |
Men's Snowboard Pants Reviews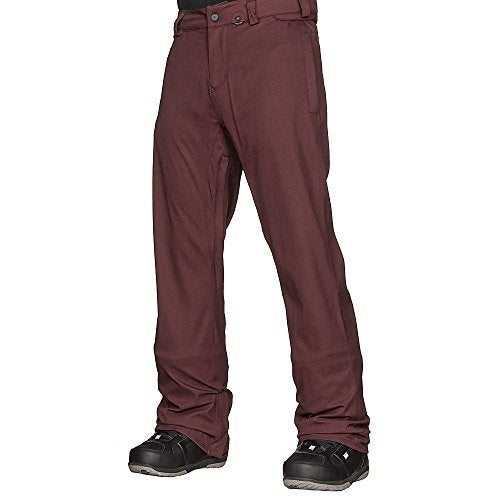 Looking for a pair of modern, slim styled snowboard pants that can keep up and rock all the features you need at a good price? Yeah, it's possible to get all of that in one trim package.
Volcom has been making snowboard gear for years and they usually get it right. Zippered inseam vents are a must have and they deliver on these pants. This makes them useful in a much broader range of weather than normal pants.
They're waterproof and breathable, and why not have that on any pair of winter pants? Boot gaiters are included and the pants have a moderate amount of insulation. All around they might be the best Mens snowboard pants and a good choice for all season riding.
Women's model of the Volcom Chino snowboard pants.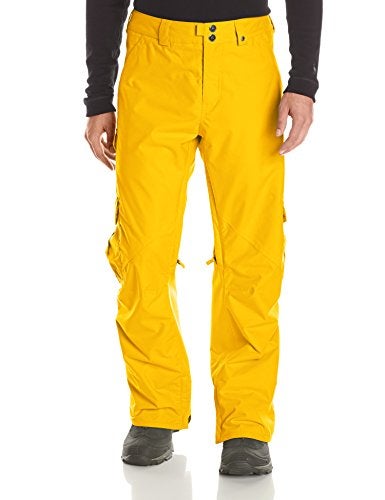 Burton is another name in snowboarding that is as old as the sport itself. Burton somehow has their name on everything that is snowboarding. Why? Because they make some of the best gear. Period.
I picked these cargo pants because they pack my favorite features. From spending years on the mountain, I know which features to keep and which to ditch.
Extra cargo pockets are a must have. On long days, you can stuff them full of snacks and supplies. When they're not in use, they won't be in the way.
As always, we're looking for waterproofness, inseam zips, and boot gaiters. They're all here and these pants deliver. They're also available in quite a few more colors than the comparable Volcom pants.
Women's model of the Burton Mid Fit snowboard pants.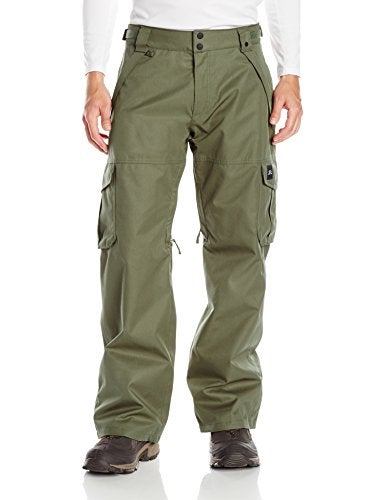 These Oakley pants are busting in to our list packing a bit heavier insulation than most. With 60g of heat generating insulation they'll be perfect for low stress days or those bitter cold storms deep in mid-winter. Beware, however, on sunny spring days you'll be sweating!
Don't leave them on the shelf just yet! They do rock two inseam zippered vents which effectively dump all the excess heat out of the pants when you want to. This makes the Arrowhead pants good for everything from the coldest days to all but the warmest of spring weather.
Of course, they also have gaiters, cargo pockets, and Velcro adjustable waistbands! All around I wouldn't hesitate to pick up these pants for a day on the mountain.
Women's model of the Oakley Arrowhead BZI snowboard pants.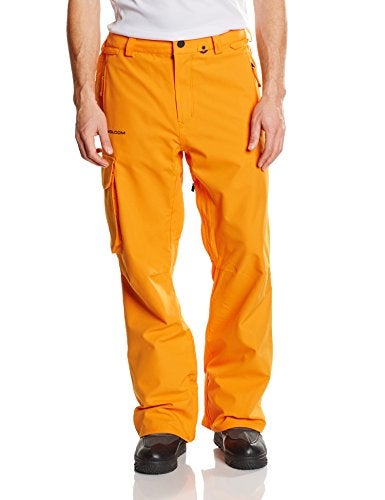 These pants are a hairs breadth of difference away from the Snow Chino pants. So why include them?
Because they're rocking a more generous exterior storage option. Outer wallet pocket is nice. I have a pair of pants with and without this feature. I always opt for the wallet pocket myself.
I also like the cargo pocket on the thigh. Sometimes you want to carry a snack and taking along an entire backpack is a hassle! Overall, they're waterproof, reinforced, and feature inseam vent zips and waterproof taped seams.
All of the critical features I look for in a snowboard pant are right here. Available in 5 colors to suit your style and are among the best waterproof snowboard pants you can get.
Women's model of the Volcom Ventral boarding pants.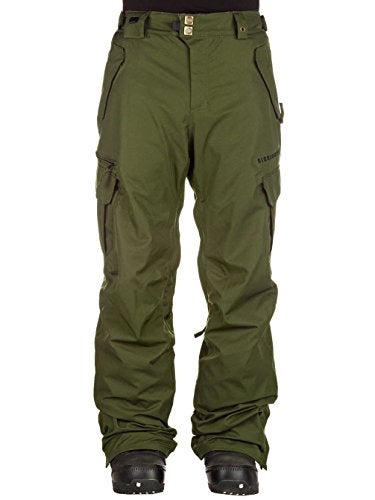 These pants take insulation to the next level. Just like my motorcycle jacket, they have a removable insulation liner.
A second layer of fleece liner sits inside the pants and can be pulled out when the weather warms up. Some will find this feature too much of a hassle while others will love it! Personally I love the flexibility they offer, it might save you needing an extra base layer for the really cold weather.
Taped seams, waterproof fabric, and a wide range of colors and styles make these pants a good choice for just about any boarder. If your into camo snowboard pants, they make the coolest looking ones I have seen.
There are tons of pickets, integrated gaiters, and adjustable waistband. You even get an adjustable inseam zippered vent. Boom!
Women's model of the 686 Smarty Cargo pants.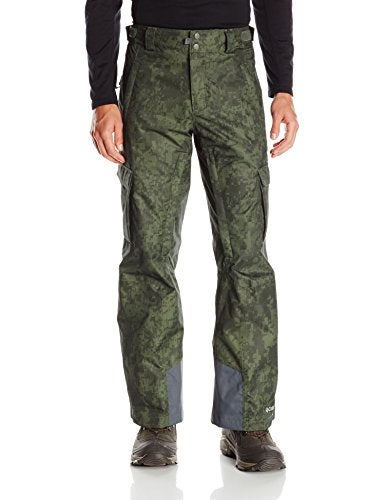 If you've been reading my reviews long enough, you'll know that Columbia ranks as one of my favorite companies for outdoor gear.
Why? It's not because they make the best stuff. It's because they make great gear at the best prices. Their "price-to-value" ratio is off the charts!
These Ridge 2 pants come in at a price that can beat just about any other snowboard pant. They have omni-heat tech which is a reflective micro dot system which increase the warm of the pants.
They're also made from a strong twill nylon with durable nylon patches on the inside of the boot cuffs for durability.
There are two inseam zippered vents and plenty of pockets to go around. You'll also find the pants available in 8+ colors.
Are they the best snowboard pants for the money? That's for you to decide, but I think you know my opinion!
Women's model of the Columbia Omni-Tech snowboard pants.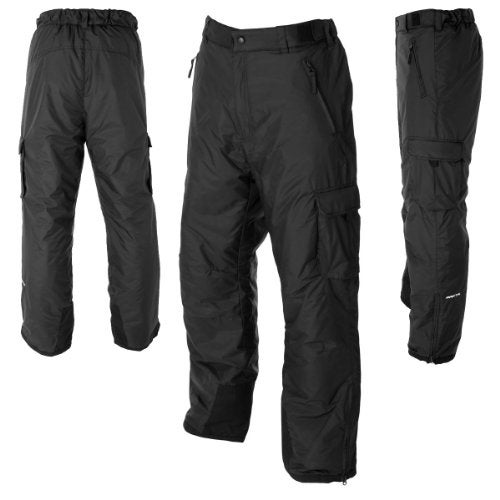 Like the Columbia Ridge 2 pants, these Arctix pants feature durable and robust nylon abrasion pads between the boot cuffs. There's a total for four pockets held up with adjustable elastic waistband with the option for a belt.
Zippered bootlegs make it easy to adjust around ski or snowboard boots after putting on your gear. I like the integrated gaiters but there's just one thing to watch out for.
Overall these extremely budget oriented snowboard pants lack ventilation and feature 85g of insulation. They're going to be insanely hot and lack the ability to dump extra heat in warm weather.
In the end, these pants make sense for someone on a tight budget or those looking for pants that will work in the cold temperatures of mid-winter.
Women's model of the Artix cargo snow pants.
How to Choose the Best Snowboard Pants
There really are several key factors to ski and snowboards pants. Among other things insulation, waterproofness, and durability play key roles.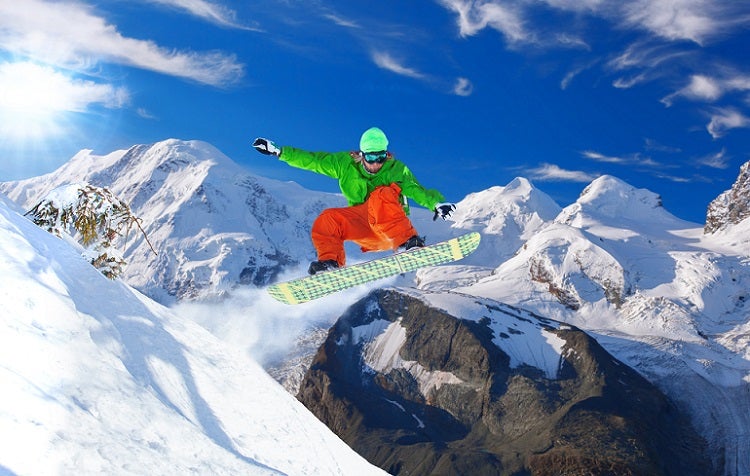 Durability
Nylon is the key to durability – end of story. There are other synthetic fibers out there that are more durable but they're uncommon and highly expensive. Nylon is the most common and affordable bombproof snowboard pant shell material.
Look for thick Cordura or heavy denier nylon patches on the knees, cuffs, and sometimes hip area. These extra durable patches add to the ruggedness of your snowboard pants and will prevent tearing or abrasion. Particularly around the cuffs of your pants, an extra layer of thick nylon material prevents fraying and raveling for many years.

Warmth and Insulation
When it comes to snowboarding, you'll probably want to pairs of pants. One for crazy cold weather and another for spring conditions.
Insulated board pants are great for days when you won't be pushing yourself. If your activity levels are low or temps plummet, bring out the insulated pants.
You will normally see the insulation of snowboard pants measured in gram weight value or gm or something like 80gm. So this means the weight in grams in a square meter of material. A higher number means more insulation and a warmer pair of pants.
The "waterproofness" of pants are typically measure in mm. This means how many millimeters a column of water pressing against the material it can withstand before the water soaks through.
Typical mid-range snowboard pants have values of 5,000 mm of water resistance the best materials have 10,000mm and the best have values of 20,000mm.
On days when you're going to be pushing yourself, working up a sweat, and shredding to the max you may want light insulation. It's amazing how easy it is to overheat even in 10-20 degree weather on the mountain. Go easy on the insulation when temps get into the high 20's or in sunny spring conditions.

Zips and Vents
These are a critical additional feature on snowboard pants that are meant to play double duty. If you want your board pants to perform at their best and keep you both warm and cool depending on the day, you need vents.
I prefer zippered leg vents. These are mesh zippered ventilation holes that are built in to the pants between your legs. I've never once gotten snow inside my pants even when they're open. They do, however, serve to dump excess heat out of your pants on hot days.
Vents make it easy sauce to adjust to changing mountain weather on the fly!

Waterproof
Do you need waterproof snowboard pants? Depends.
When I'm teaching skiing, for instance, I rarely wipe out and rarely see wet or rainy weather. 99% of my days on the mountain don't need waterproof pants and I ski about 110 days a season.
However, in areas where wet snow is common or during spring skiing conditions, waterproof pants can be helpful. When it does choose to rain on you, you'll be grateful! Trust me.
If you only venture out to snowboard when weather is ideal then you may not even need to bother with waterproof pants. Most snowboard pants are waterproof anyways, but if this sounds like you then just make waterproofness a low priority or last consideration.

Suspenders (Bibs)
Yeah, it seems so 1950's to rock suspenders like ol' grandpa did. However, many snowboarders and skiers love full length bib-style pants or pants with optional suspenders. This feature just helps keep things in place during a long day of boarding. It's not easy to keep 5 layers of clothes from bunching up, sliding down, or riding somewhere weird.
Don't dis on the suspenders, man. They're legit.

Boot Gaiters
Must have them. End of story.
Boot gaiters are included on every pair of snow pants I've ever seen. They're elastic cuffs at the bottom of each leg that stretch over your boots and keep the snow from sliding up into the top of the boot. Because no one wants a boot full of snow, gaiters are a mandatory feature of any real snowboard pants.

Conclusion
Only you can decide which pants are the best snowboard pants for you. Hopefully I've left you with a good idea of which features you need and which features you can ditch.
Remember to consider the time of year, location, and likely snow conditions for the area you'll be boarding. These factors, along with your personal preferences, and the rad factor make up your decision. When all else fails, pick the pants that will help you send it the hardest!
I hope this guide was helpful for finding the best snowboard pants to fit your needs. If you want to comment or recommend a pair of pants I didn't include, please use my contact form to get in touch.
Have fun and be safe out there!
Notice: Outside Pursuits is a participant in the Amazon Services LLC Associates Program, an affiliate advertising program to provide a means for sites to earn advertising fees sold through by advertising and linking to Amazon.com. Amazon offers a small commission on products sold through their affiliate links. Each of your purchases via our Amazon affiliate links supports our efforts to bring you the best possible product reviews at no additional cost to you. We appreciate your support here at OutsidePursuits.com