Of all your ski gear, ski pants may be the most under-rated. You need to consider your skiing style and conditions to get the right ski or snowboarding pants for your needs.
Spring skiing, where its warmer and wetter will have entirely different criteria vs a cold, dry climate. Its worth some research to choose the best possible pair.
So of all of the available options which ones are right for you?
For simplicity we reviewed the Men's ski pants, but there is a Women's option for all of them.
These are our favorite ski/snowboard pants, as they won our trust because of their superior performance.
Here is an overview of the ski pants with full reviews and our buying guide below.
The 3 Best Ski and Snowboard Pants
Mobile Users Scroll Over =>
The North Face Freedom Ski Pants
Columbia Bugaboo II Ski Pants
Arctix Ski Pants
Material:
Shell: 100% nylon

Lining: 100% polyester tricot
Shell: 100% nylon

Lining: 100% polyester tricot
Shell: 100% Nylon with ThermaLock Coating

Lining: 210T Taffeta polyester
Insulation:
60g of Heatseeker Polyester Insulation
40g of Polyester Microtemp XF II
85 grams ThermaTech Insulation
Features:
Single cargo pocket

Dual brushed handwarmer pockets
Reinforced Cuff Guard

Omni-Tech
Waterproof/Breathable
O-ring for keys

Single cargo pocket
Ski Pants Reviews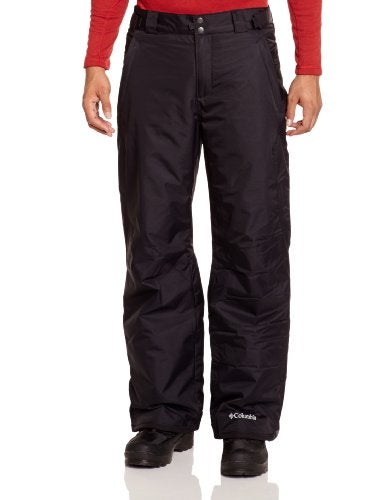 Columbia has always been one of my favorite budget-minded outdoor brands. Let's see if the Bugaboo II pants can keep up the economy-grade quality of the Columbia line.
A 100% nylon outer means great durability and abrasion resistance with thicker nylon reinforced cuffs on the pant legs are great for preventing fraying. This is important in my opinion as this area often sees a lot of abuse during skiing.

With a claim of waterproof / breathable fabric, Columbia has somehow managed to get these pants into the sub-$100 category. So I was concerned that they may have sacrificed quality in order to achieve the economy pricing with "waterproof/breathable" fabric.
They are "Critically seam sealed" in the most critical areas that are most prone to getting wet. However I'd really have liked to see them seam seal the whole pant. But I had no issues with getting wet even in wet spring skiing.
Insulation on these pants is a low 40g of polyester which puts them into the high-activity-level and warm temperature classification for skiing.
Adjustable waist system is the industry standard double Velcro and does include a set of belt loops for added security.
As is absolutely necessary, Columbia put integrated gaiters into these pants so we're guaranteed at least the bare minimum necessities in a ski pant.
All said and done, the Columbia Bugaboo II pant make a solid choice for the budget-minded skier looking for waterproof pants at an economy price. My only grip is they could have more inner-boot reinforcement and seam sealing. Overall these are your best bet for a quality pair of ski pants.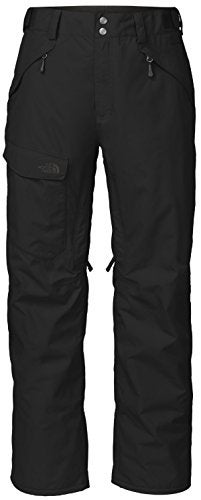 The North Face can be very hit and miss with their price points and product quality. That being said, the Freedom pants might just be one of the better offerings I've seen from TNF in a long while. In the $150 range it's really a reasonable price point.
Nice, modern, clean aesthetic means you'll look like a pro right out of the gate. Just don't take a digger under the lift.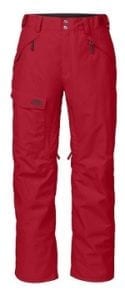 Light insulation, coming in at 60g, is made of polyester which we should have come to expect as it's the industry standard.
Of particular note is that the "Power Green" shell is a mix of nylon and polyester so we can expect it to be tough and durable yet stretchy and forgiving. The other shell colors appear to be 100% nylon. I would suggest going for the "Power Green" shell based on its added benefits.
These pants include a layer of waterproofing so you may find them to get hotter faster than non-waterproof pants. This is for the best, however, as it is balanced by a relatively lightweight insulation and a good ventilation system.
Of the three pants on our list, the Freedom pants are the only to offer an inner thigh zip for ventilation. This is an important feature in my mind.
Featuring reinforced inner-boot patches (called kick patched by TNF) you won't have to worry about destroying your pants during hardcore skiing.
The absolutely necessary integrated boot gaiters are standard fare on the Freedom pants and will keep snow out!
One of my favorite additional features is the cargo pocket. Stash a couple granola bars in there are have a quick power-up before you hit the trees! With the North Face, you know your guaranteed a quality pair of pants.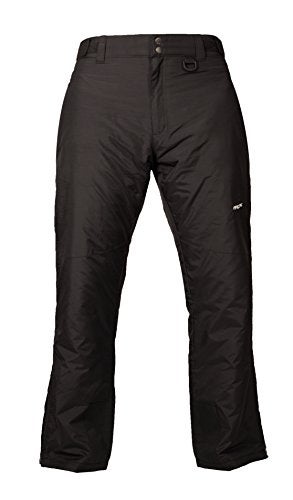 Looking for some new ski pants on a budget? The Arctix Men's Insulated pants are a solid shot in that category.
Featuring 100% nylon shell material, you can be assured that the outer fabric is robust and durable. This is paired with some super thick 600D nylon reinforcement around the cuffs and ankles to help prevent ski boot abrasion and resist the sharp edges of your skis.
Adjustable waist with two side-mounted Velcro straps means you won't have to match your sizing perfectly so you'll have room to eat as much lunch as you want and still hit the slopes comfortably.
Arctix also included a set of belt loops so you can get a great, secure fit on these pants.
Belt loops are great to help ensure that your ski pants stay in place during hard runs. Having a belt on also helps to keep powder out of your pants!
Boot zippers help with getting your ski boots on without having to fight the pants as you gear up. Then simply zip 'em back down and you're ready to get shreddy.
Good gaiters are a 100% necessity on all ski pants and these Arctix pants don't disappoint. Featuring boot gaiters to keep snow out, the gaiters elastic band is coated in silicone gripping material to keep the gaiters in place while you're skiing. Make sure you use them!
Being insulated pants, these ski pants are rocking 85g of 100% polyester insulation. If you're not sure what that means for you let's break it down: 85g is a moderate – low amount of insulation for skiing.
You'll have a bit too much insulation for warm spring skiing and a bit too little for the colder days. Make sure you use a good base layer on colder days, see my guide here.
Machine washable and machine dryable is a great plus because, often, high end outdoor gear can be a little finicky in the wash. Don't have to worry about damaging these pants in the wash though so just toss 'em in after a hard sweaty day.
Arctix also makes some of the best ski bibs as well, here is the link to see them on Amazon.
The Arctix ski pants are perfect for someone on a budget and still wants a good pair of ski pants.
How to Choose the Right Ski Pants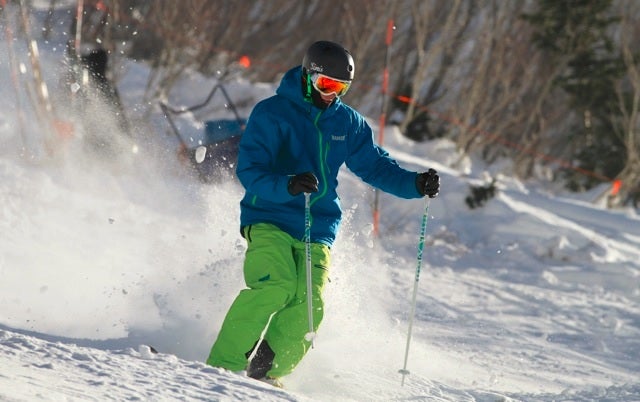 You're ready to hit the slopes and shred like Bode so you grab those pow-sticks and head to the closet to find your gear. Unfortunately for you, the old ski pants just don't look very 2016 so you decide to head to the outfitter for a pair of new ski pants.
Maybe it's been a few years since you sized yourself up against the wide array of technical ski pants on the market but, if you haven't been in to an REI in the winter months recently, you're about to find out that ski pants come in every size, style, shape, and material under the sun.
This article is going to help you pare down the choices to the ski pants that really matter and will leave you shredding the gnar in no time.
Types of Ski Pants
We're going to cover three main types of ski pants here and you'll be appropriately educated to go shopping!
Uninsulated Pants
Uninsulated ski pants, sometimes called shells, are usually a waterproof / wind proof outer layer meant to be worn as a layering system.
Most often shell pants are made, primarily, from an outer layer of thick nylon. Nylon is durable and abrasion resistant so that your pants don't immediately rip when you take your first digger.
Pro tip: look for reinforced nylon patches on the inside of each pant leg where your boots and ski edges are likely to rub and abrade. This is a nice extra feature.
Uninsulated pants sometimes come with a very bare minimum layer of fleece or some other polyester based "insulation" for just a touch of warmth.
Keep an eye out for leg zips, inner leg zippers which can be opened and closed to manage heat levels during changes in activity to prevent overheating. These are great extra features.
Make sure you buy a size of pant which allows plenty of space for adding layers of insulation underneath when the mercury drops.
Insulated Pants
Insulated pants come in many thicknesses and intended warmth ratings. These pants can range from bare minimum insulation to polar-explorer style insulation.
The single biggest drawback of most insulated pants is their inherent difficulty in modifying warmth levels based on activity level. If you're ripping it down the double blacks you're going to want less insulation than when you're sitting down for the afternoon beer on the patio.
As with the shell pants, you'll want to look for insulated pants with ventilation options, it will be critical for temperature regulation.
When it comes to insulated pants you'll want to be very thoughtful about your normal activity levels while skiing. If you're a slower skier who only skies a couple runs per day then you'll be okay with a heavier insulation.
If you're going out to farm run after run down the bumps, you're going to overheat quickly with insulated pants.
Bibs
Bibs take the pants game to the next level. Over the shoulder straps hold these chest-high pants in place while you ski.
Bibs are usually more expensive than pants but there are a few benefits:
They stay in place more securely
There is no waistline where snow can sneak in
These are usually a good option for deep powder skiers or skiers who feel that ski pants won't stay in place for them.
Criteria for Evaluation
Fit and Comfort
It's critical that your skiing pant choice fits well and remains comfortable throughout the day in all conditions. We'll make note of any fitment considerations in our reviews. See the descriptions of different skiing pant types above for more details on fitment.
Pants which include stretchy panels in the crotch, knees, and butt are often quite flexible and may be a great solution if you're ripping carves so hard you need to get all the way down on the snow.
Weather Resistance
Usually skiing pants must only resist the cold. Frozen snow rarely presents difficulty in staying dry (unless it gets inside your clothing).
However, during spring skiing you'll sometimes find yourself skiing in unexpected weather. Rain is possible and getting wet in 40-degree weather is a recipe for hypothermia.
Be sure to consider the possibility of soft, wet, spring snow or a rare cloud burst at the end of the season.
For the experienced piste skier, waterproof pants are most likely not truly necessary 95% of the time.
Warmth
We've talked about warmth in the pant descriptions section but let's consider a little more:
During spring skiing temperatures in the sun can easily rise into the high 40's or 50's on occasion. During these times you're going to want very thin layers with great warmth management such as vents and layering options.
Mid-season when temps plummet into the negative 20's or deeper, you'll need to add layers or pull out your most highly insulated pants.
For these reasons, I prefer to use a shell system with many layering options under it which can meet the warmth demands of the whole range of seasonal conditions.
Ventilation
This is incredibly important to remain comfortable on the slopes. Long inside zippers on the legs are, by far, the best solution for great ventilation.
Sometimes you'll find outer leg zippers for ventilation but these can more easily lead to snow finding its way into your pants on accident. Brrrrr!!!
Style and Color
Looking good is 90% of becoming the best skier on the mountain. Everyone knows that.
Be careful not to come off as a beater, though, or you'll end up on the Jerry of the Day list. You don't want to be on that list.
Features
We'll note any additional features in our reviews which warrant special attention.
Some of these might include reinforced panels for durability or a goggle wipe included in the pants.
Conclusion
All said and done the following features are critical in a ski pant:
Integrated snow gaiters
Adjustable waist
Vent zippers
Reinforced nylon cuffs
Of all the pants we've reviewed in this article, I feel The North Face Freedom Insulated Pants are the best purchase for your money. With all the critical features and a price that seems reasonable, you're sure to be happy.
Don't forget to carefully consider the type of skiing you do before making a choice of ski pants.
Stay safe out there and rip it up!
If your looking for a good pair of goggles, please see my favorite pairs here. I review the best skier and snow boarder helmets here and my reviews of Men's ski gloves here and Women's gloves here. Don't underestimate the importance of your base layer, be sure to check out my review of base layers and socks.
Notice: Outside Pursuits is a participant in the Amazon Services LLC Associates Program, an affiliate advertising program to provide a means for sites to earn advertising fees sold through by advertising and linking to Amazon.com. Amazon offers a small commission on products sold through their affiliate links. Each of your purchases via our Amazon affiliate links supports our efforts to bring you the best possible product reviews at no additional cost to you. We appreciate your support here at OutsidePursuits.com
Review Overview
Summary : The Columbia Bugaboo II Ski Pants are my favorite all around ski pants. They are warm and breathable and fully water resistant at a bargain price.