If your just getting into scuba diving, the first piece of equipment you should buy is a quality scuba diving mask. You don't want to get a snorkeling mask and use it for diving, you will have very poor results.
There is nothing worse than diving when you are constantly clearing your mask because its leaking or can't see due to your mask fogging up. This is the one piece of diving equipment I would never want to rent for these reasons and you don't have to spend a fortune to get a quality mask.
Check out our guides on dive knives and computers.
These are our favorite scuba masks that have won our trust because of their superior performance.
Here is an overview of the scuba diving masks with full reviews and our buying guide below.
The 3 Best Scuba Diving Masks
| Mobile Users Scroll Over => | Scubapro Synergy Trufit Twin Mirrored Mask | Cressi Big Eyes Evolution Mask | Atomic Venom Frameless Mask |
| --- | --- | --- | --- |
| | | | |
| | | | |
| Design: | Frameless, available in single and dual lens. | Frameless dual lens | Frameless single lens |
| Skirt: | Supersoft and flexible medical grade silicon | "High Seal" medical grade silicon | "Gummi Bear UltraSoft" medical grade silicone |
| Lens: | Crystal clear tempered glass | Crystal clear tempered glass | Schott Superwrite UltraClear tempered glass |
| | | | |
Scuba Diving Mask Reviews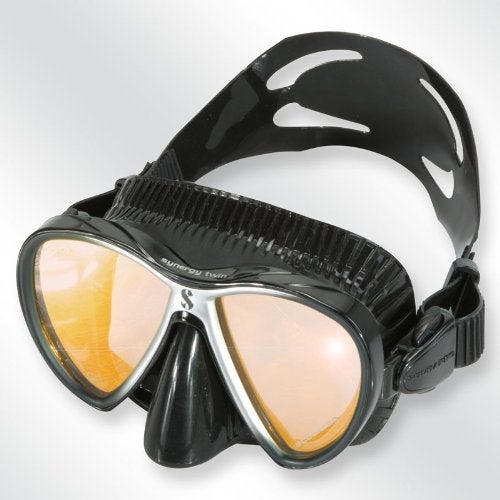 If you are looking for the most comfortable scuba diving mask, look no further. The Scubapro mask has a unique two skirt system. The main skirt that wraps around the mask provides rigidity and support and then a thinner extremely soft and flexible skirt that form fits to your face for superior comfort and leak protection.
This design has been perfected by Scubapro so that you can comfortably wear this mask for extended periods of time and not get that red ring around your face. I can't tell you how nice it is to finally wear a mask that doesn't leak, even after not shaving for a week.
In addition to being what may be the most comfortable mask on the market, the Synergy2 is a frameless mask that is very low volume making equalization much easier than a traditional framed mask.
The mask features an easy to use, quick release buckle system that is attached to the skirt, this allows the optimal strap angle for better fit and leak prevention.
This also allows the mask to fold almost completely flat for carrying with you or your dive buddy as a spare and easy packing.
The anti-reflective lens of this mask gives you excellent visibility in bright conditions allowing for better visibility and less eye strain.
Obviously if you are night diving this would not be the best mask to wear but for bright daylight diving this the Scubapro synergy is an excellent choice. Overall this is my top pick for a scuba mask.
Note: The mask is available in dual and a single lens design.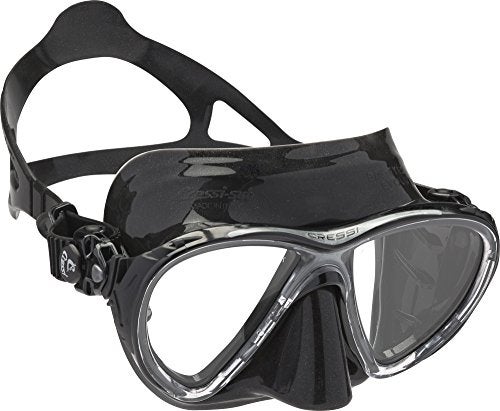 The Cressi Big Eyes is well named because of its superior visibility. The tear drop shaped lens allow more light in and the tempered glass lenses are crystal clear. The lens of the mask is inclined relative to your face. This allows the lens to sit closer to your face and gives you a excellent lower field of view allowing you to see your gauges and of course sealife.
Its not just vision that is awesome with this mask, the skirt is made from what Cressi calls "High Seal" this medical grade silicon is soft, flexible and COMFORTABLE. The design of the skirt has been designed to fit your face and provide a seal to keep the water out.
Even after an extended dive or several dives, the mask remains comfortable and there is not ring around your face. The mask doesn't not need to be tightened at all other than so it doesn't fall of your face.
The buckle systems has been well thought out and designed. The buckle is attached directly to the skirt providing a solid fit because to the stress is brought farther back instead of pulling the whole mask back it just pulls the skirt to your face giving you a better fit.
The buckle is designed with a full range of motion and is easy to adjust and release. This is a frameless mask with a low volume making it easy to equalize and fold flat so you can carry a spare and for easy packing.
Cressi is a name you can trust and have been making quality diving equipment since the 1940's. The Big Eyes Evolution is an inexpensive scuba mask and highly recommended. This may be the best scuba mask for beginners.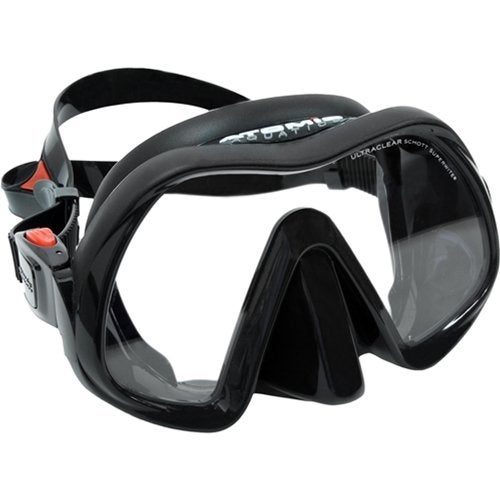 The Venom Frameless Mask is Atomics latest scuba mask that is a quality mask in every way. The Venom uses a tempered glass lens made Schott Superwrite UltraClear. This large single window lens is distortion free and lets in 96% of available light, compared to 80 – 90% of a typical mask. There really is a difference with this glass that you will immediately notice on your first dive.
In addition to the optics the Atomic Aquatics Venom mask feature what they call "Gummi Bear UltraSoft" medical grade silicone that is extremely soft and comfortable on your face.
The Gummi Bear silicone provides a leak free seal on your face.  I had the beginnings of a beard when I first used this mask, in my opinion this is the best scuba mask for beards or mustaches.
The skirt is designed with a dual layer silicon. A thicker silicon material around the lens providing the necessary support then a thinner more flexible silicone for the seal around your face.
This is a frameless design like all the masks reviewed, so the mask sits closer to your face for better visibility and easier equalization.
The swivel buckle system is integrated into the skirt for the best possible fit due to angle the mask is pulled back onto the face. Atomic is known for their superior quality equipment and the Vemon frameless mask is no exception. This a quality mask that you will not regret buying.
How To Choose A Scuba Diving Mask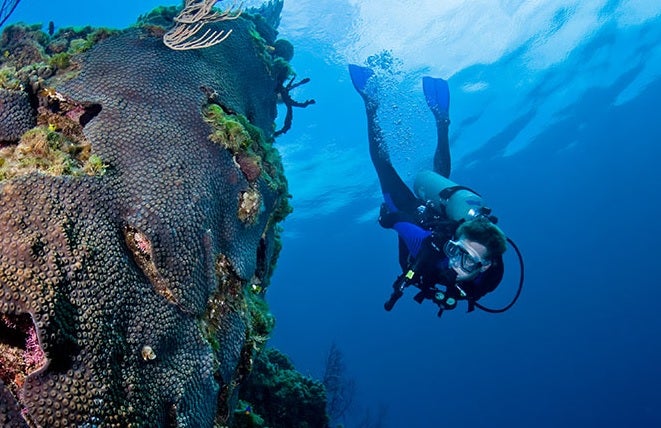 The Mask Lens
Obviously the who point of diving is being able to see all the cool things under the water. Several factors will have a bearing on how good your visibility is.
The first one being the quality of the lens. The better the quality the more light is able to pass thru the mask. Cheaper masks usually only let in about 80 to 85% of the light. As you get into the better quality masks light transmission gets up to 95%, a noticeable increase. The Atomic Venom mask is a good example of a mask using this technology.
Secondly the choice of; single, dual or multiple/side lens will have a major impact on how well you see. A single lens mask has a more "open feel" because there is no nose bridge and so they have a wider uninterrupted field of view.
There are several disadvantages to the single lens mask however. Namely you cannot use a prescription lenses with them and the volume of the mask is larger. This means they are harder to equalize than a dual lens mask.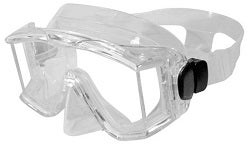 A multi lens mask has a small window pane on each side of the mask and give you a sense of a wider field of view, they also give you some peripheral vision.
Make sure you buy a mask that has a "tempered" lens, these lenses are stronger to withstand high pressure and withstand impacts better. The lenses will say right on it if it is tempered.
The angle of the lens matters as well. Here I am referring to how well you can see downward. Have a better downward view enables you to see all of your equipment, like the gauges, BC pockets, dive knife, weight ditch handles etc. There is no rating for this, you just have to put it on and see how well you can see your equipment.
Mask Frame
Masks come in two types; frameless or framed. Most masks typically have a frame and have some advantages like being able to dismantle and repair the mask. You can also fit them with prescription lenses. Frameless on the other hand are lighter and have a lower volume (for easy equalizing).
They also slimmer so you can take a spare pair with you on a dive and pack tighter in your bag. I can't say this for all frameless masks but they also fit better and leak less as a result. Unless you are in need to use prescription lenses I would go with a frameless.
Mask Skirt
This is another critical part of the mask. The quality of the skirt is going to determine how well it fits around your face. The better the fit, the less leaks you will have. To me this is the most important factor in a mask. I cannot tell you how annoying it is having water flooding in your mask and constantly having to clear it.
The better quality masks have a skirt made of medical quality silicone material that is more pliable, giving it more flexibility to give a better fit and seal.
Mask Straps and Buckles
The mask will usually come with a silicone strap to hold the mask on and provide a good fit. I would recommend you hover replace it with a neoprene "slap strap" so that it doesn't get stuck in your hair and slides on and off easier.
Cheaper masks tend to have cheap buckles that can be a real pain to adjust. You will come to appreciate the difference of a better quality buckle. Newer buckle systems now are mounted on the skirt instead of the frame so better positioning and fit, plus they can be folded flat and takes up less space when storing and packing.
Keep in mind the main purpose of the strap is to just hold it in place, it should not be too tight or you will not get a good fit and the mask will leak as a result.
Conclusion:
The mask you dive with is in my opinion the most important piece of diving equipment. A better quality mask with fit better, be more comfortable and give you better visibility.
Notice: Outside Pursuits is a participant in the Amazon Services LLC Associates Program, an affiliate advertising program to provide a means for sites to earn advertising fees sold through by advertising and linking to Amazon.com. Amazon offers a small commission on products sold through their affiliate links. Each of your purchases via our Amazon affiliate links supports our efforts to bring you the best possible product reviews at no additional cost to you. We appreciate your support here at OutsidePursuits.com