Paintball is a fast growing sport played by both recreational and professional players alike. Its played in a variety of locations, indoors and out and each require their own type of paintball gun and strategy.
If your tired of renting equipment every weekend and decided to get your own, you probably know a quality paintball gun can be an expensive investment. That's where I am going to help you out.
In this review, I'm going to tell you about five paintball guns. We'll cover their key features, discuss a few pros and cons, and talk about what kind of qualities you should look for in a paintball gun (or, as they're referred to in industry jargon: markers).
Quick Answer: The 5 Best Paintball Guns For 2017

First lets take a look at the paintball markers, then we'll talk about how to choose the right one for you. Here is a feature overview of my top 3 overall picks with full reviews and our buyers guide below.
Best Paintball Guns
| | Empire Axe Paintball Marker | DYE Proto Rail 2011 Paintball Gun | Tippmann TPX Paintball Pistol Starter Pack |
| --- | --- | --- | --- |
| | | | |
| | | | |
| Weight: | Weight:1.55 lbs | Weight:1.62 lbs | 13 ounces |
| Features: | Proprietary Slipstream Solenoid Allows For Fast Firing | The durable Rail solenoid provides consistent air flow with a 40 milliseconds dwell | Under-barrel picatinny rail and external velocity adjuster |
| Best For: | Outdoor use for long range and fast firing | Outdoor use for long range and fast firing | Indoor use for short range or as a backup |
| | | | |
Paintball Gun Reviews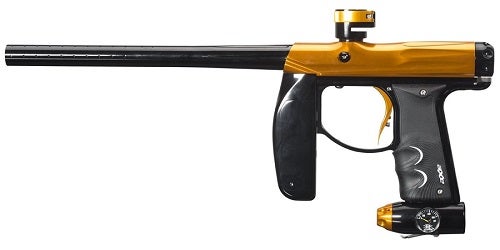 The Empire Axe is an electro-pneumatic paintball gun with multiple firing modes: semi, PSP ramping, NXL, and millennium ramping. A well-rounded gun, it's highly accurate and very well regulated in terms of pressure per shot.
It has anti-chop technology—it won't break paint balls inside the gun—which means you can shoot more fragile paintballs at your opponents.
This gun is light and easy to hold—good news during those long games where endurance becomes a factor. Users stress its reliability; this gun won't malfunction during the middle of a match.
Video: Overview of the Empire Axe Paintball Gun.
Similarly, they can work without issue for quite a long time, especially if properly cared for. Do yourself a favor: make this gun last by cleaning it after every use.
Pros
Super reliable, accurate
Anti-chop technology
Cons
Expensive—probably too much for someone who isn't at least somewhat experienced
Of course, such quality doesn't exactly come cheap. This is, by a sizeable margin, the most expensive gun in this review. However, considering that some high-end paintball guns can cost thousands of dollars, this one is the best paintball gun for the money.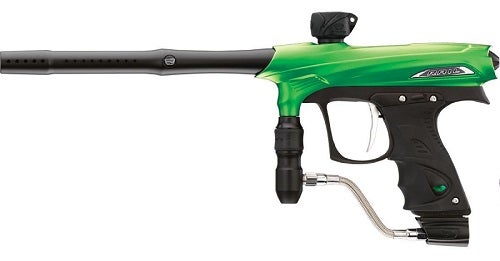 The makers of this gun are best known for making high-end paintball equipment that caters to advanced players. You might think it's surprising, then, that you can find this gun for relatively cheap, but that seems to be the whole idea.
The Rail is described by Dye as a "tournament quality marker at entry level price." Indeed, it outperforms most guns in its price range.
Like the Axe, the Rail is an electro-pneumatic shooter. It comes with the Hype Three regulator, as do all Dye guns. It can shoot up to 18 balls per second with decent accuracy.
Video: Overview of the DYE Proto Rail paintball gun.
One drawback to this gun, however, is that it tends to use up more CO2 than other models, meaning you might have to play with a bigger thank than you'd like to.
Pros
Cool design
Relatively advanced gun for under $300
Well regulated shots
Lightweight
Cons
One of the things everyone seems to appreciate about this marker is its form (it almost looks like alien technology). The Rail has an 11-inch barrel and comes in an array of colors.
It just looks cool and weighs in at only two pounds. I would say DYE Proto Rail is the overall best paintball gun.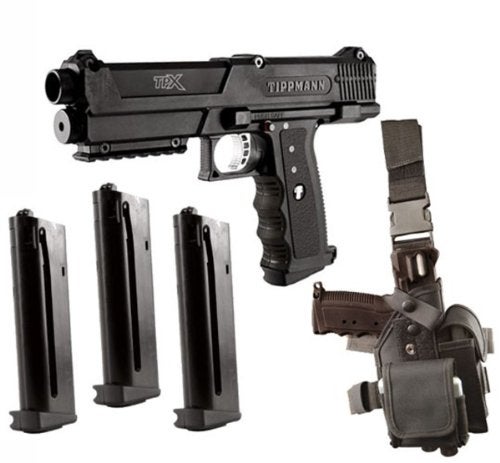 Imagine: You're firing at enemies as you run through the trees. They're gaining on you. Suddenly, you hear the fateful sound of your gun running out of ammo. Thinking you're done for, your adversaries calmly approach. What do you do?
Well, if you're well prepared, you pull out your Tippmann and mention something cool about not counting chickens before they're hatched: right before you pull the trigger.
Unlike the other guns in this review, the Tippmann TPX Pistol is fed by magazines containing seven balls each. Unfortunately, that's not a lot of balls per magazine, which is why this gun isn't really used as a primary weapon during game play.
Video: Feature overview of the TiPX paintball pistol.
There are, however, larger magazines available for purchase. This starter pack comes with three spring-loaded magazines.
The pistol shoots by using compressed CO2, which is attached in a 12-gram tank to the marker underneath the barrel. Again, this isn't meant to be a primary weapon; a 12-gram tank won't last very long (typically two to three rounds), so you might have to carry spares.
A piece of good news: the cartridges are easily removed for changing convenience.
Pros
Small, lightweight
Easy to carry second gun
Accurate, despite being a pistol
Cons
Small magazine capacity
Short range
Overall, the Tippman TPX Pistol is accurate, light, and convenient in a pinch. I'd definitely recommend grabbing one—if you can deal with the pricetag, that is. They're not exactly cheap.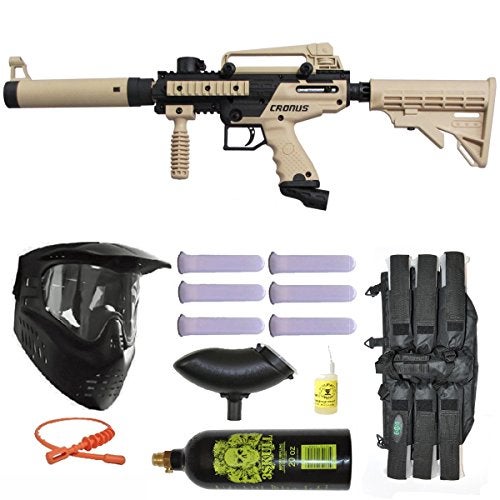 These guns can be found at Wal-Mart, but don't think that means they aren't high quality. The Cronus is a good gun for beginners, or possibly intermediate players who are feeling a little frugal at the moment.
The Cronus is modeled after the Tipperann 98, one of the most commonly used markers in the game. It's basic, easy to disassemble and maintain, and doesn't break easily—they can last up to a decade!
Another cool thing about this gun is that despite its basic make it is highly customizable.
Video: Overview of the Tippman Cronus Paintball Marker.
Some users report that this gun jams from time to time. If that happens, it usually means you aren't cleaning it often enough, so do some maintenance after your next game!
Pros
Great price
Accurate
Durable
Customizable
Cons
Another thing to watch out for is that this starter kit comes with a CO2 cartridge, whereas many playing fields will only use compressed air. You may want to look into buying an air tank if you're going to be playing a lot with this gun.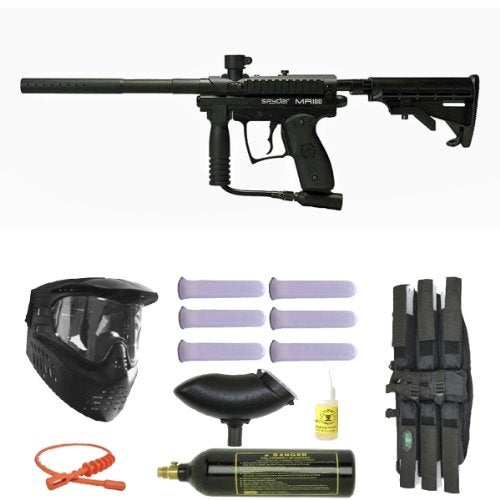 This set is a pretty great bang for one's buck. It comes with a marker, mask, hopper, 20 ounce CO2 tank, harness, tubes, oil and a squeegee—just about everything you might need for a day of paintball.
The gun itself is pretty similar to the Cronus, reviewed immediately beforehand. It's a beginner's model that's largely been received positively by users.
It's recommended for woodsball due to its low cost and easy maintenance. Also similar to the Cronus, this gun is fairly easily customized for a basic paintball gun.
Video: Overview of the Spyder MR100 Paintball Gun.
One negative thing people point out about this gun is its inaccuracy. Again, this isn't a top of the line gun; it's really best for inexperienced players. More advanced ballers would likely get frustrated with it.
The Mega Kit itself is actually a great deal, it provides some significant savings compared with the cost of purchasing everything separately. If you're just starting out (or know someone who is), you might want to look into something like this.
Pros
Inexpensive
Durable
Comes with plenty of accessories and necessities
High value for its cost
Cons
Get what you pay for: nothing especially great about this gear besides its price
It's a great way to quickly get your hands on everything you need to play paintball and is the best paintball gun under $150.
How to Choose the Best Paintball Gun for You
Is the Trigger Mechanical or Electro-Pneumatic?
Paintball guns have two different kinds of triggers.
Mechanical: Shoots paintballs by spring-loading them into the chamber and then releasing air from a CO2 cartridge or compressed air.
Since they're cheaper and more durable, these guns are recommended for people who are new to paintball or don't want to spend a lot of money on a gun.
If you play woodsball—that is, paintball in the woods—you might also want to look into one of these; mechanical guns don't need to be kept as clean as electro-pneumatics.
Some downsides to mechanical guns are that they aren't as fast, accurate, or consistent as electronic guns. Additionally, they need higher pressure to fire.
Electro-pneumatic:  On the other hand, are more like computers than rifles. Pulling the trigger sends an electronic signal to a circuit board that tells the gun to fire a paintball. Depending on the settings, they can fire automatically or semi-automatically.
Not only can they fire very quickly, electro-pneumatic guns have regulators that ensure consistent pressure when firing. This usually means they are far more efficient in terms of shots per tank.
They're also quieter and lighter than mechanical guns, which is pretty great if you're playing long games and stealth is a factor.
One of the disadvantages of electro-pneumatic guns is cost; they tend to be a lot more expensive. Hence I'd only recommend them for someone who either plays often or is planning on doing so.
Another drawback: they're pretty complicated. Servicing them basically requires taking them to a professional, which might be costly as well.
The last thing you have to watch for is that the batteries are charged. Showing up to a match with dead batteries would be exceedingly lame…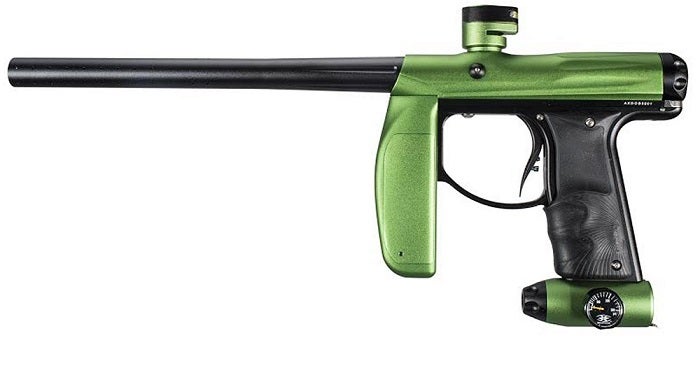 Efficiency
Not all guns are equally efficient. Some have regulators to make sure they use less air per shot. This ultimately saves time and makes you a more formidable force.

Durability
Some paintball guns are fickle creatures (especially the electro-pneumatics). You definitely want to be sure you're buying a durable gun if you're going to be playing on rough terrain with it—especially as a beginner.
In the same vein, it's your responsibility to make sure you keep your gun clean and oiled. Usually it's recommended that you clean and service it after every game. Sometimes paint can explode within the gun and clog it up.
All right. Now that we've learned a little bit about paintball guns and paintball strategy, it's time to talk about some products so you can see if any of them sound like the right idea.
We're going to discuss five different models. Some are individual guns and others are starter kits designed to give you a taste of everything you need on the field.

Paintball Basic Strategy
In some ways, paintball is like any other sport; it's a game of both mental skill and athletic ability. In the heat of battle you have to be able to maneuver, reload, aim and fire while tracking your opponents and, in some cases, avoiding detection.
Paintball is also heavy on strategy; sort of like chess, that is, if rooks could shoot 18 balls per second. In games of organized paintball, the most basic strategies revolve around maintaining control of the perimeter and corners of the field, referred to colloquially as "the wires."
By "gaining, anchoring, and controlling" the wire, players can gain strategic defensive positioning and ensure they aren't taken unawares by opponents. Since players are able to freely move throughout the game, paintball strategies for beginners tend to be looser, rather than strict "zone" plays typical of basketball or football.

Helpful Tips for Improving Your Gameplay
Mind your surroundings. Staying aware of changes to the environment will let you know where to run for cover when you're under attack. Similarly, make sure you keep moving throughout the game.
Staying still allows your opponents to gain position on you and prevents you from learning about the terrain. When moving, remember to do so with stealth; there's no reason to telegraph to the whole field that you're on the move! In the same vein, flanking—the act of getting behind your opponents without their knowledge—is a great strategy.
Another good tip is to keep your opponents occupied whenever you can. Shooting at your opponents (even without the explicit intention of hitting them) is a good way to keep their heads down and keep them from gaining advantageous positions or sneaking up on you.Doing this can also help your teammates break forward unexpectedly while you keep the other team occupied. They can then return the favor, allowing you to advance your position as well. This technique is known as "leapfrogging."
One final general piece of advice is to remain with your team as much as possible. Going off on your own might sound heroic, but in reality it can cost you big time. Groups can watch each other's backs, and are therefore harder to sneak up on and eliminate. Don't underestimate the utility of friendly cover in the field.
Insofar as there are strategies and athletics at play, paintball is similar to other sports. However, unlike some sports, paintball is played with technologically advanced equipment.
That aspect brings a whole new dimension to the game. While the physical and mental skills necessary to play top-level paintball will take time and practice to develop, having the right equipment can make a big difference.
I hope this guide was helpful for finding the best paintball gun to fit your needs. If you want to comment or recommend a paintball gun I didn't include, please use my contact form to get in touch.
Have fun and good luck!
Notice: Outside Pursuits is a participant in the Amazon Services LLC Associates Program, an affiliate advertising program to provide a means for sites to earn advertising fees sold through by advertising and linking to Amazon.com. Amazon offers a small commission on products sold through their affiliate links. Each of your purchases via our Amazon affiliate links supports our efforts to bring you the best possible product reviews at no additional cost to you. We appreciate your support here at OutsidePursuits.com