Part of being a safe hiker is understanding your environment and make predictions – such as changes in the weather. This is where an ABC watch (Altimeter, Barometer, Compass) can be helpful.
With the advances in technology, you now can have GPS mapping technology on your wrist with the durability to go anywhere, even underwater.
Hikers now have many tools for jobs like this but for the active outdoor adventurer very few are as concise and useful as the hiking watches now available.
These are our favorite hiking watches that have won our trust because of their superior performance.
Here an overview of the best hiking watches with full reviews and our buying guide below.
The 3 Best Hiking Watches
Mobile Users Scroll Over =>
Casio Protrek PRW-3000
Suunto Core Outdoor Matrix Watch
Garmin Fenix 3 Gray HR
Features:
- Altimeter
- Digital compass
- Barometer
- Thermometer
- Sunrise/sunset data
- Five daily alarms
- Countdown timer

- Altimeter
- Barometer
- Compass
- Depth meter
- Daily alarms
- Sunrise/sunset data
- GPS watch for navigation
- Wireless connectivity
- Altimeter
- Barometer
- Compass
- Wrist Heart Rate
- Activity & Sleep Tracking
- Wrist Heart Rate
Warranty:
One year warranty
Two year warranty
One Year warranty
Hiking Watch Reviews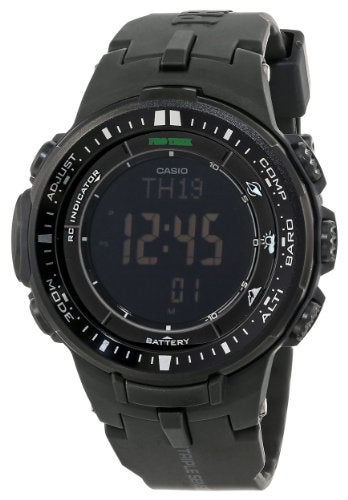 At a reasonable price point and bristling with features like a hedgehog with quills, this watch might be the sweet spot for budget outdoor travelers.
Packing five alarms, solar power supplement, altimeter, compass, barometer, thermometer, and sunrise and set tables it's hard to argue with this beast.
Battery life is reported to be off-the-chain good, rated at 7 months on a single charge. Keep in mind the solar charging feature means you can easily extend that battery life almost indefinitely.
Storm alarm is a great feature for any watch with a barometer and the Casio Protek doesn't disappoint. It is one of the best backpacking watches on the market.
Easy to navigate one-touch menu system is great for quick access to critical and often used features like the compass, barometer, and temperature.
Huge improvements to hardware over previous model Casio altimeter watches means you've got a candidate for "most improved" (if we were giving awards). It's hard to say what real tests would show but Casio claims as much as 90% power consumption reduction with new efficient hardware.
My biggest complaint? The black, sleek design and display can sometimes be difficult to read. However, the watch has a handy "illuminate when held up" setting where the watch will automatically light up when it thinks you're trying to look at it. Nifty!
In my opinion it is the best hiking watch under $200 and my top pick.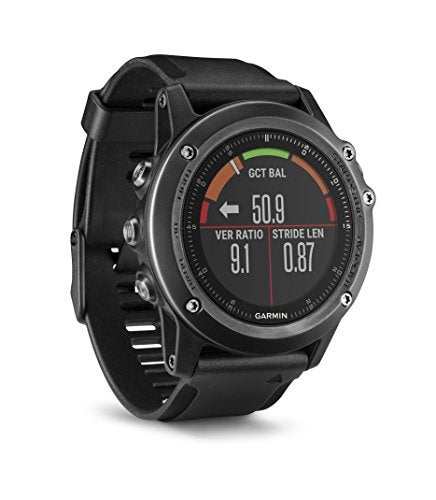 This great looking watch features a nice dark color scheme, sleek design, and some classic touches.
Screen resolution, graph display, colors, and layout are all superb which is nice considering the hefty price tag. Garmin has been making technical devices for years and their watches have definitely refined so we're pretty confident in the long term function of this hiking watch.
Integrated wrist-based heart rate provides real time data to supplement the excellent GPS tracking to create excellent all around tracking.
Down side – the watch doesn't have weather prediction capability but we're pretty confident the other features off set this for the right users and many of you can look at the sky and make your predictions and decisions that way.
The bonus? This watch can even provide navigation in the backcountry and the watch can be update with downloaded screens.
Yeah, that's right, you can just download a new watch layout – just like that. This is by far the best hiking watch with GPS capability.
Pair this awesome watch wirelessly with your smart phone for notifications, even on the trail.
2-week long battery life is a serious improvement over early model
Garmin watches and we think this awesome watch has all the capabilities to track, analyze, and display any information you need from climbing, skiing, or running even to golfing!
If you can afford the extra money, the Garmin Fenix is your best bet with its unmatched features.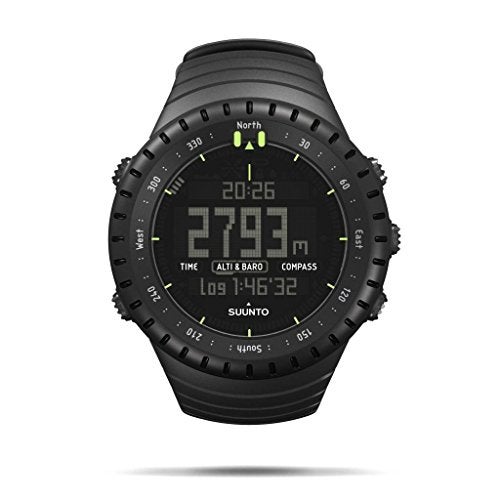 Unlike the Garmin, this watch lacks a GPS but gains a great barometer. This means weather tracking and storm alarms.
Granted, you can't pair it with your smart phone or get notifications. The Suunto Core is for the disconnect mountaineer where the Fenix might be for the plugged in active CEO.
Another cool feature is sunrise and sunset times around the world, why does it matter? Because with features like storm predictions and sunset tables, you'll be able to plan your hike or climb in a safe manner.
Wrist mounted thermometer is temperature compensated to improve accuracy while the watch is on your wrist.
Even with compensation, I've never found watch thermometers to be very accurate unless you hang them from your tent overnight.
I think they could have included more than just a single alarm setting for the price, size, and tech included in this watch but that's a minor complaint.
Overall the Core has been well loved in the industry for years – it's hard to misstep with the Suunto Core. It is one the best outdoor watches and you won't go wrong with one on your wrist.
How To Evaluate Hiking Watches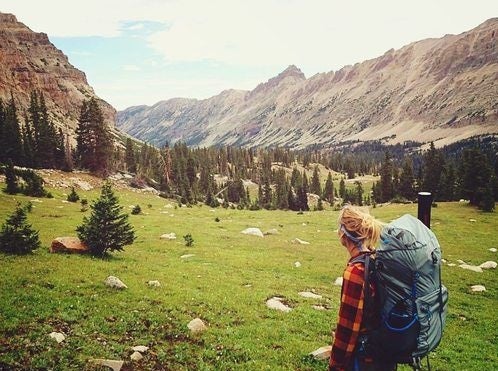 Features
Today watches are becoming more feature robust and you may find all sorts of crazy features. These include things like:
Time / Date
Stop Watch
Storm Graphs
Storm Alarms
Alarms
GPS
Computer Integration
We'll look at which of these features are available in our watches we review and let you know the good, bad, and ugly.
Time Telling
Of course watches should tell time but you'd be surprised – some companies sell "wrist computers" which actually lack at time telling feature. Other things which fall in this category are countdown times, alarms, and stop watch features such as splits. Having a countdown timer is always nice for making sure you check on the pizza in the oven at the ski hut, too…
Altimeter
Even when you've got that topo out in front of you, it can be a great confirmation to know exactly what your current elevation is when you're trying to locate your position. The altimeter can be fun to check out just for fun, for training data, or additional location information. Accuracy and adjustability is important in an altimeter.
Some watches have the ability to upload data to your computer – this can be fun for the gear junkie and number cruncher!
Barometer
Barometers can be finicky and accuracy is even more critical here. These tools are very touchy and prone to needing adjustment regularly but improvements in the field have been made! Accurate barometers are critical to weather prediction for these watches so the more sensitive the barometer, the better for prediction. Trends and data retention are great for predicting upcoming movements.
Compass
Compasses in watches are an amazing feature! Of all the features available in hiking watches, the compass is my most used and favorite feature. 2D compasses means that you must hold the watch totally flat, 3d compasses are accurate no matter the angle of your wrist. When it comes to investing in a compass tool, finding a 3d compass is always best!
User Interface
User interface is everything from the number of menus, number of screens, and customizable features. Some watches allow you to modify the display and change which data you want to see on your home screen. You may even find that some watches just don't show you the information you want in a way that appeals to you. It's important to find a layout you can read quickly and comfortably to gather all your data.
Display Quality
Many watches have low resolution and poor display view, the more refined watches feature great resolution which means more accurate graph displays and easier to read data. The better the resolution, the easier it will be to read smaller or tighter data and words on these small screens. It really does make a difference.
Conclusion
There are tons of watches in this niche and more every month. Determine your needs, such as length of battery life, type of features, and whether or not you think you'll want to pair your watch with a phone.
Everyone has a different style and needs so take these into consideration before choosing a watch.
Out of all of our watches reviewed, I have to give the Casio Protek top marks for versatility and price, but I think the refined and trusted features of the Suunto Core are worth spending a few extra bucks.
For the high-spenders, it's really hard to argue with the beautiful and robust Garmin Fenix 3 but the biggest drawback is the relatively shorter battery life which might be a problem for some serious backcountry travelers.
Enjoy the mountains and look for a watch that can keep up with your pace!
Return to the hiking watch reviews.
Be sure to check out our reviews on backpacking tents, sleeping bags, backpacks and stoves.
Notice: Outside Pursuits is a participant in the Amazon Services LLC Associates Program, an affiliate advertising program to provide a means for sites to earn advertising fees sold through by advertising and linking to Amazon.com. Amazon offers a small commission on products sold through their affiliate links. Each of your purchases via our Amazon affiliate links supports our efforts to bring you the best possible product reviews at no additional cost to you. We appreciate your support here at OutsidePursuits.com
Review Overview
Summary : Picking an overall best hiking watch is tough but if I had to choose one it would be the Casio PRW-3000-1ACR Protrek because it is very versatile, has lots of features at a bargain price.