I can still remember shopping for my very first pair of hiking boots. I can't remember if someone told me to buy hiking boots or if I just assumed that the conventional wisdom of wearing boots hiking made senses.
"Tall hiking boots will help protect from snake bites," they might say. Or, perhaps, "Hiking boots help support your ankles." These are the common understandings of most people setting about the business of purchasing a new hiking boot.
Today hiking boots have evolved well past their peers of old and are lighter, more comfortable, and more useful than many old-school versions.
You'll still run across a crowd who will swear by knee-high full leather hiking boots. There are also those who won't be caught dead in hiking boots and instead opt for hiking shoes for Men, hiking shoes for Women in most conditions.
Whichever camp you may fall into, we'll talk about some of the pros and cons and how to choose the best hiking boots before suggesting a few.
Be sure to check out my reviews of hiking pants, watches, rain jackets and trekking poles.
In this article we'll cover Men's hiking boots. Here is a feature overview, with full reviews and our buying guide below.
Best Men's Hiking Boots
| | Salomon Men's Quest 4D 2 GTX Hiking Boot | Vasque Men's Breeze 2.0 Hiking Boot | Asolo TPS 520 GV Boot |
| --- | --- | --- | --- |
| | | | |
| | | | |
| Weight: | (Pair) Average Weight about 39 Ounces | (Pair) Average Weight about 39 Ounces | (Pair) Average Weight about 64 ounces |
| Upper: | Combination of leather and textile | Combination of leather and textile | Full-grain leather |
| Sole: | Synthetic sole | Synthetic sole | Vibram sole |
| Features: | GORE-TEX waterproofing and protective rubber toe cap. | GORE-TEX waterproofing with breathable nylon mesh panels | Waterproof breathable Gore-Tex insert with Vibram sole for excellent traction on any terrain |
| | | | |
Men's Hiking Boot Reviews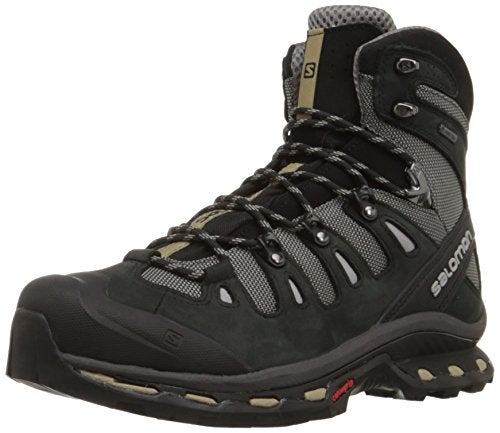 Salomon makes some great alpine equipment and is well known across multiple sports for making some of the highest quality technical gear on the market.
This high-top hiking boot is a gnarly contender and features some great aspects for those seeking a beefy hiking boot.
Vibram soles, again, are some of the absolute best shoe components on the market today and they maintain excellent traction when wet.
This is awesome for climbing wet or slick rocks and river crossings. Salomon has paired the boot with a nice Gore-Tex liner for waterproof breathable functionality.
The boot itself is designed around the "4D" chassis system to reinforce and protect the foot so you can expect a heavy, stiff boot.
The front of the boot features a fully wrapped rubber toe cap for maximum overall protection. Definitely a serious boot meant to take on extreme conditions. The Saloman Quest 4D 2 GTX boots are possibly the best backpacking boots available.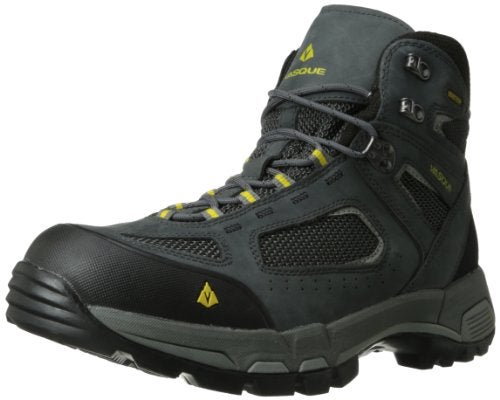 Leather and fabric combine to make the overall upper of this boot both breathable, flexible, and durable. Vasque also works directly with Vibram to integrate an exclusive sole tread compound called "XSTrek" for this boot.
Rubber toe cap, reflective piping on the boot, and a dual density foot bed make for a bulky, yet functional full size hiking boot.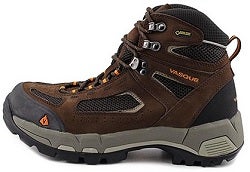 This boot is affordable and yet still features most every major specification of any great hiking boot.
In the past I've seen Vasque boots not tend to hold up as well as some major brands but I also know tons of hikers who swear by the brand.
This boot does feature Gore-Tex liners for waterproof and breathable function on the trail so it's pretty hard to argue against the value.
The Vasque Breeze Hiking Boots are some best lightweight hiking shoes you can buy, highly recommended.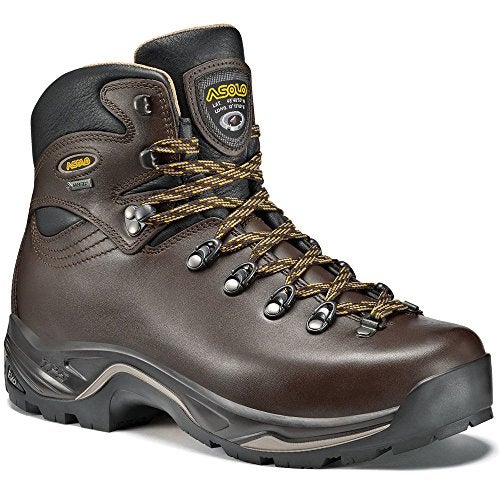 My first pair of hiking boots (and last) were a pair of Asolo Fugitives. While those boots didn't make the list, the Asolo TPS 520 GV has a spot for one of the most well-loved boots on the trail.
Many hikers swear by full length, full leather, rugged hiking boots for backpacking. While I don't subscribe to this, it's no contest that these boots have a lot going for them.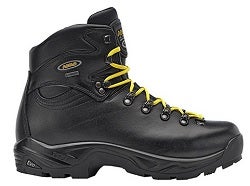 The full grain leather surrounds and protects a layer of Gore-Tex waterproof membrane and, once broken in, the boots will do their job for years.
Two major drawbacks come to mind. First, the leather boot will last far longer than the waterproof membrane.
Eventually you'll be left with a nice leather boot which is not at all waterproof.
Second, you're going to have to trade lightweight shoes for a heavy, clunky, full-size boot with something like the TPS 520 GV. Overall there are lots of positives about this boot that make it a good choice. In my opinion the Asolo TPS are one of the best hiking shoes for men.
How to Choose the Best Hiking Boots
Ankle Support and Boot Height
Many will swear by the ankle supporting qualities of high cuff boots. These boots, which come up above the ankle, can be laced tightly to snugly help surround the ankle with boot material. This, in my experience, is more likely to just help you avoid scraping your ankles on a stick or rock than to actually help support the ankle.
Of course, if you have chronic ankle problems, I would suggest you simply go with whatever your doctor recommends or work with a physical therapist to find a good solution.
For me, however, I rarely roll my ankle and even in the worst situations it doesn't injure or hinder me greatly so this is a non-factor in my choice of footwear.
Snake Bites
I've heard this more than once so, if it seems ridiculous to you, let's just talk about it for a moment. Some will tout high boots as snake resistant or possibly helping to turn the tooth and bite of a wayward snake.
Unfortunately, the likelihood of a snake biting at the level of the boot cuff or below is relatively low especially when you compound that with the overall low likelihood of being attacked by a snake at all.
For me, I will take millions of steps over the course of my walking and hiking excursions. Of those millions of steps, perhaps one (someday) will encounter a snake.
I'll take my chances and instead of wearing "snake armor" I'll just educate myself about snake behavior, habitat, hiker attacks, and medical responses and the reality of the dangers of snake venom. Altogether, not a viable reason for me to recommend hiking boots.
Waterproof
Many new hikers are obsessed with waterproof gear. Waterproof backpacks, bags, sleeping bags, tents, shoes, boots, and everything else under the sun. Waterproof footwear has several huge and glaring drawbacks and we'll talk about a few of them here:
Water can still come in from the top of the boot where your foot goes in. If you step in water deeper than the boots cuff (river crossing or deep puddles) or if rain leaks down your legs or rain pants (almost guaranteed) then your waterproof boot is now a swimming pool for your foot.
Even breathable waterproof footwear will retain moisture and standing water for hours or even days. Waterproof membranes simply suck once water manages to get inside the boot – they just hold in the water and make your foot marinade in nasty foot water as your skin becomes dangerously macerated.
Waterproof membranes are fragile and breakdown quickly under abrasion and movement. In a shoe or boot critical wear points are subjected to constant flexion and abrasion from your foot, rocks, dirt, pebbles, and other grit both inside and outside the shoe.
Almost without exception the waterproof membrane will break down before the boot does and now you're left with a functionless waterproof piece of footwear.
The only time I use or value waterproof hiking boots is in shoulder season conditions where trails may be muddy, snowy, or icy. In these conditions getting your feet wet can be dangerous or harmful and staying dry and warm as long as possible is always prudent.
In these conditions, it is necessary to consider some method by which to keep your feet safely warm and dry – either waterproof socks, vapor barriers, trash bag liners, or waterproof footwear.
Types of Hiking Footwear
There are several major classes of hiking footwear and, since we're talking about hiking boots, it's necessary to identify and define the other categories. In the hiking world, there are trail runners, hiking boots, and mountaineering boots.
Trail runners are athletic shoes like tennis shoes with a low-cut ankle, lightweight design, and athletic fit. Hiking boots are usually above the ankle cut boots with thick and heavy soles and beefy construction.
Mountaineering boots stand above the rest. These boots are made specifically for extreme expeditions and offer extreme insulation, protection, and integration into external systems such as crampons.
Weight
The saying goes that "one pound on your feet equals five pounds on your back" and it couldn't be more true. According to many studies, empirical evidence, and a large body of writing, "Weight on the feet is disproportionately more exhausting than weight carried on the torso."
Why is this so? Because once under motion your torso, backpack, and body remain under motion during normal hiking conditions. Your feet, however, do not. When walking, your feet must constant accelerate and stop with every step and, if you remember from physics class, it takes a lot more energy to get something started moving than to keep it moving.
Every time you pick up and put your feet down, any extra weight on them is going to make it harder and harder to do so – expending more energy.
Don't believe me? Log a 25-mile hiking day with beefy over-the-ankle hiking boots on your feet and then compare it to a 25-mile day with a well-fitting pair of lightweight trail running shoes. You'll feel the difference. No matter what type of footwear you decide is appropriate for you, lighter is always better!
Conclusion
Ultimately, it's up to you to choose what type of footwear makes the most sense for your own uses. Whether you choose a lightweight trail runner or a rugged and beefy boot like the Asolo TPS 520 GV, you'll soon learn the inherent shortcomings of each type of footwear.
I started with hiking boots and still use them on a few very rare occasions (still have that old pair of Asolo Fugitives kicking around).
Before hiking with a pair of hiking boots, it's critical to break in the boot. Every full-size hiking boot has a break in period during which the stiff boot begins to loosen up and conform to your foot. Starting on the trail with a brand-new pair of boots is never a good idea and I've seen it result in blisters and evacuations from the trail.
After buying your new hiking boots, be sure to spend at least a few weeks wearing them during normal activity to break them in before hitting the trail.
Notice: Outside Pursuits is a participant in the Amazon Services LLC Associates Program, an affiliate advertising program to provide a means for sites to earn advertising fees sold through by advertising and linking to Amazon.com. Amazon offers a small commission on products sold through their affiliate links. Each of your purchases via our Amazon affiliate links supports our efforts to bring you the best possible product reviews at no additional cost to you. We appreciate your support here at OutsidePursuits.com