When your looking for a folding bike there are several considerations. The main one being where you wll be using it. The folding bike for an urban commuter may not be the best bike for the person using it at a camp site.
To make your selection easy we tested 10 models of folding bikes and tried them out riding around New York City and camping in Upstate NY. We narrowed it down to 3 folding bikes that were great all around choices.
First lets take a look at the folding bikes, then we'll talk about how to choose the right one for you.

Here is a feature overview of the bikes with full reviews and our buying guide below.
The 3 Best Folding Bikes
| | Schwinn 20-inch Loop Folding Bike | Dahon Speed Uno Folding Bike | Columbia 26" Folding Bike |
| --- | --- | --- | --- |
| | | | |
| | | | |
| Bike Weight: | 31 Pounds | 24 Pounds | 34 Pounds |
| Folded Size: | 30" X 32" X 11 inches | 11.7 x 30 x 25 inches | 27 x 8 x 52 inches |
| Speeds: | 7 Speed | Single Speed | 18 Speed |
| Weight Limit: | 225 pound max weight | 230 pound max weight | 200 lbs max weight |
| | | | |
Folding Bike Reviews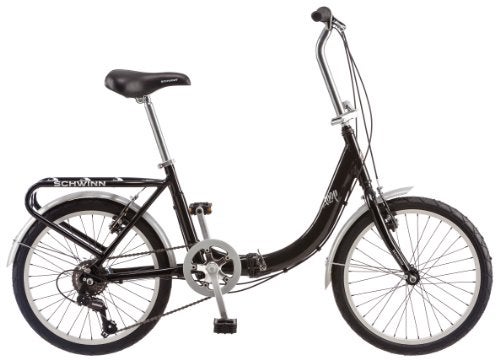 The Schwinn 20-inch Loop Folding Bike is ideal for city commuters. When folded up it measures 30"x32"x11" so it will take up very little space in your apartment or office.
The low stand over frame is perfect for quickly and easily getting on and off of the bike and the 7 speed drivetrain allows you to take this bike over hilly terrain.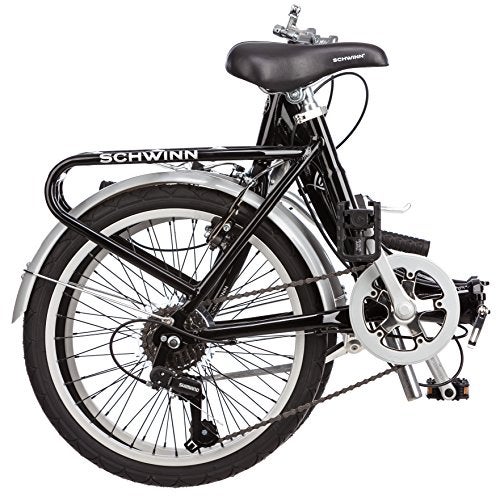 For quick stopping power, the bike has alloy linear pull brakes, full fenders, and a rear cargo rack. The Schwinn Loop includes a nylon storage case for easy carrying and safe storage.
The performance of the Schwinn 20-inch Loop Folding Bike is excellent. The gears are smooth and the frame is durable and has a solid feel even though it is one of the lightest folding bikes on the market.
I found that the bike was easy to fold and unfold and provides a ride just like a normal solid frame bike. The bike performed well over gravel trails and sharp turns, and the small size, once folded down, will fit in most any trunk, closet or cluttered garage.
Like most folding bikes, this Schwinn model is built for those of a smaller frame. The suggested weight limit is 230 lbs.
The bike is meant to be folded and stored and but not necessarily carried around, as it does not feature a locking mechanism.
If transported without the accompanying storage case, the bike can unfold while carrying, so I would always use it to prevent that from happening.
The only problem I could find with the Schwinn is that you cant adjust the handlebars forward or back, only up and down. The Schwinn 20-inch Loop Folding Bike is our top pick because it has just about everything you would want in a folding bike and is the best folding bike under $200.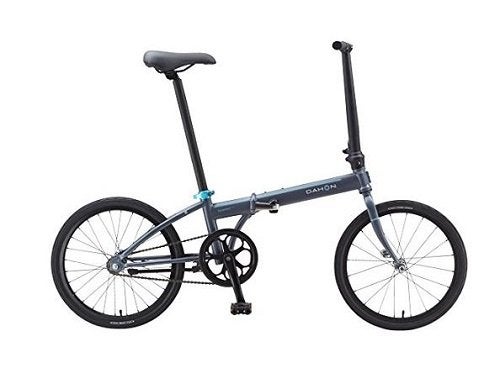 The Dahon Speed Uno Folding Bike is an excellent option for riding flat, busy streets. The simple design is one of the Dahon's most lightweight folding bikes.
The Double Lock latching system makes the bike easy and safe to transport by utilizing a secondary lock on every latch.
This bike also has no brake or shifter cables, resulting in a simplistic, low maintenance design. Once you fold down the bike, it is held together by a simple magnetic latching system, so it doesn't unexpectedly unfold on you.
At 11.7"x30"x25" dimensions when folded down, this bike is perfect for compact storage.
Dahon is one of the most popular folding bike manufacturers and the one speed Uno model doesn't disappoint.
It looks more like a BMX bike, than the traditional folding bike frame.
It is quick and easy to fold and unfold the bike, making it perfect for traveling on city bus routes.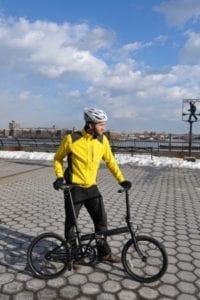 One thing I liked best about this bike is the lack of cables and gears, it makes it a convenient, worry-free, and low-maintenance bike.
This is the best folding bike for city use with its simple, trouble free design.
The biggest issue I found is the seat is not as comfortable as other models that were tested, especially over longer distances.
The Dahon Uno had the highest weight limit of the bikes we tested at 230 pounds (105kgs). Which was surprising since it was also the smallest, so I have to attribute it to the solid frame and rims.
This bike will bring back days of riding bikes when you were a kid, its fun to ride and there is almost nothing to break.
In my opinion this is the best folding bike under $500. The Dahon Uno is perfect for commuting around town.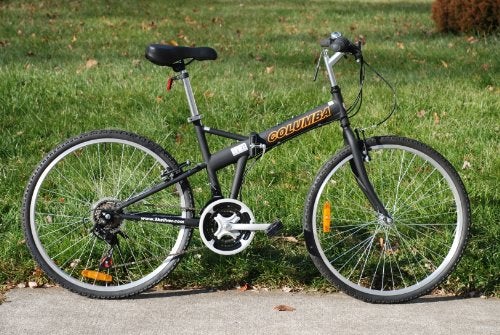 The Columbia Folding Bike with Shimano 18 Speeds is the perfect bike for those transporting it with their car because it was the largest and heaviest bike we tested. Its probably not one you will want to carry around.
When folded down it measures; 38"x14"x29" and it fit in just about any vehicle. The bike is recommended for riders who are 5'3" to 6'0".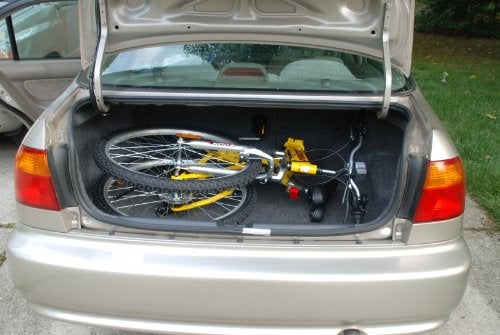 The bike is lightweight at 34 pounds and I was able to fold it up in under 10 seconds.
The Columbia features: A Shimano 18 speed gear system, alloy front and rear V-brakes, removable front handle stem, front/rear steel rims, and a kick stand.
I really liked the high quality, and larger wheels of the Columbia folding bike. It folds quickly and stays secure, and with 18-gear speeds you can find a speed for a comfortable ride on almost any terrain.
There is some assembly needed, the initial set up is clearly explained in the instructions. I was able to assemble it in less then 10 minutes.
I found the ride is comparable to a non-folding full size bike and its bargain priced for what you get.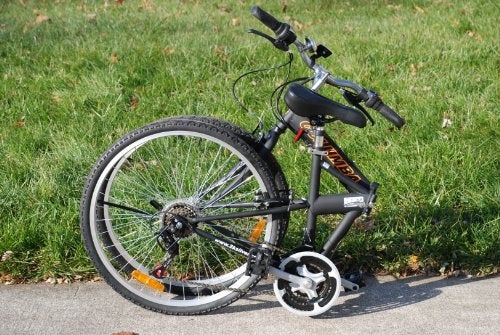 If I was going to nit pick, the gears on the Columbia 26'' Folding Bike can be a bit noisy, and like all of the other bikes we tested it lacks a suspension so its not an ideal bike for off road use.
I also wasn't crazy about the bike stand design but it works.
The Columbia 26 Folding bike being lightweight and portable is an ideal camping bike. It can take on most terrain with its 18 speeds. The Columbia 26 is the best folding bike under $300.
Why Buy A Folding Bike?
A folding bicycle is designed to fold down into a compact and easily transportable mechanism. The convenience of carrying a folding bike in a suitcase or vehicle allows cyclers to get in a little extra exercise without committing to a whole day of riding around town. It is perfect for those who may want to take a leisurely ride during a lunch break at work.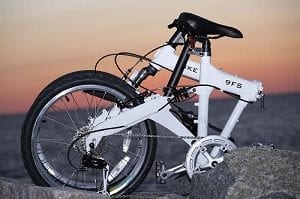 Folding bikes are a great investment for travelers who want to keep their bicycle with them at all times. They can be easily compacted and toted around in an RV, making it perfect for enjoying a ride during a vacation—without taking up a lot of space.
Folding bicycles are great for storing in small homes or apartments, and can easily be carried onto airplanes or buses.
A major benefit regarding folding bicycles is that they do not require traditional car racks during travel, saving you time and money when using your bicycle on the go. The portability helps bikers avoid theft issues that traditional bikes have to worry about.
How To Choose A Folding Bike
Folding bicycles are offered in a variety of sizes and designs. They are generally made for small to medium built riders as their lightweight frames cannot easily support a larger individual. However, some manufacturers do produce frames for larger riders, though these bikes are typically custom made.
Fitting For Your Size And Weight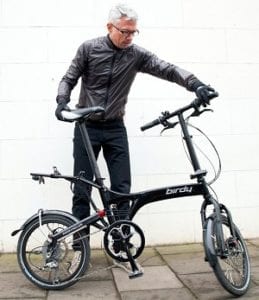 It is essential to find an option that suits your height and weight. This can be done by sampling a variety of different bikes and adjusting the handle bar and seat heights.
The seat-post and handle bar range adjustment is typically more inclusive than a traditional bike.
Folding bikes have an adjustable seat height and the correct size will allow you to sit with your foot on the pedal with your leg almost fully extended straight when the pedal is in the lowest position.
Once you have a general idea about which size and style is best suited to your body type, you can focus on more specialized features within that range.
Wheel Size
Folding bikes include a variety of sizes when it comes to wheels. Wheels range from 16 inches to 26 inches, however most models include wheels that are 16 to 20 inches. These are smaller than traditional bicycles.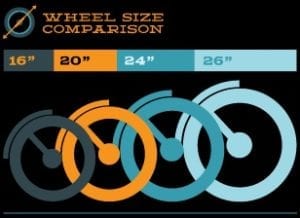 Transitioning from a full size bike to a folding bicycle may be difficult at first, as the smaller wheels require a different riding technique. Choosing a wheel size that you are comfortable with is one of the most important features you should consider when purchasing your bicycle.
Small wheels, or those that are at or near 16 inches are perfect for emphasizing the lightweight, highly compactible effect. The smaller wheels serve as an ideal space saver, and allow you to have more control over the bike during riding.
One thing to keep in mind with small wheels, is that they require more rotations to cover a set distance, thus wheel replacements will need to be done more often. You will also feel bumps, potholes, or uneven terrain more easily than you would on larger wheels.
Medium sized wheels are considered to be around 20 inches. This size encompasses most varieties and models of folding bicycles; thus it is easier to find a bicycle that fits your needs. Similar to the smaller 16 inch wheels, the 20 inch sizes tend to take some time to get used to, since they are smaller than traditional wheels and lower to the ground.
Larger wheels are roughly 24-26 inches and are most closely related to traditional bicycles. These wheels provide a smooth ride, and most easily resemble the riding experience on a traditional road bike. However, when it comes to folding bicycles, the larger wheel size can be difficult to find, which will limit your available options. In addition, these models will be heavier, and do not fold as compact as smaller wheeled models.
Where You Will Use It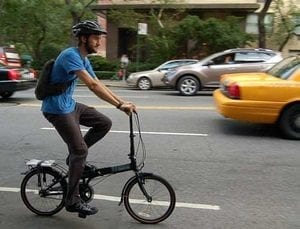 It is helpful to consider the type of terrain you will be traveling on when deciding which features or wheel size to purchase. For example, flat city streets will not require a lot of gears, but uneven terrain would require more gears.
For short travels around town you may want to opt for a small wheeled option,
Longer trips you will be better off with a larger wheel size.
Determining your individual needs and level of comfort will be key in finding the right bicycle for you.
Once you have an idea about the best model for your build, the needs of your wheels, and the type of terrain you will be riding on frequently, you can begin considering additional features like suspension, latching systems, or optional carrying cases.
Suspension features are great if you have a more generous budget and plan to ride on rigorous terrain. Often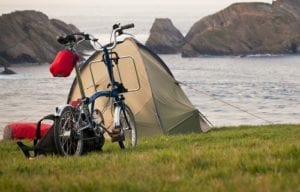 times, suspension features are not necessary, especially when sticking to traditional city streets.
If you do not require suspension features with your folding bicycle, it is wise to focus on more practical features for your money.
When narrowing down your purchase options you will also want to consider details like weight, ease of folding, performance, and durability.
These more subjective features will be important considering the main focus of the bicycle is easy transportability.
How Easy Does It Fold Up
Folding bicycles have a variety of folding methods available including models that fold in half horizontally or vertically. Triangle hinge and magnet folding systems are available as well, and some bikes even manually disassemble into accompanying suitcases.
Consider options that have quick release features and swing hinges. Folding methods vary by style, and it is important to remember that just because the bike can be folded into a more compact design, does not necessarily make it more lightweight. Look for options that are easy and quick to fold, and are not too heavy.
Performance
When it comes to performance, it is important to remember that with a folding bike you are trading off some quality for convenience when compared to a traditional bike. Folding bicycles are typically not as stylish or easy to repair as road bikes, and depending on your budget may lack some features you would normally find on a traditional bike.
In addition, while they are well suited to commuters, if your looking for speed and comfort over long distances then a folding bike is probably not for you.
Keep in mind that if you are used to riding a traditional road bike, purchasing a folding bike will require a bit of a transition. The smaller wheels result in a less comfortable ride, and the more expensive prices of folding bikes do not necessarily reflect their quality or performance.
The number one thing to keep in mind when opting for a folding bike is portability. If you are looking for a bicycle that can withstand a reasonable commute, be carried and traveled with, or needs to be stored in a safe, small place– a folding bike is an ideal fit for your needs.
However, if you want to travel longer distances, need to sustain high speeds, or are traveling on rough terrain, a folding bike may not be your best option.
Overall, when selecting a folding bike there are many things to consider; frame style, wheel sizes, gear speeds and weight limitations are your primary considerations when selecting a folding bike.
If you take into consideration what you will use the bike primarily for, you will select the best model for your needs.
Best Folding Bike Brands
The best folding bike brands are no coincidence are the bike manufactures that have been around the longest.
Columbia
Dahon
Schwinn
Columbia is a name that should be well known to you. My first bike was a Columbia back in the early 70's. They make what I think is the best budget and is still a full size folding bike. Dahon is probably less known but commands almost 70% of the folding bike market. They first started making them in 1982 with a goal of preserving the environment. Schwinn is probably the best known name in bikes. Who didn't own a Schwinn bike as a kid? My first 10 speed was a venerable Schwinn bike. Their 20″ Loop folding bike is one of the best value and compact folding bikes on the market.
Don't forget a bike helmet, see my guide to the best road bike helmets here. Want to bring along the kids? I review the best bike trailers for kids.  If your taking your bike on a camping trip, see my guide to camping so you don't forget anything.
Need to transport a non-folding bike? See my review of the best bike racks.
Notice: Outside Pursuits is a participant in the Amazon Services LLC Associates Program, an affiliate advertising program to provide a means for sites to earn advertising fees sold through by advertising and linking to Amazon.com. Amazon offers a small commission on products sold through their affiliate links. Each of your purchases via our Amazon affiliate links supports our efforts to bring you the best possible product reviews at no additional cost to you. We appreciate your support here at OutsidePursuits.com
Review Overview
Summary : Its really hard to pick a best overall bike as they all have different characteristics and suited for different purposes. If I had to pick one it would be the Schwinn 20-inch Loop Folding Bike, it did everything well and is the best all around folding bike at a bargain price.