When your looking for the best camping hammock there are a lot of factors to consider. But with so many camping hammocks to choose from, how do you know which one is best for you?
Ease of set-up, comfort, portability and durability are the most obvious factors to consider. A camping hammock is going to take a lot of abuse.
They are an ideal choice in warm weather and you want to travel light.
First lets take a look at the backpacking hammocks, then we'll talk about how to choose the best one for you.
Here is a feature overview of the camping hammocks with full reviews and our buying guide below.
The Best Camping Hammocks
Kammock Roo Camping Hammock
Neolite Double Camping Hammock

Grand Trunk Double Parachute Nylon Hammock

Material:
Proprietary "Lunar Wave" rip stop nylon
High strength breathable nylon
Oxford canvas fabric with water resistant coating
Weight Capacity:
500 pounds
400 Pounds
400 Pounds
Unfolded Dimensions:
10ft (long) x 5 ft 7 in (wide)
10 ft 6 in (long) x 6 ft 6 in (wide)
10 ft 6 in (long) x 6 ft 6 in (wide)
Packed Dimensions:
6.8 in (tall) x 5.5 in (diameter)
Weight: 23 oz
7 in (tall) x 5 in (diameter)
Weight: 19 oz
4 in (tall) x 4 in (diameter)
Weight: 20 oz
Camping Hammock Reviews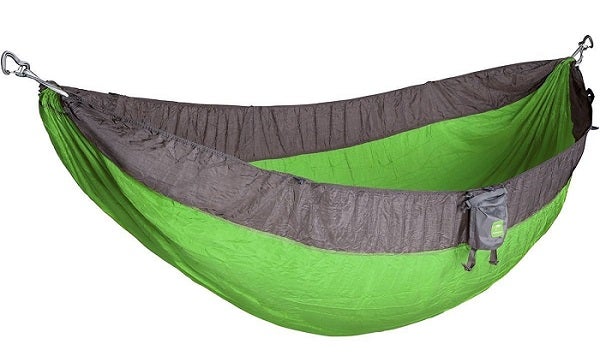 As you may have guessed by the name, the Kammock Roo is made in Australia and originally designed for the military. Being a socially responsible company,  Kammok donates a treated mosquito net and health education to a family in need with the goal to end malaria deaths in Africa.
If you like being able to stuff and go with your camping gear, the Kammock Roo Hammock is probably the perfect camping hammock. Weighing in 23 ounces with a lifetime warranty, this hammock is the one you have been looking for.
This is a seriously tough, lightweight parachute hammock that is made from their proprietary "Lunar Wave" rip stop nylon fabric. The Kammoc Roo that can take a few hard knocks.
Design and Features
This brightly colored, two-tone parachute hammock is extremely lightweight, soft and breathable.
The included tree straps are easy to loop around a couple trees(or posts) and and allows you to effortlessly adjust the level of the hammock on the tree.
It includes a 2 strap suspension system for the ultimate in comfort and giving you a good nights sleep.
The Kammock Roo Hammock Features:
An ultralight parachute hammock for one to two people, weighing only 23oz, and measuring 10-feet long by 5 1/2 feet wide
Seriously strong, holds 500 pounds!
Two 1-inch thick, 6-foot long tree straps
Two heavy steel carabiners
Convenient 'Stuff sack' that doubles as a gear bag for minimal packing
LIFETIME warranty
Performance
It is easy to pull this little hammock out of the stuff sack and sling it up between two trees, anywhere from 12 to 17 feet apart. The 10-loop tree straps are easy to cinch down, adjusting to the perfect width for your sleeping comfort. As long as you tighten the straps about six feet above the ground, you will not brush against the dirt when you sit down to enjoy the view or a nights sleep.
This ultralight hammock has a load capacity of 500 pounds and is made of 100% parachute nylon. The bright colors will keep you from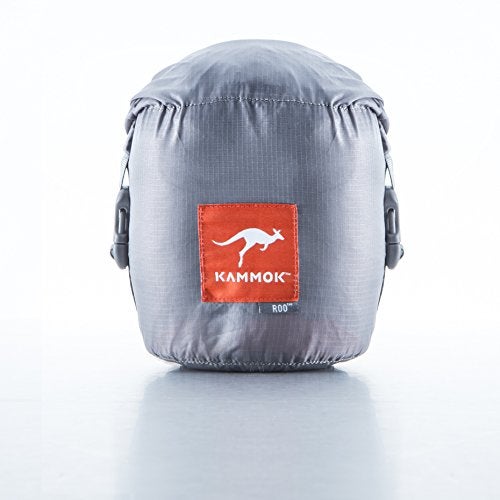 losing the campsite after a hike. The Kammock has a triple stitching in all the important areas so it can take a lot of abuse.
The Kammock Roo Hammock is better than a tent because of its total weight is only 23 ounces and with the optional mosquito netting, it will keep you bug free.
The carry sack will clip on the bottom of your backpack to save space and allow you to carry more gear. The Kammock is a great for a quick one or two night hiking trip. In my opinion the kammock Roo is one of the best camping hammocks on the market. It certainly has the best name.

The ten anchor points on each strap allow you to adjust the slack when your campsite set up has trees a little close together, and the six-foot length of each strap allows you to work with a very wide set of trees. These straps combined with heavy steel carabiners will keep you safely above ground(or water) in any setting.
Is It Worth It?
You're looking at a somewhat higher priced hammock with a lifetime warranty, and is really pretty good deal overall. I was very happy with it and know you will be as well. And if for some reason you don't like it, they have a 30 day satisfaction guarantee, that if you don't like it for any reason, send it back and they will cheerfully refund your money.
The Bottom Line
You really cannot go wrong with the Kammock Roo hammock, its a well built and well designed product with a forever warranty, its my top pick.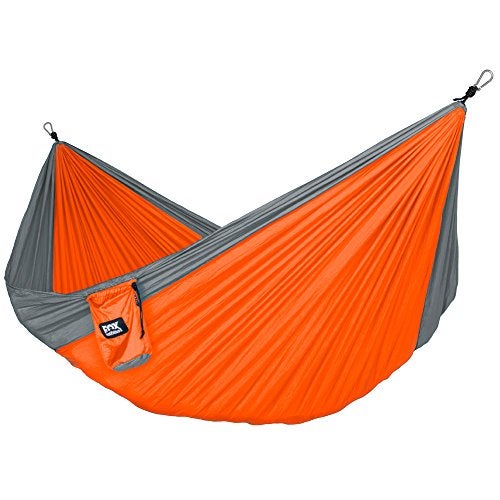 The Fox Outfitters Neolite Double Camping Hammock provides comfort, durability, and versatility, all in one nylon stuff sack—that doubles as a gear bag. If you're headed out for an overnight camping trip, this lightweight hammock will do the trick better than a sleeping bag: this Neolite is light, it sets up fast, and it gets you up off the ground, always an important feature while camping.
Design and Features
This hammock allows room to comfortably accommodate two people and is constructed of high strength, parachute nylon that is not only breathable, but also fast drying.
The fabric is woven of triple interlocking Neolite nylon for strength you can count on. Each hammock comes with accessories that help you easily set up and take back down in seconds.
The Neolite Double Camping Hammock Features:

Neolite parachute nylon hammock measuring 10-feet, 6-inches long by 6 ½-feet wide
Tree-friendly rope sleeves protect tree bark from rubbing
Two heavy-duty, nautical grade hang ropes each measuring 5 ½-feet long
Two solid steel carabiners
An integrated stuff sack that doubles as a gear bag
A separate sack for hang ropes
Performance
This Neolite double hammock can withstand weight of up to four-hundred pounds covering 57.7-square feet and a portable drawstring stuff sack measuring 7-inches by 5-inches. The result is a nineteen-ounce bag that you can throw onto your pack, clipping it to the exterior with one of its included caribiners if needed.
Once you get to your campsite, it takes seconds to open the stuff sack and attach your hammock between two trees.
Make sure you select a pair that are sufficiently far apart, wide enough to fit a hammock 10 ½-feet long with two ropes that are longer than five feet.
Just slip the rope sleeves over the ropes, throw them around the trees, and secure them with the pre-tied knots and a carabiner on each end to create your perfect night's sleep.
With room for two people, this sturdy, fast-drying hammock creates a space above the ground perfect for getting a good night's sleep. You'll have peace of mind that you won't slip or fall while you sleep knowing you have the one of best backpacking hammocks.
Is It Worth It?
In the mid-price range as far as double camping hammocks go, the Neolite Double Camping Hammock is sturdy and lives up to its description. This hammock is a bit more expensive than other similar ones, but it excels in every category.
The Bottom Line
Due to the durable weather resistant design, Neolite Double Camping Hammock is one of our top picks for a camping hammock.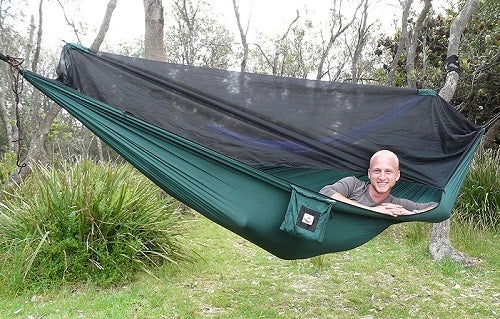 If there is one thing you can be assured of when camping is: BUGS! There is nothing that will ruin your nights sleep then swatting bugs and having that annoying whine of mosquitoes buzzing around.
The Hammock Bliss combines all the benefits of a camping hammock with a built in mosquito netting. Unlike other hammocks that have a mosquito net the Hammock Bliss has VERY fine net that has 2100 holes per inch.
This means the holes are TINY! This will block out no-see-ums and any other pest like gnats or midges, no matter how small they are.
Design and Features
The netting of the Hammock Bliss camping hammock covers the entire hammock and they include 100 feet of cord. This allows you to hang the netting far enough above you so it doesn't get in your way or hang in your face.
They quality YKK zippers make it easy to enter and exit the hammock and leaves no openings for pesky bus to get in.
If your in a location where there are no insects, the hammock is reversible, meaning you can just flip it over and the netting will be on the bottom so it's completely out of our way.
The Hammock Bliss is made from a tough and durable parachute nylon and is huge; 9.75 feet long x by 5 feet wide and supports 350 pounds, which should be enough for two adults.
Features of the Hammock Bliss:
Insect proof netting with 2100 holes per sq inch
75 feet long x by 5 feet wide and supports 350 pounds
Weighs on 28 ozs and folds into a sack 8.5 x 5.5 inches
4 pockets for storing valuables
4 loops to hang gear
Performance
The Hammock Bliss camping hammock is well designed; you will find it easy to setup with the included suspension system. They have included plenty cord (100 ft) to mount it between trees that are far apart making it easy to find a place to set it up.
It has by far the most effective mosquito netting available and is easy to use and with the YKK zippers seals up keeping you bug free.
The nylon fabric is tough and fast drying so it rains or gets wet it will quickly dry and resists mold and mildew. When its folded up in the included carry sack it's so light and small you will not even notice it in your backpack.
Is It Worth It?
For a price that is less than the cost of most other camping hammocks, you get an included mosquito netting.
The stainless steel carabineers will not rust or break and easy to attach to the straps for easy setup. Like any hammock you tend to get colder in a hammock than a tent because you are completely exposed, especially your back.
The Bottom Line
If you are looking for a bug free camping experience, I think the Hammock Bliss is the best camping hammock with mosquito net and a bargain price. Highly recommended.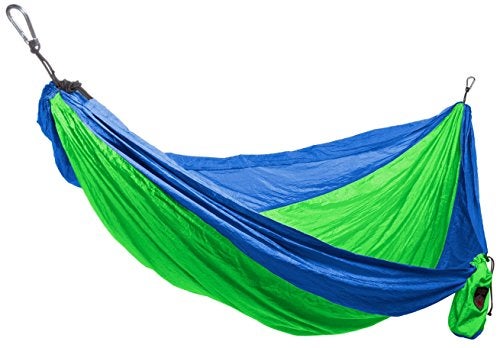 The fabric of the Grad Trunk is definitely top of the line being made of a breathable taffeta nylon (70D) and is triple stitched for strength.
The Grank Trunk is made from an extremely comfortable and parachute fabric. It is big enough for two people to sleep in however if you have ever tried it before it's not really ideal.
It's better for 2 people lounging during the day than trying to double up sleeping. If you have never been camping using a hammock you are in for a treat.
Design and Features
The Grand Trunk is one of the widest and longest camping hammocks available, unless you play center for an NBA basketball team, at 10.5 feet long it should be long enough for the rest of us.
Being over 6 feet wide and rated at 400 pounds max weight capacity you and your companion or kids can pile into it.
Unless you camping in very warm weather you will most likely be using a sleeping bag with the hammock. With the extra width and length the Grand Trunk will easily accommodate any sleeping.
Weighing in at 20 ounces it very light weight and compact. Roughly the size of a softball or a grapefruit when compressed in the included sack. The carabineers are made from a high tensile strength steel and lock securely.
It comes with two 10 foot sections of cord for hanging, it is important to note that it does not come with suspension straps. You really don't need them but if you want the extra flexibility and comfort, I would recommend the ENO straps, available here.
Performance
The Grand Trunk is easy to setup like most camping hammocks and compresses down easily to fi in the compression sack. At only 20 oz this is an ideal backpacking hammock for extended trips. The taffeta nylon has some stretch do it so its forgiving and will stretch and not rip.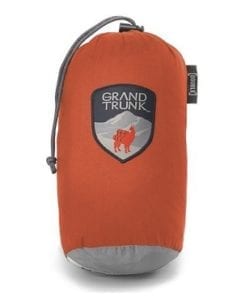 Unlike cheaper camping hammocks, all the seams are triple stitched for durability and strength. With a minimum of care, it will last you many years.
With the extra length and width of the hammock, you can easily use a sleeping pad. It will easily accommodate a foam sleeping pad or the thicker inflatable pads.
The included cord is thin and strong and incudes enough that straps are not necessary but keep in mind with the cord being fairly thin it may damage the bark on the tree you attach it to.
If you want to make sure you don't take the bark off, I would recommended that you use suspension straps.
Is It Worth It?
The Grand Trunk camping hammock proves you don't have to spend a lot of money for a quality hammock. Everything about the Grand Trunk is top of the line and designed to last a long time and it comes with a lifetime warranty.
The Bottom Line
The Grand Trunk is one of your best bets for a double camping hammock. I would recommend a using a mosquito netting for a good nights sleep without having to douse yourself in bug repellent.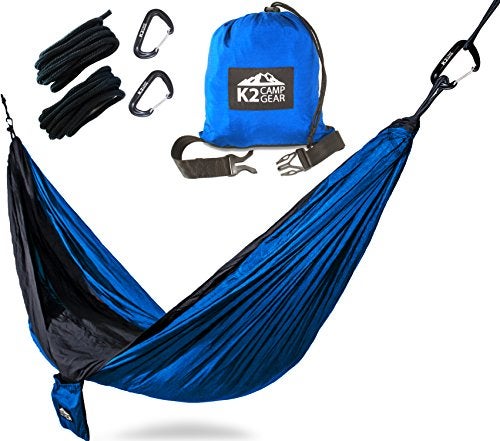 K2 is probably best known for their skis, has recently expanded their lineup to include camping and backpacking gear. The Camp Gear Hammock keeps their tradition of making quality equipment. It features a 210T triple stitched nylon parachute fabric that can hold over 400 pounds.
The suspension lines included are high quality "marine" grade, originally designed to be used in salt-water environments, so they will hold up to the elements. The K2 includes light, strong aluminum carabineers that won't corrode or break.
This hammock is HUGE, at over 10 feet long and 6 ½ feet wide, you can easily fit a few people in it. Sleeping two in hammock can be challenging because you will both naturally slide to the center. Personally, I prefer just lounging during the day with someone then retiring to my own hammock to sleep.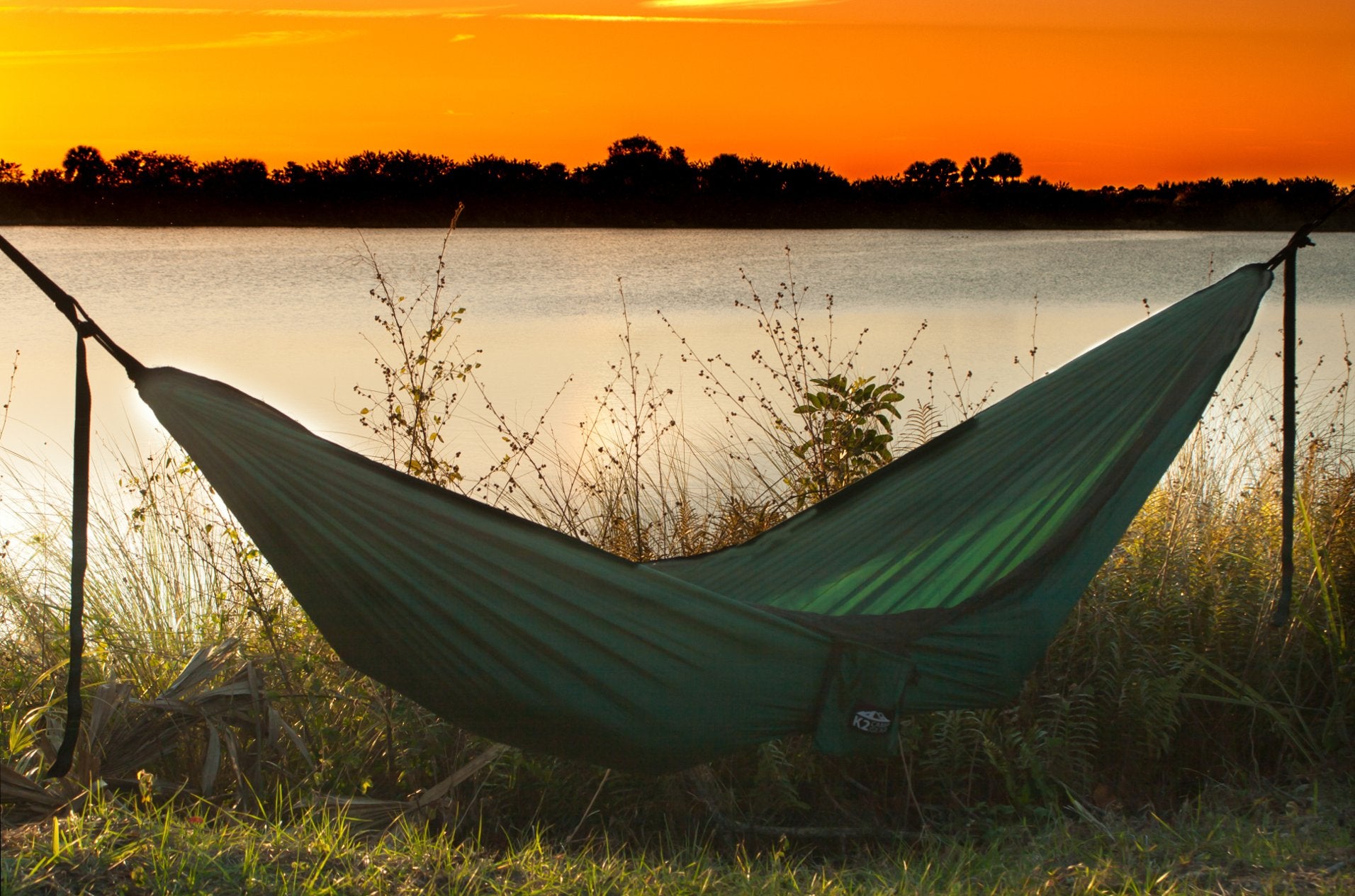 The hammock is super easy to setup, I had it setup in under 2 minutes after a few a few tries getting familiar with it. When you are in need of a lightweight sleeping solution, the K2 is definitely one of the best backpacking hammocks there is. It weighs just over a pound and compresses down to only 6 by 7 inches.
One thing to note about this hammock is does not come with suspension straps. You really don't need them but if you don't want to take any chances taking bark off of the tree, it cant hurt. K2 makes straps, you can see them here.
You can by the K2 camping hammock with confidence, they cover it with a lifetime warranty.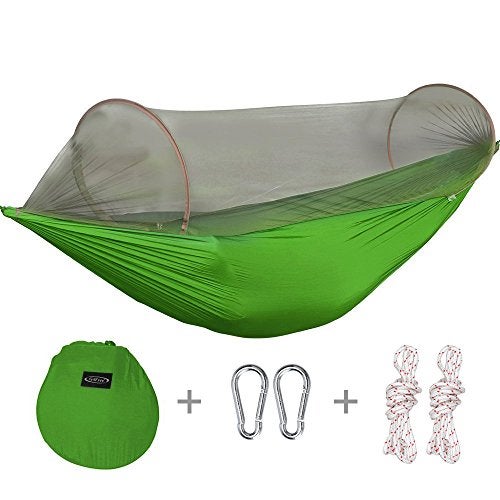 The peace and tranquility of backcountry camping can be quickly ruined by flying, biting bugs. The G4Free Backpacking Hammock is the perfect solution to eliminate this problem. The included mosquito netting that attaches to the hammock will keep out the smallest bugs, including no-see-ums and midges.
The G4 hammock is versatile; if you're in an area free of bugs, just flip the hammock over to use it without the mosquito netting. You can even use it as a light weight sleeping bag when its warm out. Of course, there is not much in the way of padding but it works.
While the G4 is not as long as some of the other hammocks reviewed, it still measures just over 9 feet long and 4 feet wide. This is meant for one person sleeping only.
The G4Free hammock is made from a tear resistant parachute nylon that won't rot or mildew. If it gets wet, the thin, breathable nylon dries fast. It compresses down to a very packable 13 by 11 inches and weighs only 28 ounces, small and light enough to take on long treks.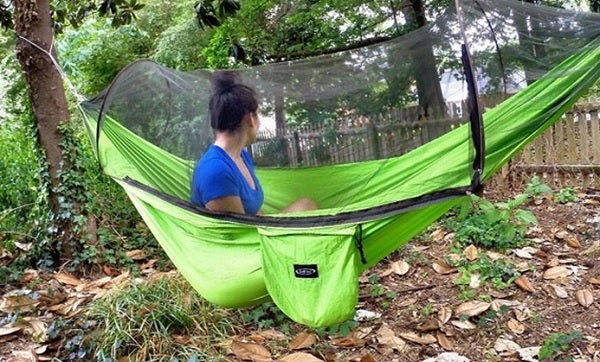 When you use the mosquito netting is it unzips from the inside and outside for easy entry and is tall enough that you can sit up in. The hammock is ideal not just for camping, set it up in your backyard or take it to the park to relax bug-free.
For a bargain price and cheaper than many hammocks without mosquito netting, it's hard to go wrong with the G4Free camping hammock.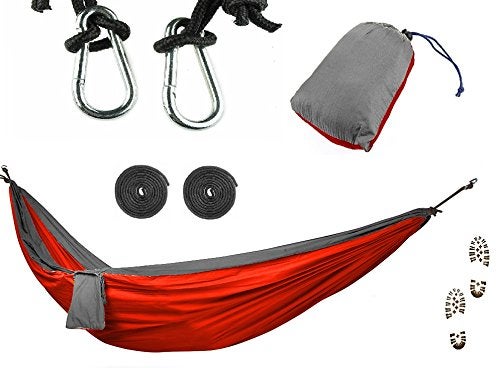 With a name like Commando Steve, it is no surprise you are in for something unique. The Commando Steve Hammock is at the top of the line, in comparison to other hammocks in its class. When it comes to strength, there are few other hammock that even come close to the Commando Steve Camping Hammock!
It you are planning to do a one or two day hike, this hammock is an excellent purchase. In spite of its incredible strength, it is surprisingly lightweight, compact, and leaves plenty of room, for other more important things, in your pack.
If you want to experience 'hammock camping', this model will not disappoint. This heavy duty, single canvas hammock is known for its remarkable durability. Though it places high among other hammocks in strength, the hammock accessories are a little low on the quality side and may have to be replaced periodically.
Design and Features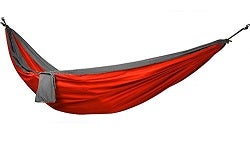 This single person hammock boasts of a host of sturdy features. However, the fabric is the feature that makes this hammock stand out above the rest.
The unique patent-pending military material can hold up to 450 pounds. The durable fabric is hand stitched for the finest quality.
It is built to last with its triple strength, secure Oxford canvas material. The resilient Oxford canvas fabric is coated with an extra layer of water resistant material.
The Commando Steve Hammock Features:
High strength breathable nylon hammock
Two ropes, each 2-meters long
Two steel carabiners, 8 mm thick
Matching stuff sack
Performance
This single hammock has a weight capacity of 450 pounds and is composed of quite possibly the most amazing hammock material, yet used by manufacturers. The Oxford canvas is a specialized military patent-pending design, and it is skillfully hand stitched, ensuring that each hammock is has top quality stitching.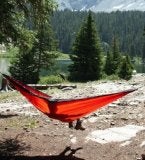 To say that the
Commando Steve Hammock
is strong is an understatement. Its heavy-duty quality is unrivaled. The manufacturers spared no expense in creating this hammock, to achieve the highest quality. With a high weight capacity it is the
best camping hammock for big guys.
The specialized Oxford fabric also dries three times faster than nylon because of an extra layer of water resistant material, making it the ultimate hiker's sleeping choice—worries of smelly stuff stacks on the rainy trail are over!
This ultralight hammock becomes the perfect 'tent replacement' when you consider that its stuffed weight is less than pound, and the total size is 8-feet by 4 1/3-feet. The carabiner size works well with the size of the ropes, although the ropes do not have any extra features setting them apart from other hammocks.
Is It Worth It?
For this low of a price, you cannot beat a hammock that will dry faster than nylon with triple-stitched canvas, and the unmatched strength found in the Commando Steve hammock set. While the carabiners and ropes are nothing fancy, the hammock itself is worth the purchase. The Commando Steve is one of the best backpacking hammocks for the money.
The Bottom Line
If you are looking for an ultralight hammock for one person, that is going to provide longevity, look no further. The Commando Steve hammock set is a perfect fit for you.
How To Choose A Camping Hammock
Any kind of camping requires some preparation and planning—whether you are going for the trendy "glamping" (glamorous camping) in a fancy RV or stripping down to the bare essentials on a backpacking trek up the Appalachian Trail. However, if hiking with just a backpack and a head full of mountaineering knowledge is your style, then a camping hammock between two trees is likely the style of relaxation you prefer.
Keep in mind, you must be camping in a place with many trees to attach the hammock to and unless you have a rain cover as well, sleeping in it is not an option if your going to be expecting rain. Camping hammocks offer many advantages over tents and sleeping bags. Since hammocks elevate off the ground so you do not have to worry about mud, crowded spaces, and creepy crawlers. They also drastically reduce the number of items in your pack—no ground cloth, no tent or sleeping bag, no bulky tent poles.
You must do your research before investing in a camping hammock, because some hammocks can be tricky to get in and setup. Checking out the reviews on Amazon is a great way to get information by reading about the experiences of others, but it really helps to go to a live camping store and test some out.
You might find them uncomfortable, or you might learn which material feels best against your skin. Many people like to test them out in person and then buy them online for a discounted cost.
Hammocks are nice to have because they are quite versatile even when you are not camping. They can offer a place to sit or nap during a day hike, or even just providing a relaxing spot in the backyard. Camping hammocks have not picked up the popularity of regular camping tents, but their versatility and compact nature are an asset on any long hike.
Factors To Consider Choosing A Hammock
Comfort
Of all the criteria for a hammock, comfort is probably number one. If you can't sleep in it then its just not going to work for camping no matter how much else it has going for it. Comfort being a personal preference, larger is usually better, and most people tend to prefer the "parachute" nylon models.
Comfort is often one of the main reasons to switch from a tent, but the weight savings is also a huge benefit. Many are made from lightweight parachute nylon, a durable and smooth fabric comfortable to the touch. The lightest models are not as durable as the burlier heavy denier nylon expedition models, like the Hennessey Asym Expedition or the Warbonnet Blackbird.
Weight
The weight savings by switching from a tent to a hammock is a huge benefit, not too mention a hammock will take up significantly less space in a backpack. The most popular models are made from from lightweight parachute nylon. This material is not only super light but also very comfortable.
Keep in mind the suspension system for the hammock will often weight more than the hammock itself, so when looking at the weight of a hammock, make sure it includes the ropes and carabiners.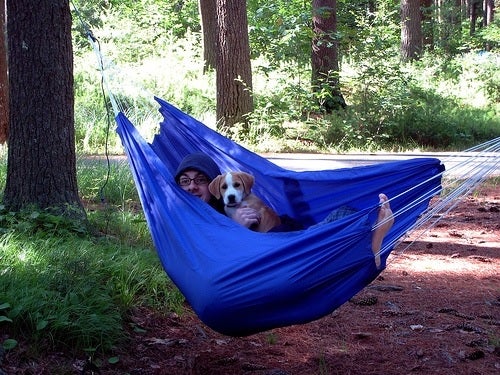 Versatility
A camping hammock that you are comfortable sleeping in will be also great for just lounging, reading or playing with the kids all piled on top of you. The reverse is not always true, a hammock that you pack in your car for siting around a campfire is not always suitable for backpacking. Again the Commando Steve excels in versatility.
Ease Of Setup
The last thing you want to be doing is fumbling around and struggling try to setup a hammock after a long day of hiking. You want a hammock with easy to use, quality carabiners, and longer cords to give you flexibility to give you more options on where to setup your hammock.
Durability
If your camping in the backcountry, you are really dependent on your gear and if your going to be using your hammock for sleeping you need something that is going to hold up to the elements and wear and tear. The Commando Steve in our opinion was the strongest of the bunch.
Click to return to the reviews.
Needing a quality pair of hiking shoes? Here is our recommended shoes, and for women, here is our list. Don't forget a quality backpack, see our buying guide here.
Notice: Outside Pursuits is a participant in the Amazon Services LLC Associates Program, an affiliate advertising program to provide a means for sites to earn advertising fees sold through by advertising and linking to Amazon.com. Amazon offers a small commission on products sold through their affiliate links. Each of your purchases via our Amazon affiliate links supports our efforts to bring you the best possible product reviews at no additional cost to you. We appreciate your support here at OutsidePursuits.com
Review Overview
Summary : The Kammock Roo Camping Hammock is by far the best hammock we tested. It was the easiest to setup, the fastest drying, toughest and most comfortable hammock.