So your looking to do some of your own bike repairs and maintenance yourself? A quality bike repair stand is an invaluable tool to help you with those repairs.
We evaluated several of the most popular stands based on stability, ease of setup, portability, clamping and height adjustment. Be sure to check out my bike multi tool reviews for working on your bike away from home.
First lets take a look at the bike repair stands, then we'll talk about how to choose the best one for you.

Here is a feature overview of the bike stands with full reviews and our buying guide below.
The Best Bike Repair Stands
| | Feedback Sports Mechanic Bike Repair Stand | Park Tool PCS-10 Bike Repair Stand | Bikehand Pro Mechanic Bicycle Repair Stand |
| --- | --- | --- | --- |
| | | | |
| | | | |
| Construction: | Lightweight aluminum alloy | Steel alloy | Lightweight aluminum alloy |
| Weight: | 12.6 Pounds | 25 Pounds | 10.75 Pounds |
| Weight Limit: | 65 Pounds | 100 Pounds | 55 Pounds |
| Features: | Stable tripod design, 360 degree bike rotation. Easy fold-up design for storage or transport. | Super stable bike stand, with all metal clamp for reliable operation. | Lightweight, easy fold-up design for storage or transport. Includes handy bike tool tray. |
| | | | |
Bike Repair Stand Reviews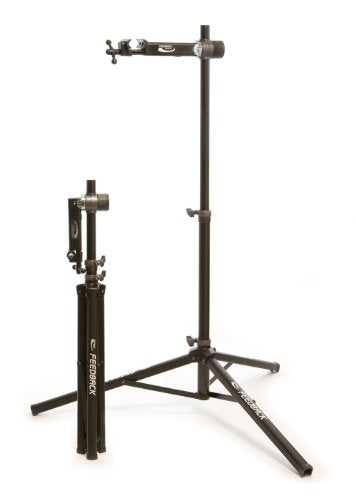 The Feedback Sports bike repair stand is my top bike for a variety of reasons. the first thing I noticed about it, is how stable it is. Your not going to have to worry about it tipping over when your wrenching on a rusted bolt. You will be able to do any repair on your bike you need to.
My other main reason I like the Feedback Sports bike stand is how easy it is to fold up and store away. If you will be taking it on the road you will really appreciate how easy it is to setup and put in the back of your SUV or trunk of your car.
If you need to do some quick repairs on your bike before hitting the trails, this is an ideal mountain bike work stand.
Its wide base means you can use it almost anywhere, whether its a grass field, dirt track or your basement, its a super stable design.
For the price you will be surprised by the quality. The solid aluminum tubes are heavy duty and solid. The clamp holds your bike securely with its vise grip and opens and closes fast and easy.
The clamping knob has clutch mechanism that allows the bike to rotate around without readjustment and can hold the bike by the top tube or the seat post giving you flexibility.
It can accommodate bikes weighing up to to 65 pounds and works with any type of bike. The stand itself weighs only 12 pounds so if you need a portable, easy to setup bike repair stand for DYI, then the Feedback Sports rack is your best bet.
Features of the Feedback Sports Bike Rack:
Height of the stand adjusts from 42 to 65 inches.
Easily fold-able design weighs only 12 pounds.
Tripod design with a wide base gives you a stable footprint.
Quality clamp secures you bike reliability.
Clutch mechanism gives 360 degree rotation.
Video overview of the Feedback Sports Work Stand.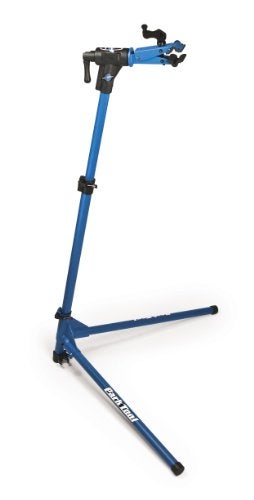 If your looking for a STURDY bike repair stand thats built like a tank, then the Park Tool PCS-10 needs to be in your work area. Its almost twice as heavy as the Feedback Sports stand reviewed above but its still only 25 pounds.
Rated to hold 100 pounds, almost twice as much as any other bike stand on the market, this is also suitable for an electric bike as well.
The stand has 2 legs in a 3 point configuration and being heavier this stand has incredible stability. Being heavier and sturdier, you can rotate your bike 360 degrees with the composite tube top smoothly and easily.
With Park PCS 10 bike stand I had no hesitation flipping the bike upside down and any thing in between.
This is nice because some repairs are much easier when the bike is upside down. The clamp is all metal with a padding so it doesn't damage your bike.
On the downside, this is not a stand you probably want to be folding up and taking on the road with you. Its just not as convenient as the Feedback Sports or the Bike Hand. Ideally this is a stand that you setup in your work area and leave it. For that reason I would say this is the best bike stand for your garage.
Thats not to say its hard to assemble, its just not what it was designed for in my opinion. The Park PCS-10 is designed to be the last bike repair stand you will ever need.
Features of the Park Tool PCS-10:
Sturdy design that holds up to 100 pounds.
Height adjusts easily from 39 to 57 inches.
Composite tube top allows complete flexibility in bike positioning, complete 360 degree rotation.
All metal clamp with jaw covers hold the bike in place with quick release mechanism.
Video overview of the Park Tool PCS-10 repair stand.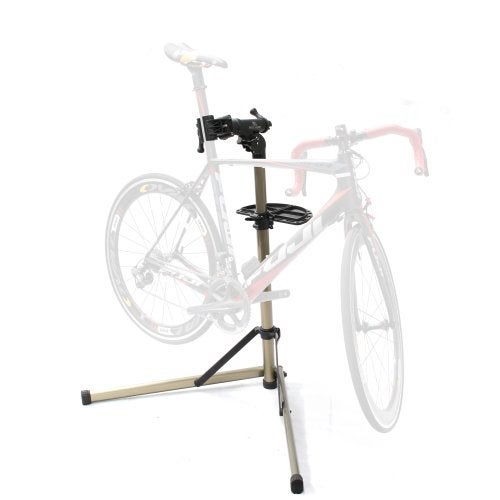 The Bikehand Repair stand is designed for someone who is on a budget and wants a decent bike stand that will allow them do most repairs themselves. The Bikehand is make for an aluminum alloy that is both light and strong.
The Bikehand folds up easily into a compact package in a few minutes or less making it ideal for travel or storing it away in your work area. It comes in at a lightweight at 11 pounds and holds bikes up to 55 pounds.
The description says you can rotate the bike up to 360 degrees but honestly I wouldn't recommend trying that, the serrated teeth design will not hold up if you are trying move around a heavier bike.
The Bikehand is best for mounting a bike level or 20 or 30 degrees when rotating it. I also wouldn't try any really heavy duty wrenching on it. If you need to do that, then with either the Park PCS-10 or the Feedback Sports bike stands.
One nice feature that the other stands didn't have was a tray that mounts on the bike stand for holding tools and bike parts. This is a nice touch, makes it easy to keep track of those easy to lose screws.
This is the perfect stand for the casual biker who wants to do light maintenance, cleaning and lubrication on their bike. In my opinion the Bikehand is the best bike repair stand for the money.
Features of the Bikehand Pro Mechanic Repair Stand:
Lightweight design of 10.75 pounds.
Strong, lightweight aluminum alloy construction.
Easy to use, composite clamp.
Repair tray that mounts on the stand.
How to Choose A Bike Repair Stand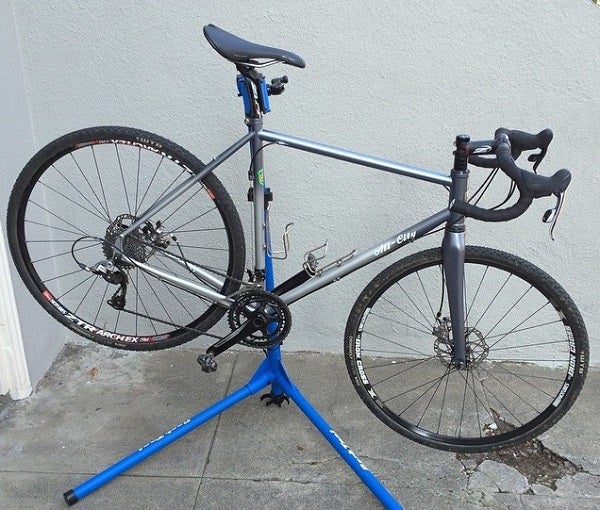 There are many styles of repair stands on the market. Choosing the right on for your needs takes some time and answering a few questions:
How often will you use it?
What is your budget?
What types of bikes will you be working on?
Do you have a dedicated area for it?
Will You be traveling with it?
Clamp Design
There are only two main types of clamps for bike repair stands. The tube clamping design holds the bike from the top tube or the seat post and the axel mount design.
While the axle mount is more secure and commonly found on more profession bike stands, it is less convenient because it requires you to remove one of the wheels for mounting the bike. Unless your operating a bike repair shop the tube mount design is probably adequate for your needs.
Since this is where the bike is going to be attached to the bike stand it makes sense that this is one of your most important considerations. If the clamp is not able to hold the bike securely so its not moving around then your job is that much tougher.
A poor clamp design may not only not hold the bike securely but also damage the bike or scratch/mare the paint. The quality of the clamp varies widely among bike stand manufactures.
Buying a cheap one to save a few bucks is a big mistake. I have seen several clamps literally break on the first use. Luckily it was under warranty but if it happened 31 days later, you would be out of luck. So spend a little extra and get a bike repair stand with a quality clamp.
Height Adjustment
Simple enough, how much adjustment is there from the bikes lowest position for the highest position. The tube clamping bike stands usually have much more flexibility as far as how far they adjust. All the of the bikes stands evaluated could be adjusted for someone who is 5ft to 6'6 inches tall.
Here you want a quality locking mechanism to hold the bike securely so it doesn't come crashing down on you, while also being easy to adjust. In this respect the Park Tool had the best design that held the bike securely and was easy to adjust.
Bike Stability
Another very critical design of the bike stand. Its needs to hold steady while you are trying to wrench on a bolt that rusted shut or a simple brake adjustment. A wider stance combined with an angled post that holds the bike over the center of the stand will give you the most stable design.
In this respect I like the Park Tool had the most stability with the 2 widely spaced apart legs followed by the Bikehand Pro. The tripod design of the Feedback sports is extremely stable as well, the only drawback is there is not as much space between the bike and the post that holds the bike.
Everyday Use
One thing you will quickly notice is you will be taking better care of your bikes now that it's so convenient to work on. Trips to the bike shop will be a thing of the past and routine maintenance like cleaning and lubricating will be a pleasure. Not to mention the money you will save and your bike will work better and last longer.
This becomes more of a factor if you own several types of bikes like a mountain bike, road bike, BMX etc. You need a bike stand that works with all types of bikes easily.
Portability and Setup
One that quickly sets up if you store it away will determine how much you use it. Unless you have plenty of room to keep the bike stand setup all the time, ease of setup is a critical factor. In the respect the Feedback Sports simple tripod design can be unfolded and setup just a minute or so. Making it great to put in your car for travel to races etc.
That was my biggest know on the Park Tool, it required some assembly so it was not as convenient as the Feedback Sports or the Bike Hand that required none so they were much quicker to assemble and much more portable. They folded up and were ready to throw in the back of your car in a matter of minutes.
The Bottom Line
Having a bike stand to work on your bike will make it much more likely that you will do regular maintenance you know you need to do on your bikes. Your bike will operate smoother and more reliable not to mention saving money by having to run to the bike shop make a good bike repair stand a good investment.
Buying a quality one will be money well spent. So you need to decide a couple things. The most important being, where will you use it and will you be traveling with it?
If the stand is not going to be setup year round in a dedicated place in your house, then ease of setup, size and weight are going to be your most important considerations.
Height adjustment and stability being important factors as well of course. All of the reviewed models excel in these categories. Buying a good one that you will regularly use and last you a long time will be a good investment.
Don't forget a good helmet whether you are road biking or mountain biking, check out my mountain bike helmet reviews and my road bike helmets. Transporting your bike, here are my recommended bike racks.
Notice: Outside Pursuits is a participant in the Amazon Services LLC Associates Program, an affiliate advertising program to provide a means for sites to earn advertising fees sold through by advertising and linking to Amazon.com. Amazon offers a small commission on products sold through their affiliate links. Each of your purchases via our Amazon affiliate links supports our efforts to bring you the best possible product reviews at no additional cost to you. We appreciate your support here at OutsidePursuits.com