I can remember when I first started backpacking – I was totally afraid of surviving a rain storm. It was a fear based on inexperience and I was just not sure what to expect when I encountered my first rain storm, how I would keep my gear and self dry, would I get too cold?
These days I rarely even check the weather before heading out on a routine hike – the it'll rain if it wants to, I figure.
Part of being comfortable hiking and backpacking in the rain is owning and understanding exactly what rain gear to use. When choosing a backpacking rain jacket there are several key considerations such as weight, bulk, waterproofing technique, and breathability.
Be sure to check out my reviews of hiking pants, watches, shoes and trekking poles.
Ladies: For simplicity, the Men's model is reviewed but we have a link to the Women's model as well.
Quick Answer: The 5 Best Back Packing Rain Jackets
Let's take a look at a look at the rain jackets, then well talk about exactly what matters most and how to choose a backpacking rain jacket for your next trip!
Here is a feature overview of my top 3 overall picks with full reviews and our buying guide below.
Best Backpacking Rain Jackets
Marmot Precip Jacket
Outdoor Research Helium II Jacket
The North Face Venture Jacket
Material:
100% nlyon ripstop with DWR
100% Nylon/Pertex
100% recycled Nylon ripstop
Waterproofing:
Seams: 100% seam taped completely prevents water entry and increases durability
Waterproof, breathable, seam sealed
Waterproof, breathable, seam sealed
Features:
Super lightweight and breathable with adjustable hood
Zippered chest pocket

Reflective trim on adjustable
hood
Zippered underarm vents for maximum ventilation

Fully adjustable hood with hidden drawcord
Backpacking Rain Jacket Reviews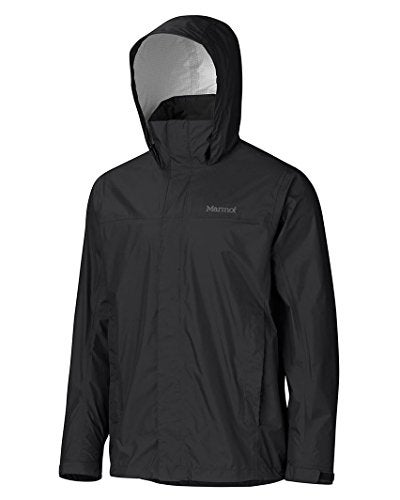 I would be remiss were I to write an article on lightweight backpacking rain jackets without including the Marmot Precip. One of the oldest staples of the backpacking rain gear genre that I am aware of, this was my very first rain jacket purchase.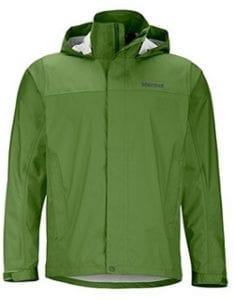 Non-breathable PU coated nylon construction makes the jacket inexpensive and affordable.
It's nearly indestructible, too – I've carried the thing with me for years through just about any situation you can imagine.
If you're looking for a proven jacket with time tested reliability, this is it.
Be aware that the PU coated nylon construction is subject to breakdown over use and will eventually fail.
All PU coated garments will do this and you can only reasonably expect them to last a couple seasons' heavy use before you'll need a new garment. The good thing is, they're affordable and replaceable.
The Marmot Precip is in my opinion the best packable rain jacket on the market.
Click here for the Women's Marmot Precip.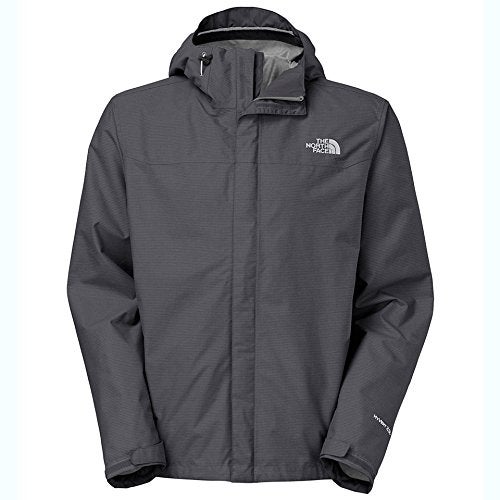 The North Face has a reputation for making quality outdoor gear, lets see if the Venture Jacket lives up to it's reputation. The Venture jacket is one of the thicker, warmer jackets reviewed here. it weighs in at 14 oz.
Made from a shell of denier ripstop nylon, this PU coated rain jacket is, perhaps, the most robust and durable jacket on our list though the Marmot Precip would be quite similar in terms of longevity.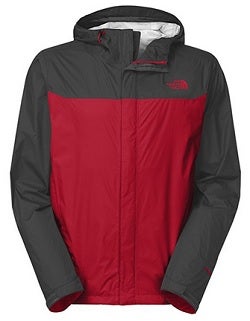 One of the biggest advantages of the The North Face Venture jacket over Marmot's Precip is the inclusion of pit zips.
Pit zips, if you haven't used them, are one of the best inventions in waterproof jacket technology ever, in my opinion.
They allow you to shed massive amounts of heat and sweat from the jacket without getting wet in mild rain conditions.
If you plan to hike while wearing your rain jacket, then pit zips are a must-have.
Overall, this is a solid choice with robust features and will keep you dry in any weather.
Pit zips are a major benefit and I would argue they're one of the best features of a good rain jacket so I'd encourage you to check them out and put it to the test!
With a lifetime warranty, the Venture jacket is one of the best lightweight rain jackets you can buy.
Click here for the Women's Venture jacket.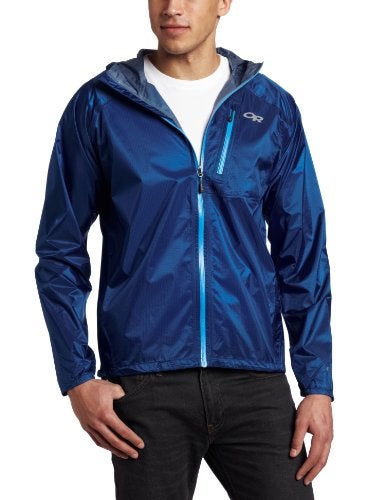 Outdoor Research is a company I have long loved for hats and gloves. I really like their attention to detail, fitment, and styling and the Helium II is one of the lightest and best looking conventional rain jackets on the market right now.
Weighing in at just a hair over 6 oz, this jacket is a side-by-side competitor with the Marmot Essence. Fully seam taped, the jacket features reflective elements for night time or search and rescue situations.
Ultralight Pertex Shield fabric is also waterproof and breathable so if you're looking for lightweight and fully featured, this is definitely a high contender for a lightweight waterproof jacket.
Lifetime manufacturer warranty, adjustable hood, elastic cuffs, and napoleon pocket make this a lightweight and robust choice.
Click here for the Women's Outdoor Research Helium II jacket.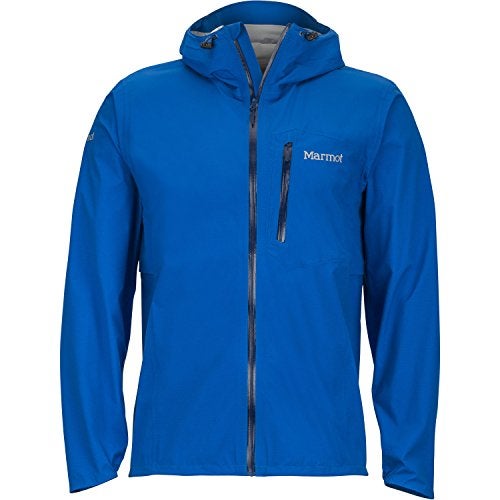 This jacket features the best of all worlds in one single package and has been my go-to jacket for several years now. Let me just say that, were I to purchase a new jacket today, I might choose something different however this jacket has my full endorsement.
Super lightweight fabric is based on 2 oz per yard ripstop nylon with a NanoPro Membrain which is waterproof, breathable, and fully seam taped. As I've said before, however, WPB fabric is rarely my go-to fabric of choice but in this case, it just happens to make sense.
Integrated cooling vents help shed excess heat and sweat and the jacket as a whole is just well tailored for my long, slender build,
What I truly love about the jacket, however, is the absolutely tiny package it can fold into and the less than 6oz weight altogether. The Marmot Essence is one of the best hiking rain jackets, highly recommended.
Click here for the Women's Marmot Minimalist Jacket.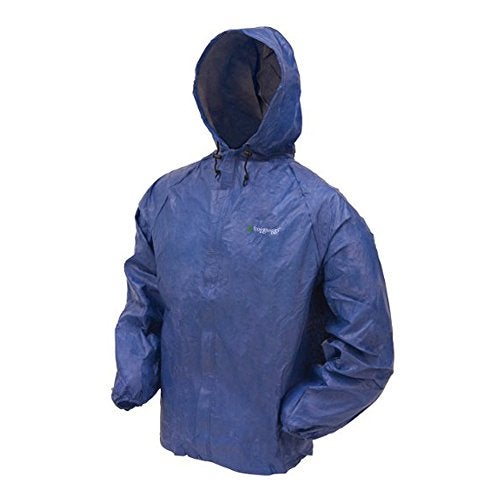 This might, at first, seem like a poor choice or oversight on my part for including Frogg Toggs on this list of backpacking rain jackets. It's not, I can assure you. Frogg Toggs jackets and pants have, for years, been touted among hikers as a solid contender.
Among the drawbacks of Frogg Togg gear is the lack of durability. The 100% polyethylene material is quite fragile and can be torn easily. Luckily, however, the garments are absurdly cheap and totally waterproof. Any tears can be easily repaired with duct tape, too.
There are tons of pros and cons to using Frogg Toggs but, by and large, most hikers will find that these garments do their job. If you're hiking off trail, or through particularly rough terrain where snagging or ripping a waterproof jacket might be a problem, we suggest you look elsewhere.
If, however, price is a priority… it's hard to argue with these. The Frogg Togg, is the best lightweight rain jacket for the money.
Click here for the Frogg Toggs Women's Ultra Lite Suit.
How to Choose a Lightweight Backpacking Rain Jacket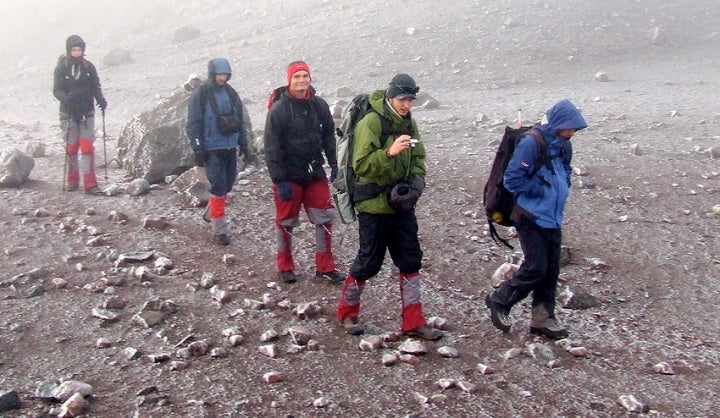 Waterproof Breathable Fabrics
Let me tell you a story: Once upon a time there was only Gore-Tex… now there are tons of Waterproof Breathable fabrics. The end.
I know, it's a great story. Here's the point, people often think that Gore-Tex is the king of WPB fabrics and this is simply not true. Today there are tons of variations on waterproof breathable membranes and almost all of them are as good or better than Gore-Tex. Among my favorite is eVent fabric for its exceptional breathability (far more breathable than Gore-Tex).
WPB fabrics come with several major drawbacks and, for that reason, I usually avoid them. First, WPB fabrics lose their ability to "breathe" if you don't keep the outer layer clean and coated in DWR chemicals. Once the nylon outer "wets out", your jacket will cease to breathe at all.
I also find that no matter how breathable a fabric is, it never transmits perspiration fast enough to keep me from getting wet anyways. WPB fabrics and their several constituent layers are also far too heavy for a backpacking rain layer for my personal kit. For these reasons, I do not stand behind WPB fabrics in hiking rain jackets.

Jacket Layers
Rain jackets normally use a 2, 2.5 or a 3 layer construction. The layers may be bonded togher so it only looks like one layer. All waterproof jackets feature a shell or outer face fabric with has a DWR (Durable Water Repellent) so water beads off and is repelled.
The 2nd layer (assuming it has one) is where the actual waterproofing is, the better ones are made from eVent but Gore-Tex is still popular. If the jacket has a 3rd layer then that's where the real difference maker is.
The 3rd layer (sometimes also the 2.5 layer) is to provide the jacket with "breathability", allowing sweat and perspiration to evaporate. This keeps you drier than a typical 2 layer jacket. A good compromise is the 2.5 layer jacket. This construction is lighter than a typical 3 layer jacket.

Weight and Bulk
As I alluded to above, I am quite the gram weenie. As an ultralight backpacker myself, weight is an important consideration. My rain layer serves two purposes: keep me dry from the outside, and keep wind from cutting through my under layers. In these regards, I am usually prone to consider the lightest available options in the smallest package when choosing a rain layer.
Even for those of you who may not be as concerned with weight and bulk as I am, it's a simple truth of backpacking that we only have so much space in our pack and our backs are only capable of carrying a limit of weight.
All things equal, it's important to consider a lightweight rain jacket option for hiking and backpacking. I, personally, also keep my rain layer in my outer mesh pocket and prefer to have something quite small and compressible.

Layering
There are several layering considerations to look at before settling on a new rain jacket for backpacking. First, it's important to wear a rain jacket which is sized large enough to fit any warmth layers you may be wearing underneath of it.
For instance, if you're wearing the jacket in camp on a drizzly dark evening, you may also be wearing a t-shirt, fleece, and puffy jacket under it. If you purchase too small of a rain jacket, it will become impossible to properly layer warm insulation under it.
Secondly, every jacket which is truly waterproof will also be windproof. The reverse, however, is not necessarily true; windproof layers are not always waterproof. It can be beneficial to consider how your rain jacket might fit into your overall layering system – can you use it as an extra layer of warmth or as a windproof jacket when needed?

Seam Tape
Any rain jacket worth its salt will be seam taped (unless its Cuben Fiber in which case it may be welded or fused at the seams). Seam taping is relatively easy to identify once you understand what it is and what to look for. Do not buy a rain jacket that is lacking seam tape as water may leak through the stitching holes.
After a waterproof garment is stitched together, adhesive tape is applied along all of the seams in the garment to ensure no water leaks in. Some jackets will advertise "critical seam" taping which means they only taped the shoulders, hood, and arms perhaps.
This is a cheap and ineffective way for manufactures to save time and money and should be avoided as the finished product will be of poor quality.
Turn the garment inside out before purchasing to inspect the seams and joints where sewing has been performed on the jacket. You should see a nearly invisible line of clear tape running along the length of all the seams. It may be nearly invisible and hard to see. Seam taping is a must! If you don't see it, don't buy it!
Seam tape does not last forever, however, and you can expect it to eventually delaminate and then the garment will fail to be waterproof.

Polyurethane Coated Fabrics
PU coated fabrics can be produced quickly, easily, and inexpensively. This makes them ideal for low end waterproof garments. A layer of polyurethane based waterproof "plastic" is adhered to a nylon jacket shell and creates a fully waterproof garment.
Eventually, the PU coating will begin to delaminate and tear away from the nylon fabric at which point the garment will lose all waterproof qualities and fail altogether.
This is usually about 2-3 seasons of heavy use. Despite this fact, PU coated fabrics and their respective garments are relatively affordable and may be an economical choice for many hikers.

Conclusion
It's really up to you to determine the best combination of qualities in your next hiking or backpacking rain jacket. Perhaps you need a WPB jacket with all the bells and whistles to feel comfortable, safe, and dry in the backcountry. For some, a simple Walmart clearance rack Frogg Togg rain jacket will work great for years.
If you're not quite sure what to get yet, consider going with something tried and true like the Marmot Precip. If you're looking for the most ultralight rain jacket known to man… well, look elsewhere because there are lighter options out there.
So, no matter your needs, make sure to inspect and review your new rain jacket before purchasing because some manufacturers like to deceive us consumers about the true features and reliability of waterproof products.
Notice: Outside Pursuits is a participant in the Amazon Services LLC Associates Program, an affiliate advertising program to provide a means for sites to earn advertising fees sold through by advertising and linking to Amazon.com. Amazon offers a small commission on products sold through their affiliate links. Each of your purchases via our Amazon affiliate links supports our efforts to bring you the best possible product reviews at no additional cost to you. We appreciate your support here at OutsidePursuits.com